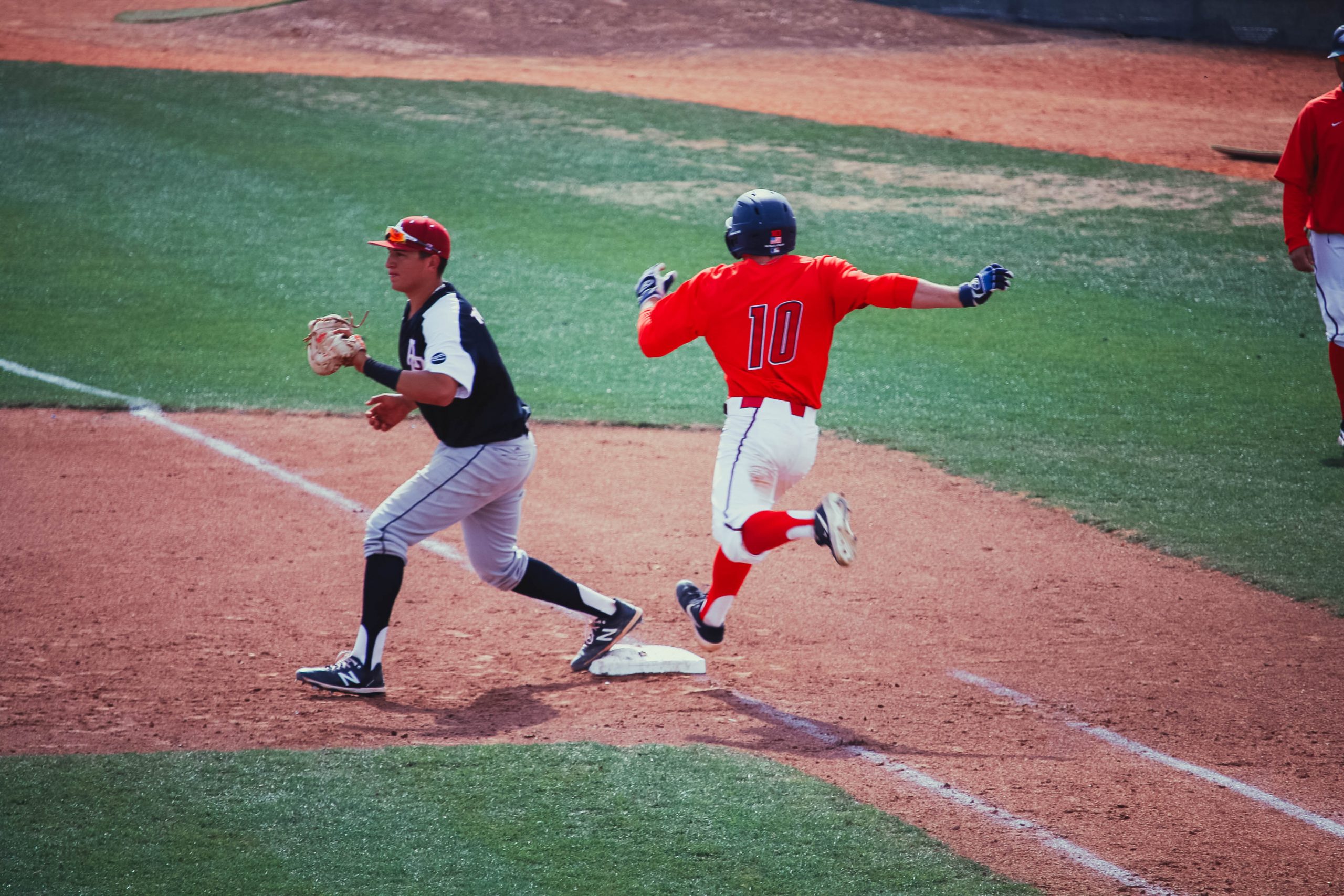 Braden Stutzman a senior majoring in finance from Twin Falls, Idaho running into first base during their first set of home games on Saturday the Feb. 15. Dixie State ended the game with a 8-11 loss. photo by Nickelle Blanton.
---
After dominating teams on the road and getting off to a hot 7-0 start, the Dixie State University baseball team's streak comes to a halt.
Former Pacific West Conference foe Azusa Pacific University, gave the Trailblazers a run for their money in its first home series of the season on Feb. 12-15.
DSU and the Cougars would go on to split the series, putting the Trailblazers at 9-2 overall. Even though DSU split its series with APU, the Cougars outscored the Trailblazers 33-21, had more hits, made fewer mistakes on defense and APU's pitching improved throughout the series. Obviously, a lopsided affair for the Cougars, but a huge break for DSU.
The Trailblazers lineup was solid the first seven games of the season with a combined total of a .354 batting average and the pitching did their job by not giving up too many runs. Now, with the series against APU, the 1-3 hitters were making the most contributions to the offense, pitching went on a decline by giving up too many hits and the defense had a bad habit of creating errors, which led to runs.
Pitcher Colton Harris, a senior biology major from Murray, said what was different from the previous teams DSU has faced was the Cougars had a better team, better pitchers and better hitters.
"There are things we need to touch up on that we didn't have to face against those first couple of series," Harris said. "Now we know what to keep improving on so we know what to do."
Head coach Chris Pfatenhauer said APU's pitchers and coaching staff did a great job of identifying DSU's weaknesses and strengths and took advantage of it.
"Good teams are going to make adjustments throughout the weekend and we have to be ready to make those adjustments with them and we didn't do that enough," Pfatenhauer said.
The Trailblazers' next game and final preseason series before conference play is against Concordia University-Portland. The good news for the Trailblazers is they get to have their next two series at home.
"We're here every day [and] we love our field," Harris said. "Our field is one of the best in all of our opinions so, we're excited to stay here, keep working and getting better."
Pfatenhauer said the main task the team is going to work on is defense because its currently at a windfall this early in the season.
"Sometimes before you get better you got to hit the bottom and I think we have defensively," Pfatenhauer said. "So, there will be some humbled guys that are ready to learn and eager to get after some new stuff."
Pfatenhauer said another thing the team will work on during practices is pitching down in the zone, because when the pitchers weren't pitching down in the zone it gave the Cougars the opportunity to get their lineup going.
Pitcher Brayden Bonner, a senior exercise science major from Murray, said the bats need to stay hot and the pitching needs to improve.
Bonner said: "I have no doubt in my mind that our staff is not going to come out and perform next week. [We need to keep our] routine, improving on our defense, [improve our] pitching location, [know] what the hitters are seeing and what pitch they want to attack on."
The Trailblazers will take on CU-Portland on Feb. 22-23 at Bruce Hurst Field.