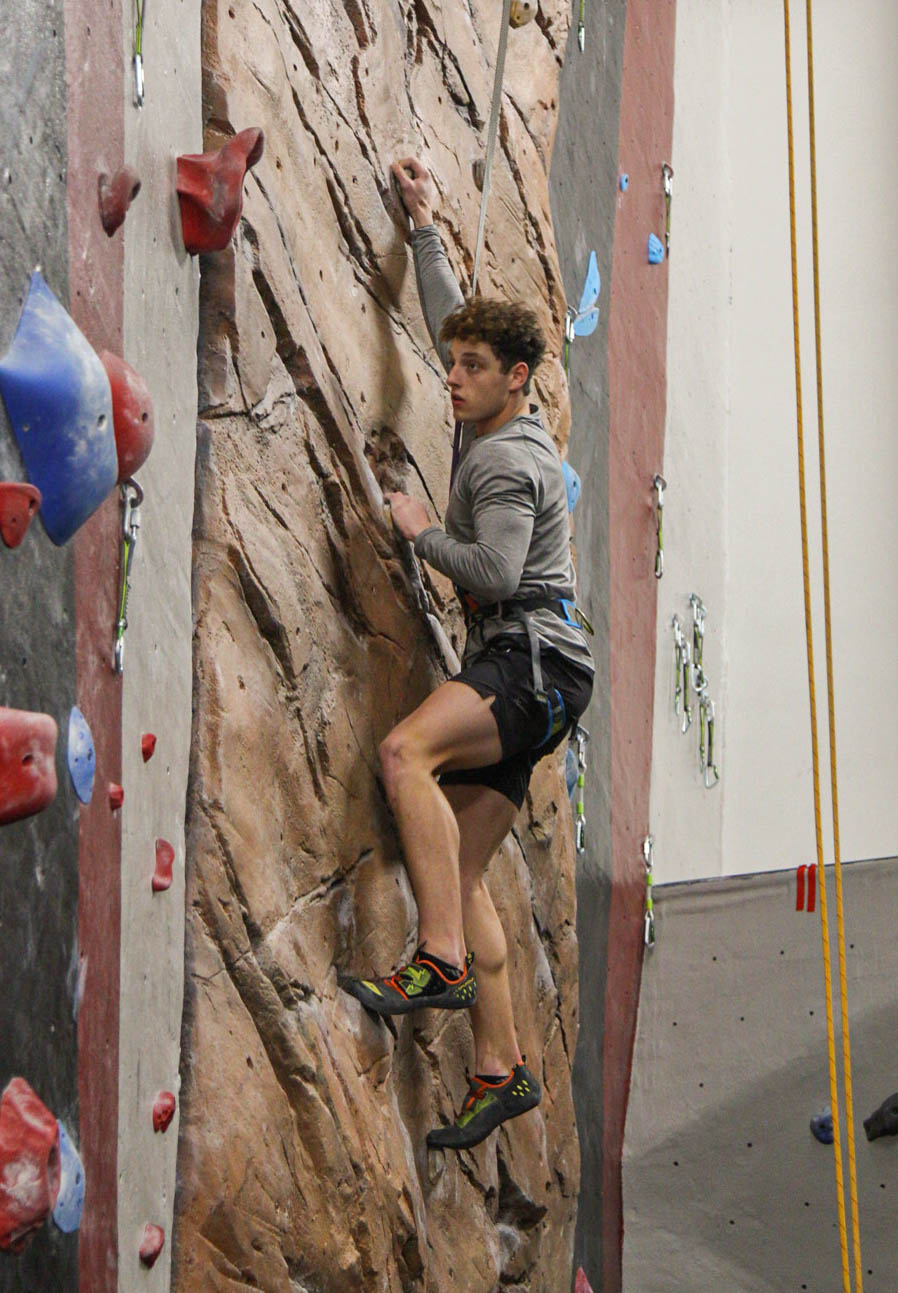 The tallest indoor rock climbing wall in Utah is located in Dixie State Universities Human Performance Center. The University provides all necessary equipment for an individual to climb making the activity completely free. Photo by Jessica Johnson.
---
The tallest indoor rock-climbing wall in Utah is just moments away in the Human Performance Center – and it is completely free.
While red rocks are found in almost every location in St. George and the plethora of different trails and hiking systems surround the area, DSU decided to bring a little bit of the outdoors inside with a multi-story rock wall.
On the west side of the HPC, the wall spans the entire surface, reaching up to the top floor. With the 65 feet of square footage, this allows for multiple people to climb at once.
There is also a smaller wall to the right for those hoping to one day conquer the record-breaker.
"No experience is necessary," said Nate Zubak, a sophomore biology major from Corona, California. "We work with students that have never climbed before [and] students who have been climbing for years."
The university has also provided all the necessary equipment – such as harnesses, chalk and rope – for an individual to climb, making the cost to climb completely free.
Maxwell Thullen, a freshman general education major from St. George, said he and his friends come to the wall at least once a week.
"We love it; it was pretty hard at first, though," said Brock Nawartski, a freshman general education major from St. George.
The two friends said they have been working on their climbing skills and find it a fun activity to do in their spare time.
"It took a few times to get used to, but now it's a lot easier and just a lot of fun," Thullen said.
With many different student-employees ready to help from below, there was a lot of communication going on between those climbing and those looking to assist.
"If anyone has questions, we are there to help them out," Zubak said.
Because the climbing pegs can be moved all over the wall, there are thousands of different ways individuals can reach the top of the wall week after week. Zubak said he enjoys helping climbers who are brand new to the activity and those who may be on their way to becoming experts.
"There is strength climbing with finger intensive holds, dynamic climbing with body movement, and body positioning dealing with balance and climbs that students can work with who have never tried this before," Zubak said.
The climbing wall is found on level one of the HPC. It is open from 6 a.m.-10 p.m. Monday-Friday, 6 a.m.–8 p.m on Saturday, and closed on Sunday.

Want to read more? Follow us on Twitter and Facebook for daily articles and updates!