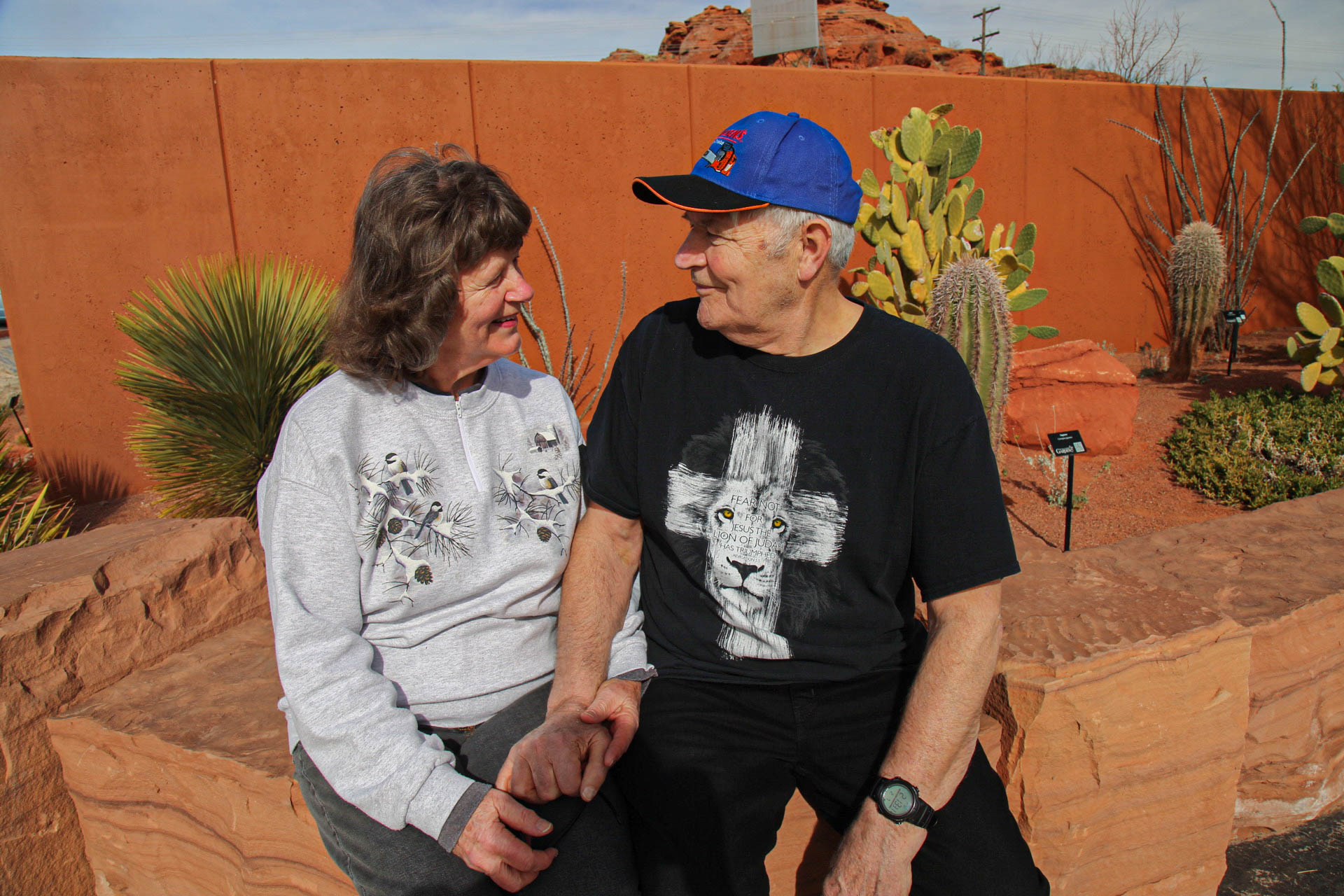 St. George has many different date ideas for couples of any age; Red Hills Desert Garden can make a perfect picnic or walk through the beautiful scenery for this Valentine's Day date. Skip the expected fancy dinner and get outside and gain a new experience with that special someone this holiday. Photo by Jessica Johnson.
---
Ditch the basic Valentine's Day date ideas this year and make it more memorable with new experiences.
St. George isn't always known for being the most exciting in the date department, however that doesn't mean couples are restricted to the classic dinner and a movie idea.
Valentine's day is special to some, such as Alyssa Janeway, a freshman communication major from Las Vegas. She said she liked it when dates were planned out and made personal. Seeing a movie on Valentine's Day sounds like such a cliche since it wasn't specifically planned for the person. Watching a movie on Valentine's day is the easy way out of planning a date.
"I love the view in St. George, we live in such a scenic place," Janeway said. "I always thought that a picnic on a hill or anywhere high enough to look out into was such a cute idea."
Take a ride through the trails of snow canyon with the help of Snow Canyon Trail Rides located at 1812 W Sunset Blvd #1, St. George. Take a scenic horse ride through the canyon and with picnic areas around the trails, you can enjoy a meal and the view.
While not everyone enjoys the outdoors there are other options that offer an exciting time indoors.
Phat Axe at 250 N, Red Cliffs Dr #17, St. George, offers an indoor experience that lets you and your partner try a new and exciting opportunity. You can make a reservation for an hour and have unlimited ax-throwing fun. There are plenty of restaurants in the area, so after all the fun is over you can enjoy a nice meal together.
Ryan Collins, a junior media studies major from St. George, said there aren't enough places around town that can spark creativity for a date, but places in the next towns over have some beautiful places that can end up being special.
"Over in Ivins there is a small art village that has nice scenery, with small gardens and interesting art," Collins said. "There is also a restaurant there, so you can enjoy the art, explore the village and eat."
Kayenta Art Village is located at 851 Coyote Gulch Ct, Ivins, UT and has an expansive amount of activities that couples can plan around. There are art galleries, gourmet food, coffee, pottery and classes. Stepping outside of your comfort zone and planning a class with your date could offer a night to remember rather than an average date.
If Ivins is a little too far you, there is a pottery and ceramics studio, The Tilted Kiln, located at 215 W St George Blvd, St. George, that allows you to create and fire your own pottery. Including an activity that is hands-on could be a nice change from sitting in a dark movie theater.
While making pottery together can be romantic, it could get messy. There are other activities you can do together that will keep you clean.
Testing your knowledge and putting yourselves in an intense environment can help bring you closer.
Mystery Escape Room located at 40 S 100 E, St. George, can give you the thrilling experience adventure junkies seek. They are currently playing a Sherlock Holmes experience where you have to find clues and find out the mystery of who killed old man Baskerville.

Make dates special this Valentines by skipping the expected fancy restaurant everybody goes to. While you can still incorporate the aspects of dining and going out, you can try swapping a movie for a hike, and dinner at a restaurant for a thoughtful home-cooked meal.