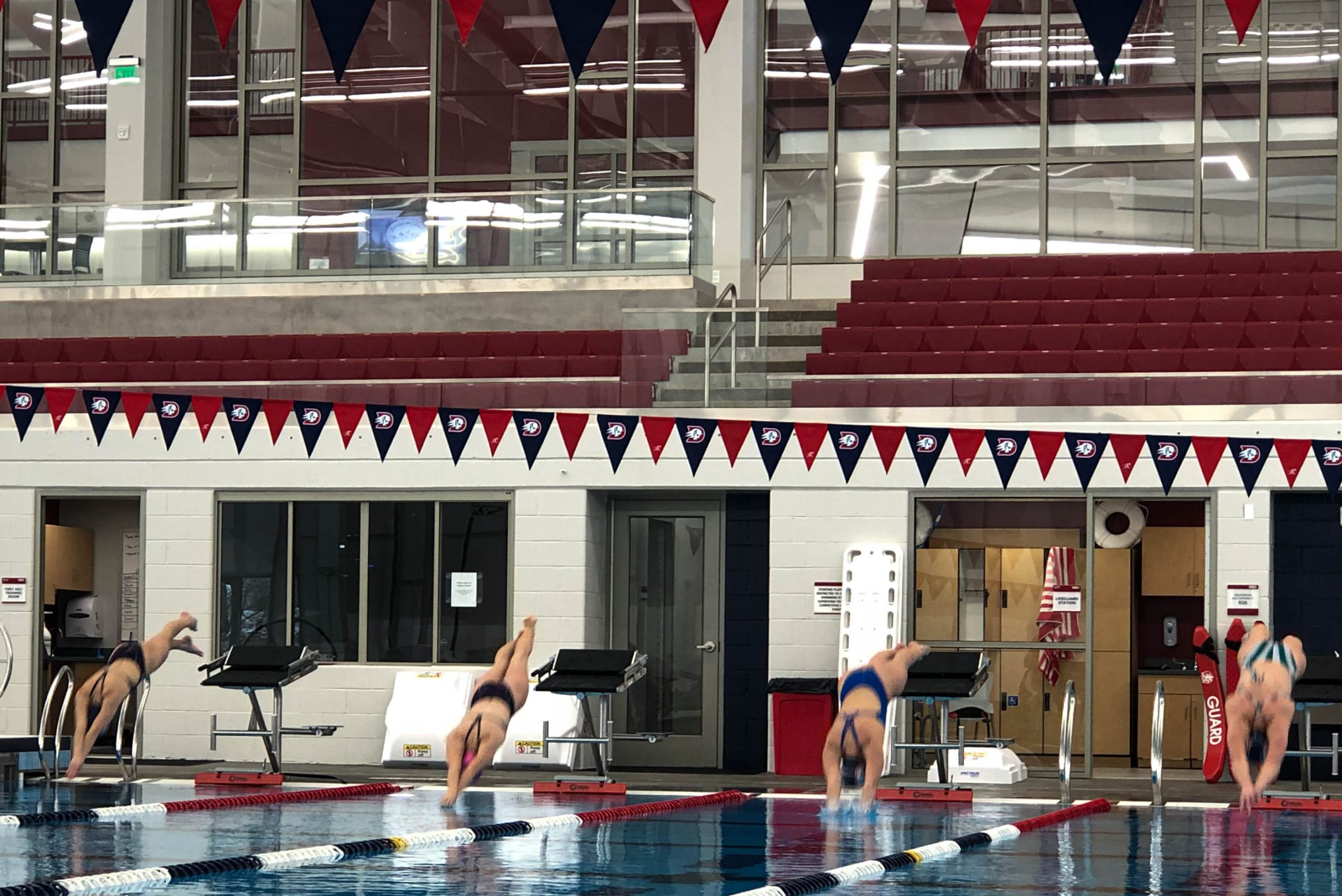 Four DSU swimmers diving in the pool during practice in the Human Performance Center. The team leaves for Grand Junction, Colorado, on Feb. 11 and will race Feb. 12-15. Photo by Monique Chavez.
---
The Rocky Mountain Athletic Conference Swimming and Diving Championship is just days away, and the Dixie State University Trailblazers are ready to bring out the $500 tech suits.
DSU placed No. 3 overall in the RMAC championship last year and the team is hoping to earn a spot in the top three again.
Head coach Tamber Mcallister said it was ambitious for the team to place No. 3 last season, competing against schools who also have a diving team.
"The hardest thing about the two other teams that beat us last year is that they actually have diving and we don't," Mcallister said. "So, they do have that advantage over us of scoring points in diving, where we don't score any points in diving. I would love to repeat third place; if we can move up a place that would be awesome, but I tell the girls not to focus on place as much, but just do their best at every single race and everything else will fall into place."
Until now, the team has never had diving boards, so Mcallister said that is something they are working on for the future.
A bagel and cream cheese for breakfast and bananas or a protein shake after practice is just part of the diet of DSU swimmer Mckenzie Chesler, a sophomore exercise major from Highland.
This is Chesler's second year as a DSU swimmer, and she said she gets at least eight hours of sleep a day and follows a good diet in order to perform her best at practice and meets.
Chesler said: "It's important to make sure we're eating carbs so we have enough energy for the race we're swimming in, and then replenishing those on the day of the meet as well. My go-to carb is spaghetti."
Chesler said she has been focusing on her technique in practice in preparation for the championship. Her personal record in her favorite event, the 100-backstroke, is 58.07 seconds.
Dry skin, wet hair, and permanently smelling like chlorine are a few swimmer problems that the Trailblazers have to deal with for their passion.
Gracie Kroll, a sophomore elementary education major from South Jordan, said she has had her goal time cemented in her mind all year: 56.9 seconds in the 100-backstroke. Her personal best is 57.2 seconds, but her best this season has been 58.3 seconds.
"I'm a little ways, but I got the confidence that I can get there," Kroll said.
In efforts to improve her overall health and performance, Kroll gave up sugar since Jan. 1 and plans to continue until after the championship.
"At first, when I stopped eating sugar, I didn't have energy," Kroll said. "But now I'm getting energy from healthier sources like fruits and vegetables."
This is Kroll's first year back on the DSU swim team since her freshman season in 2016-17, after taking two years off to serve her mission for The Church of Jesus Christ of Latter-day Saints.
"I think it's so mental," Kroll said. "I know that what my coaches have done, the training that they've given me will be good enough and help me swim fast, but the mental part is where I have to come in and make sure I'm positive and doing visualizations to make sure I'm mentally there and ready to race."
The team has been gradually resting more each day so the swimmers' muscles can regenerate and be ready to compete as fast as possible. One thing that will help their muscles is their championship swimsuits.
"It takes like 15-20 minutes for them to put on the tech suits," Mcallister said. "They're like $500 suits, so we don't wear them at our normal dual meets, we only wear them at championship meets. They help hold the muscles a little tighter, so when we do have that tired muscle feeling, it holds them together so we can continue to swim fast."
Mcallister said most girls will swim one individual event per day in prelims, and another one in finals on top of relays for a total of up to 12 swims.
Mcallister said: "It can be a lot, so we take our trainer with us and make sure [the swimmers] ice joints and things like that afterward. A lot of them will do ice baths in the hotel tub, and we have Theraguns they can use on themselves and they get rubdowns as necessary."
The team leaves for Grand Junction, Colorado, on Feb. 11 and will race Feb. 12-15. All of the 2020 RMAC Swimming and Diving Championship participants are: Adams State University, Colorado Mesa University, Colorado School of Mines, Colorado State University-Pueblo, DSU, Oklahoma Baptist University, Oklahoma Christian University, University of Nebraska at Kearney and Western Colorado University.