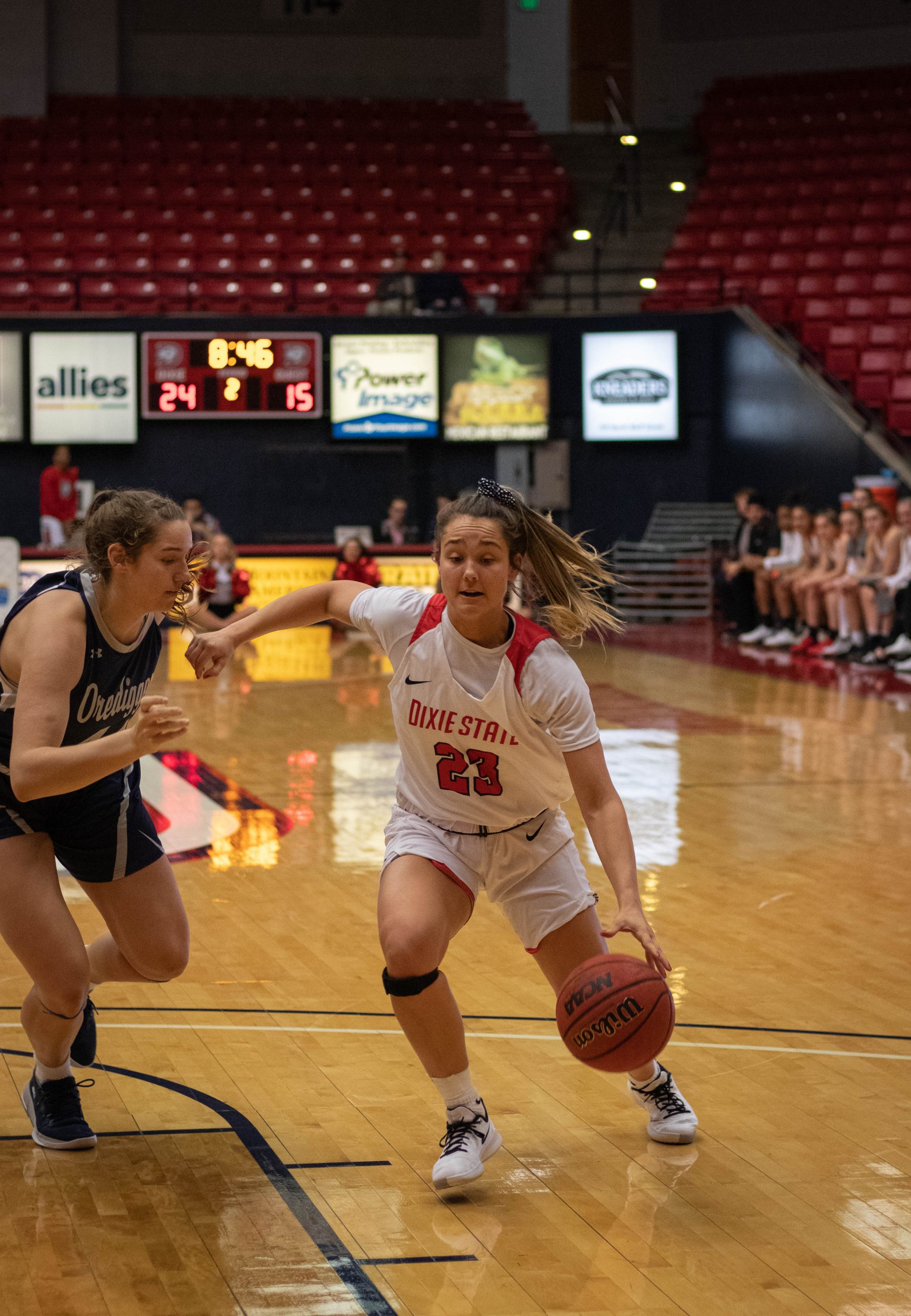 Ali Franks, a senior communication studies major from Redding, California, pushes for a two-pointer against Colorado School of Mines on Jan. 4. Early in the season, Franks was making marks among everyone at DSU as a freshman. Photo by Breanna Biorato.
---
Three and a half seasons and 1,000 points later, Ali Franks is just the fourth player in Dixie State University women's basketball history to score 1,000 career points. The senior communication major from Redding, California, joined a unique club that some only dream of entering.
When the Trailblazers hosted Regis University on Jan. 18, Franks scored her 1,001-career point toward the end of the game. Her accomplishment was then announced over the loudspeaker followed by the applause from all in attendance.
"I remember hearing it as I was taking the ball out and telling myself: 'Ali, you did it,'" Franks said. "It was a heartwarming feeling."
Franks credited family members back in northern California for the mentality and success she has had throughout her college career at DSU.
Franks and her twin sister Kili were both recruited and offered scholarships by DSU, but committed to Southern Oregon University their senior year of high school. After further thought, the Frank sisters chose to become Trailblazers and de-commit from Southern Oregon.
"When we first told [our parents], they weren't for it at all," Franks said. "They wanted us to stay close."
DSU is 720 miles away from Redding, California, but Franks said she viewed DSU as the school that would give her and her sister the best overall quality both on and off the court.
Once Franks arrived to DSU, she was given the opportunity to make her mark on the women's basketball program.
"Coming in as a freshman of a new program, I had the same chances and opportunities as the seniors on the team," Franks said. "I got to step up and lead a team as a freshman."
Being a freshman with a key role on any team is no easy task. Franks said this opportunity helped her gain confidence in herself as a young player. Franks stuck with her ritual to take a nap before games to help her get ready for taking the court later that night.
London Pavlica, a sophomore nursing major from Las Vegas, said: "Ali is great at pushing herself every single day. She keeps herself accountable on and off the court."
With this mentality, Franks continued to help lead the team and improve her skill set.
While Franks continued to get more comfortable with the system and college basketball, she also impressed head coach J.D. Gustin.
"[Franks] is a foundation piece to our women's basketball program," Gustin said. "She helped lay the groundwork for our current team culture."
As Franks continues to push the team in all four years of her college career, she has accomplished 1,000 career points. Franks said she wouldn't consider herself as a scorer, but more as a role-player position and doing what the team needs.
"Besides [Franks] being my best friend, I can easily say she has been the best teammate I've ever played with," Pavlica said. "It's the trust that she brings with her having my back at all times that make the game so much better."
Franks said she knew she was close to achieving the mark of 1,000 career points, but it was never something she had set her mind to achieve.
"I never had the goal of hitting 1,000 [points]," Franks said. "It's a huge compliment; the person and basketball player I've transformed into from being at [DSU] is an eye-opener."
Over the past four games, Franks has scored 44 points to continue moving the trailblazers forward as the season progresses.
Franks is continuing her education once she graduates from DSU and aspires to become a surgical technician in Boise, Idaho.
"Anything I do, I'm going to do it the best I possibly can," Franks said.
With only seven games left in the regular season, the Trailblazers look to make a push to prepare for the Rocky Mountain Athletic Conference tournament on March 3.

Want to read more? Follow us on Twitter and Facebook for daily articles and updates!