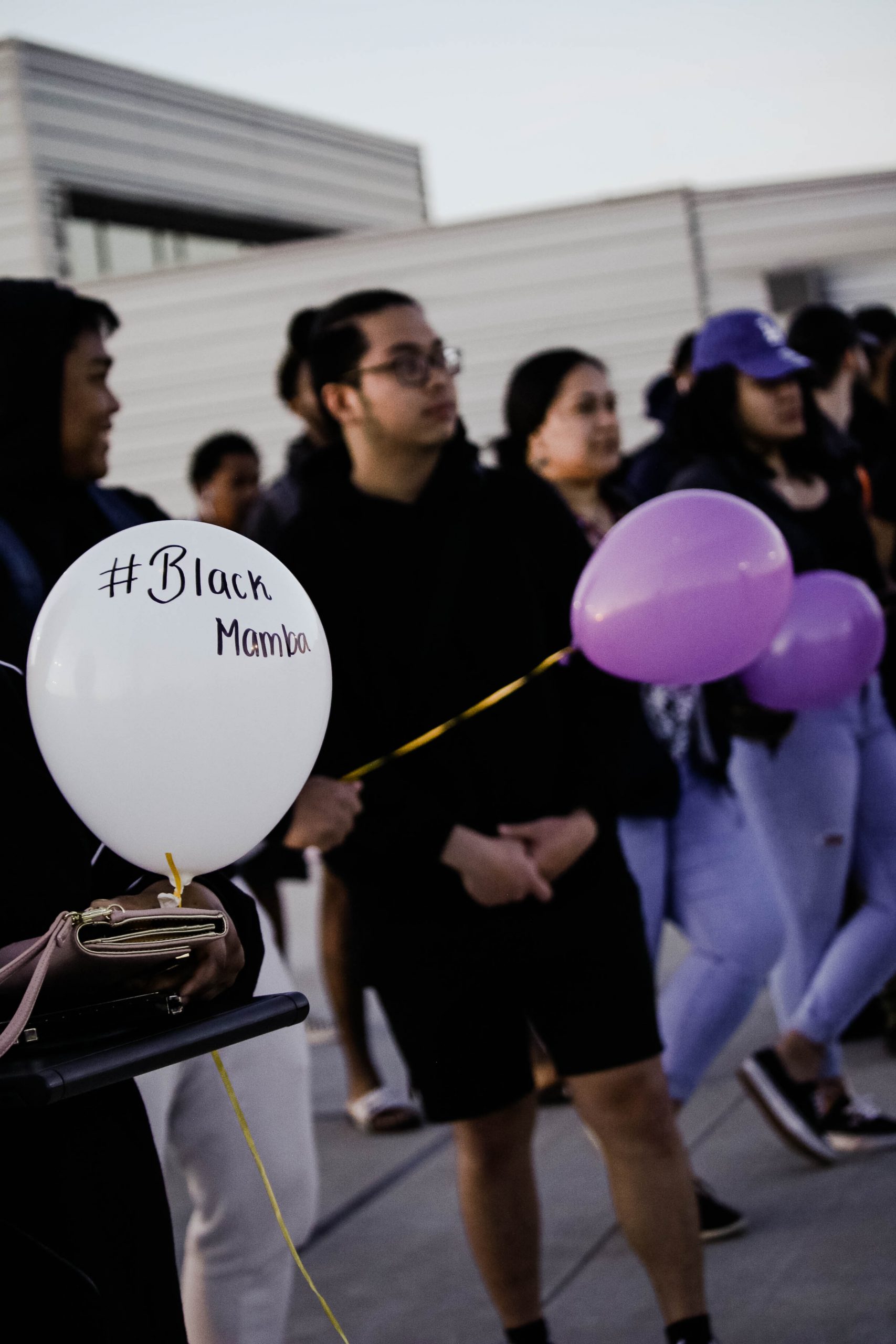 Kobe and Gianna Bryant tragically passed away in a helicopter accident on Jan. 26. DSU students gathered at the Human Performance Center to pay their respects on Jan. 30. Photo by Nickelle Blanton.
---
The Black Student Union of Dixie State University hosted a memorial for Kobe Bryant on Jan. 30 on the rooftop of the Human Performance Center.
More than 130 students payed their respects to Bryant at the memorial. Justice Slayton, BSU'S vice president of internal programming and a sophomore business administration major from Chicago, said she was ecstatic for the amount of people who came to the memorial. Slayton said her goal was to get 100 people to show up and that was surpassed.
"We put this together last minute [and] of course you don't expect a death so, to have that many people show up is amazing," Slayton said.
Jermain Suggs-Caray, Co-president of BSU and a senior business major from Salt Lake City, said the memorial was put together because BSU wanted to celebrate the lives and the message and lessons the nine victims applied to the world.
Suggs-Caray said: "We all had this whole week to soak in everything and have those days where it was sad. We wanted to have something to remember them and enjoy."
The memorial consisted of a moment of silence, talking about Bryant's legacy, reminding loved ones you love them, then releasing balloons, which symbolized saying goodbye to Bryant. After the balloons were released the impact from the memorial felt like a sense of closure for those who were impacted by Bryant.
Malik Smith, a freshman finance major from Las Vegas, said Bryant impacted his basketball life after seeing him put up 81 points against the Raptors at the Jan. 22, 2006 game. Smith said Bryant taught him to become a bigger person because off the court, Bryant symbolized a person of high intelligence and somebody he would like to look up to.
Smith said Bryant's "Mamba mentality" taught him to keep pushing through trials that come along and to keep that mentality of 'I'm going to get this done.'
One of the last messages to be left was BSU playing Bryant's poem "Dear Basketball."
"I can't love you obsessively for much longer. This season is all I have left to give. My heart can take the pounding, my mind can handle the grind, but my body knows it's time to say goodbye. And that's ok. I'm ready to let you go. I want you to know now so we both can savor every moment we have left together. The good and the bad. We have given each other all that we have. And we both know, no matter what I do next I'll always be that kid with the rolled-up socks, Garbage can in the corner, five seconds on the clock ball in my hands. Five…four…three…two…one," – Kobe Bryant.
Suggs-Caray said he wants everyone to understand the principle of the poem.
"It's not just basketball, sports, but it's the principle of having the mentality that you can actually go and accomplish your goals," Suggs-Caray said. "That's what I get from it as a business major [and] someone who does music, that mentality to get what we need done."
Want to read more? Follow us on Twitter and Facebook for daily articles and updates!