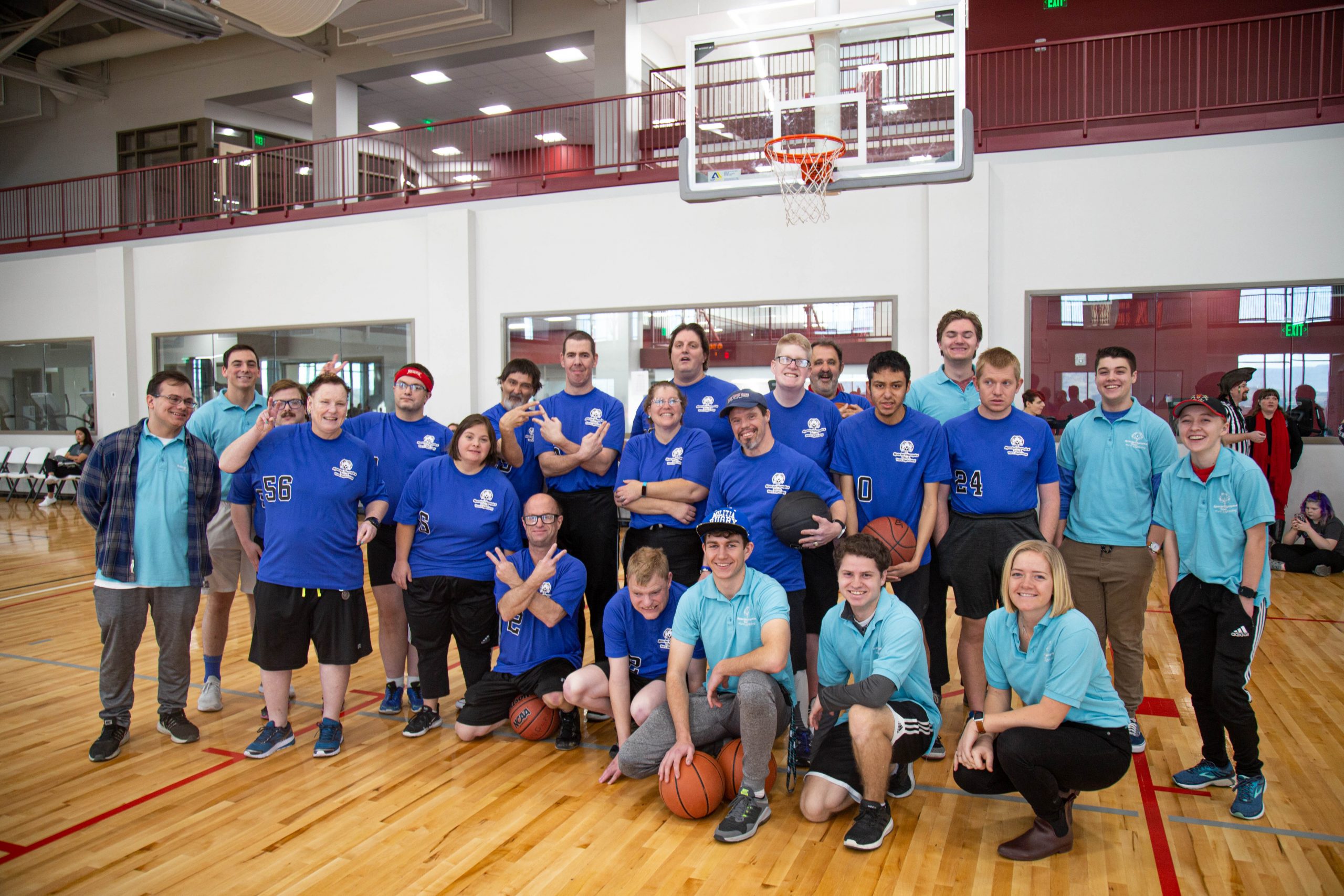 DSU offers a Special Olympics regional basketball game for all to participate who are unable to due to disabilities and is welcomed to DSU students and the St. George community. Participants in this event have put in an abundant amount of time and energy to prepare for this event and the games. Photo by Jessica Johnson.
---
The Dixie State University Special Olympics hosted the basketball regional games on Feb. 1 in the Human Performance Center where two other teams joined in 3v3, 5v5 and individual skill competitions.
The Special Olympics is an organization that allows those with special needs to play and compete in a variety of sports including: basketball, track and field, bocce ball and swimming. It is particularly important for individuals that have wished to participate in sporting events their whole life but are unable to because of their disabilities.
Susan Hart, the DSU Human and Health Performance Department Chair said: "There is a real need for this type of activity — for all students. Those that have special needs are none different."
The HHP department sponsors the Trailblazer Special Olympic basketball squad, giving these individuals the opportunity to compete against each other.
As all athletes do, the DSU Special Olympic basketball team has put in an abundance of time and effort in preparing for the big stage. The team said it is hoping for DSU students and the St. George community to rally behind them and come support at games. The Trailblazers had over 40 volunteers on Feb. 1.
Shaela Bodine, the head of delegation for the DSU Special Olympics team said: "Special Olympics works with athletes who have special needs that are looking to get active in sports. Right now, we're doing basketball, then track and field, and swimming. We have a great time getting together."
Jesse Gross, the head coach of the Trailblazer team, has been involved with Special Olympics for over a year now, and said he doesn't have any plans to stray away from this path anytime soon.
"I just really like the kids; they're awesome," Gross said. "Everyone involved is really great," Gross said.
Athletics have always been a way to examine an individual's true character, and Special Olympics gives the participants an opportunity to let their character shine bright.
According to the Special Olympics Utah website: "Special Olympics Utah provides year-round sports training and competition for children and adults with intellectual disabilities. Through sports, athletes discover new strengths and abilities, develop greater skills and confidence, and experience added joy and fulfillment in their lives."
Not only does the team work on improving its physical skills, it also creates lasting friendships that endure past the final whistle of the game.
"We have some individuals that come into the program very introverted, then they leave with lots of friends feeling very confident about themselves," Hart said.
Because these athletes do not have to try out to participate, all are welcome. Excitement can be seen in players, coaches and parents' faces all around the gym.
"If we can get volunteers that come out and are willing to help, and if they know about it and come out, they will have a great time," Hart said. "There is so much to be gained from this population, you'd be amazed."
After the regional games are finished, the team goes to compete in the central and northern Utah regional Special Olympic games.
For volunteer opportunities, email dsuactivelife@gmail.com.
Want to read more? Follow us on Twitter and Facebook for daily articles and updates!