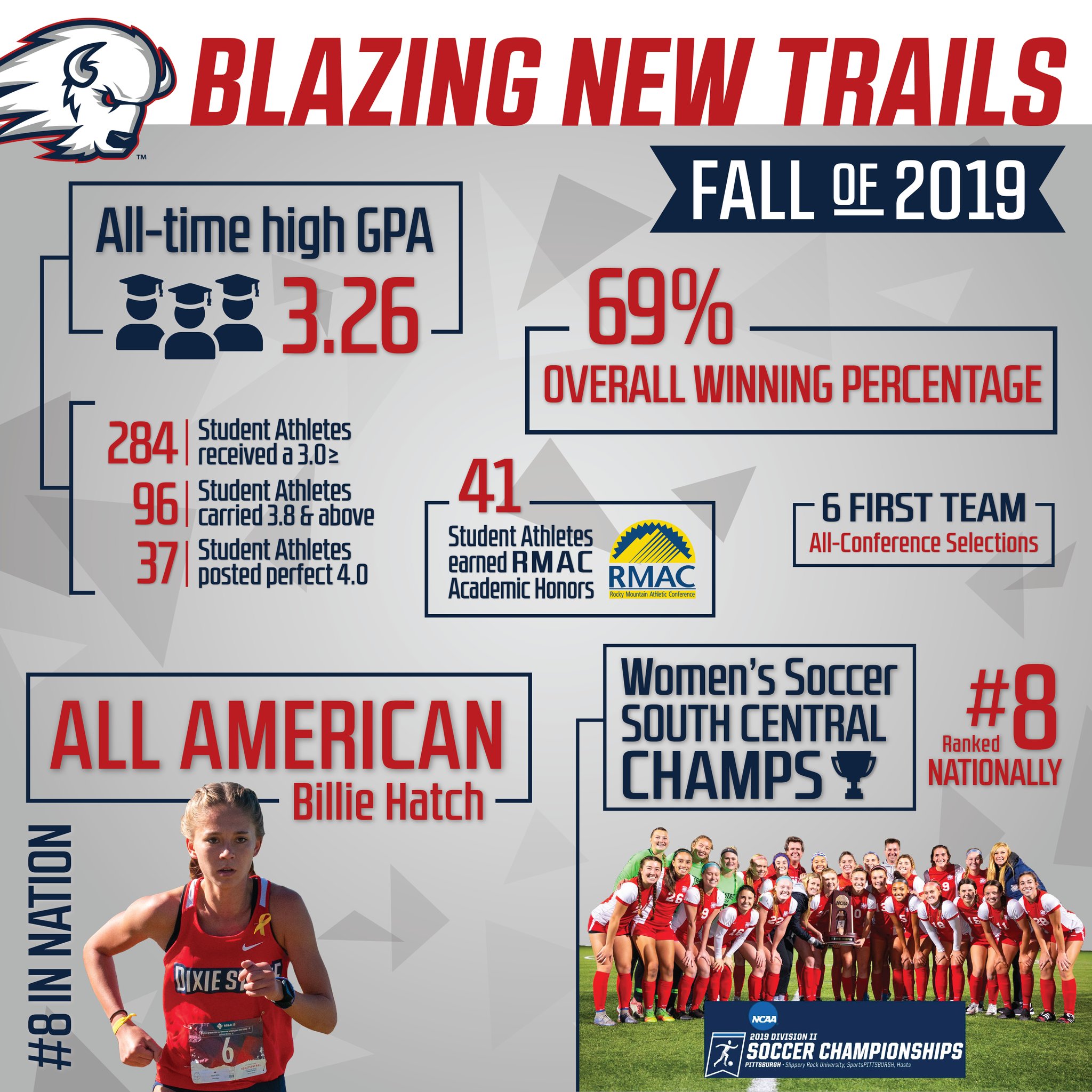 Graphic by Dixie State Athletics.
---
The jump to Division I athletics has created quite the buzz around campus. Fans are excited to see Dixie State University compete against Division I teams and push to reach new heights on the court and field. While putting forth a lot of effort physically, some would say the biggest accomplishment was found in the classroom.
Last semester, DSU athletics broke the record of their overall best GPA accumulating to a 3.26.
DSU Athletic Director Jason Boothe said: "Credit goes to our incredible student-athletes with an assist to the coaches and other support staff on campus. The athletes are highly committed to their academics and this result shows that commitment."
Athletes have busy academic schedules like all students, but they also have to fit in practice times, weight lifting opportunities, and other physical training sessions throughout their day.
Boothe said a change that has been made is keeping the Academic Performance Center open four nights a week with an additional hour before closing to help those with busy schedules.
As coaches do their best to keep the academic success of the athletes in mind, they also have done their part in breaking DSU's record.
Offensive Lineman Joshua Partida, a senior criminal justice major from San Diego, said: "This year, the coaches put players into groups which we would call 'family groups.' Every week we would meet with our group coach and look at things such as attendance, exams, homework and discuss each category."
Partida said he respected his coaches' decision to hold the players responsible for their GPA and study hall hours.
"I would see how other athletes miss playing time or games because of it," Partida said.
Jaclyn Kerouac, the eligibility coordinator for DSU Athletics said, "I think coaches have just really focused more on academic excellence as we begin to transition to DI."
Kerouac's position as the eligibility coordinator is to ensure athletes are enrolled in the correct courses and complying with NCAA rules.
"I try to be proactive in advising students to be making the proper choices when it comes to pursuing a bachelor's degree," Kerouac said.
Kerouac is in contact with all DSU athletes throughout the year to answer questions about which class to take and when to take them. Because of this, she has seen first-hand the changes that were made in athletics to help achieve this success.
Kerouac said: "Coaches [are] recruiting academically minded students, and more students [are] utilizing campus resources like the APC, the Writing Center, and the Math E-Lab."
Looking forward, the athletic department aims to break the record again and continue reaching new achievements.
Boothe said: "Nothing different than last semester…[We will] keep doing what we're doing, making sure the student-athletes continue to understand the importance and significance of their academics, just as we always have."
As Boothe and the rest of Trailblazer nation aims for more success during the spring semester, look for continued success and support from all on campus.
"Academics are our top priority and it's my job to ensure that it stays that way," Boothe said.