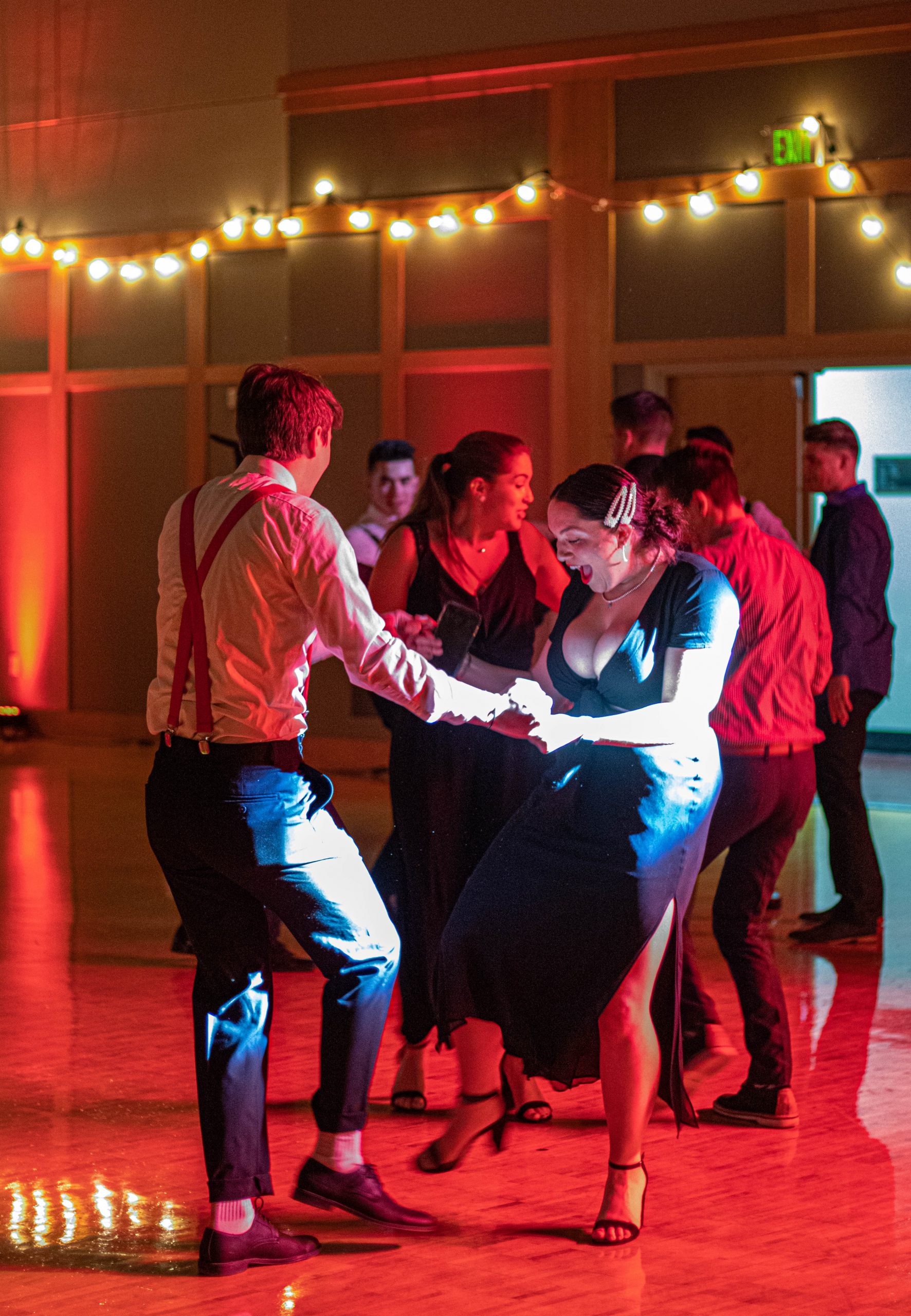 DSU students got together and raised money for alternative breaks and the Children's Museum on Jan. 10. Students also dressed up with the old Hollywood theme and danced through the night. Photo by Breanna Biorato.
---
Students were able to experience a night in classic Hollywood with the help of Dixie State University hosting its first formal dance.
Dixie State University held its first formal dance in a long time on Friday to help raise money for its alternative breaks and the St. George Children's Museum. The Dixie State University Student Association came together with St. George Children's Museum to plan a formal dance.
DSUSA also partnered with Mr. Tux and Ooh La La Dress Rentals to bring discounted prices for students. Mr. Tux was offering suits for $60 if paid in cash and $75 if paid with card. Dress rentals were $25 for short dresses and $40 for long dresses.
Anita Wotkyns, executive director of St. George Children's Museum, said they were very excited to be working with DSUSA and hope they are able to plan more events in the future.
"We were planning something with DSUSA last year, but we lost our advocate and weren't able to finalize anything until recently," Wotkyns said. "Hopefully, in the future, we can get more involved with the student body."
The St. George Children's Museum is looking forward to getting more involved and offering different volunteer opportunities for students in the future, Wotkyns said.
Kamri Chynoweth, a freshman radiology major from Castle Dale, said it sounded like a fun idea, but it wasn't advertised enough for her to plan ahead of time.
"My roommates and I were talking about it and how we didn't want to pay that much to get a dress," Chynoweth said. "They didn't really give much notice about it until the week of."
The dress code of the dance was formal, and for some students renting a dress or suit wasn't in their budget.
Ashley Sodorff, a sophomore nursing major from St. George, thought holding a fundraiser to help support the community and the university was a great idea.
"I think it would be cool to dress up and be able to help out at the same time," Sodorff said.
  The formal dance came as a surprise to some, but the students thought it was a good idea and the message of helping out the community was something the students could get behind.

Latest in Features:
Hangout hotspots in St. George

St. George is a hotspot for college students, tourists and residents. Dixie State University draws its students in with the beautiful red rocks and outdoor activities. There are many places around St. George that college students frequent; outdoor and indoor. I asked DSU students their favorite places to hang out. If you are looking for …

'Everybody' does a modern take of 'Everyman'

Dixie State University's production of "Everybody" invites audiences to become comfortable with their fear surrounding death. This production of "Everybody" is a modern adaptation of a 15th century play called "Everyman." Directed by Matthew Koenig, assistant professor of theatre arts, the play follows the character Everybody who has just been told by Death that his …

2022 Oscar nominations

Every year, movie lovers everywhere celebrate the Academy Awards, or more commonly known as the Oscars. Recently the nominations for this year's Oscars were released. Popular movies like "Dune," "West Side Story," "Don't Look Up" and more popped up in multiple categories. Let's look at the nominations from a couple of categories. Best Directing "Belfast," …
Want to read more? Follow us on Twitter and Facebook for daily articles and updates!