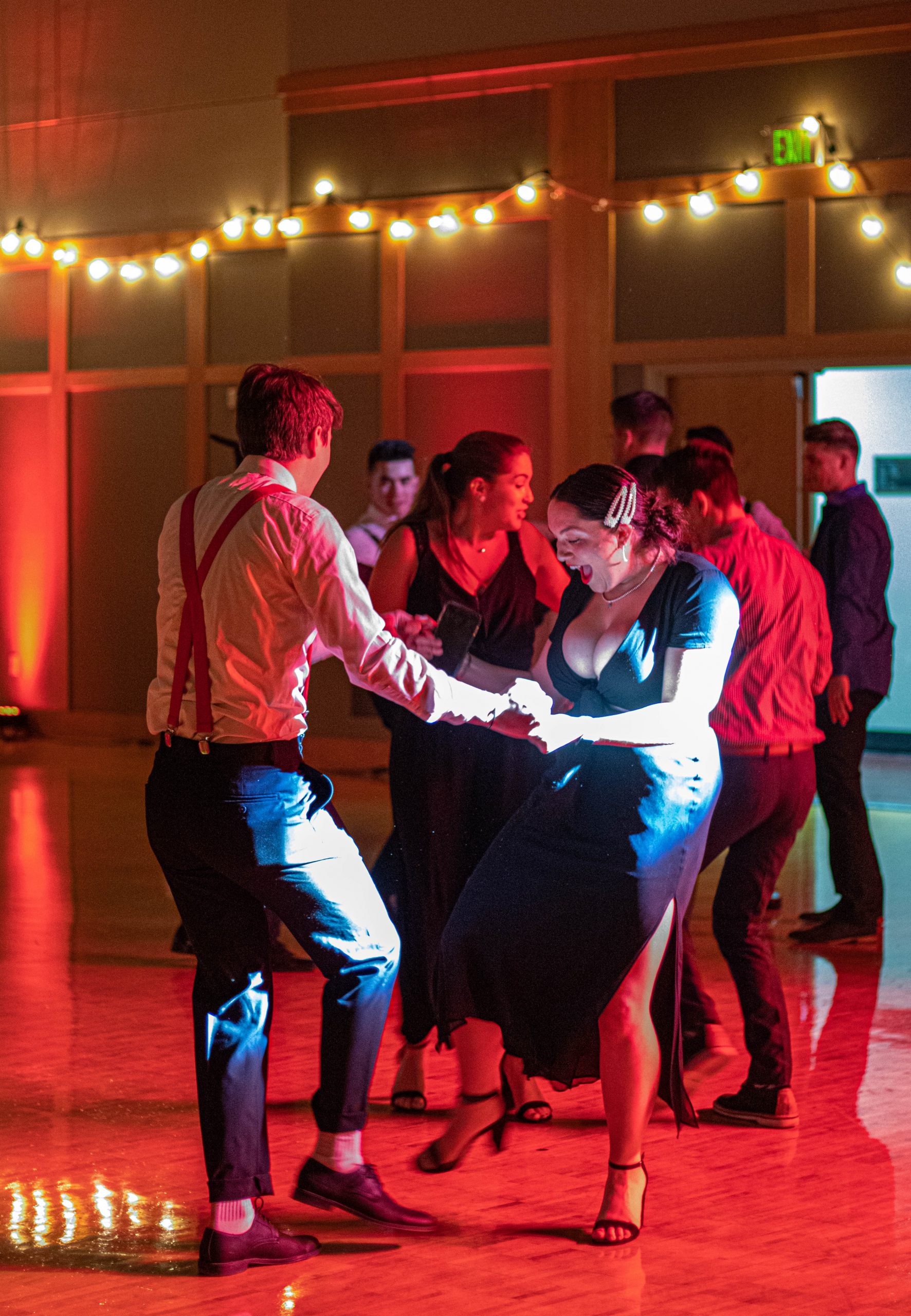 DSU students got together and raised money for alternative breaks and the Children's Museum on Jan. 10. Students also dressed up with the old Hollywood theme and danced through the night. Photo by Breanna Biorato.
---
Students were able to experience a night in classic Hollywood with the help of Dixie State University hosting its first formal dance.
Dixie State University held its first formal dance in a long time on Friday to help raise money for its alternative breaks and the St. George Children's Museum. The Dixie State University Student Association came together with St. George Children's Museum to plan a formal dance.
DSUSA also partnered with Mr. Tux and Ooh La La Dress Rentals to bring discounted prices for students. Mr. Tux was offering suits for $60 if paid in cash and $75 if paid with card. Dress rentals were $25 for short dresses and $40 for long dresses.
Anita Wotkyns, executive director of St. George Children's Museum, said they were very excited to be working with DSUSA and hope they are able to plan more events in the future.
"We were planning something with DSUSA last year, but we lost our advocate and weren't able to finalize anything until recently," Wotkyns said. "Hopefully, in the future, we can get more involved with the student body."
The St. George Children's Museum is looking forward to getting more involved and offering different volunteer opportunities for students in the future, Wotkyns said.
Kamri Chynoweth, a freshman radiology major from Castle Dale, said it sounded like a fun idea, but it wasn't advertised enough for her to plan ahead of time.
"My roommates and I were talking about it and how we didn't want to pay that much to get a dress," Chynoweth said. "They didn't really give much notice about it until the week of."
The dress code of the dance was formal, and for some students renting a dress or suit wasn't in their budget.
Ashley Sodorff, a sophomore nursing major from St. George, thought holding a fundraiser to help support the community and the university was a great idea.
"I think it would be cool to dress up and be able to help out at the same time," Sodorff said.
  The formal dance came as a surprise to some, but the students thought it was a good idea and the message of helping out the community was something the students could get behind.

Latest in Features:
Students leaving campus early amid COVID-19 outbreak

Students at Dixie State University have had to move out of student housing due to COVID-19.  This abrupt change caused living situation problems but it has also caused emotional problems. Jessica Powell, a junior education studies major from Tooele, said, "As a resident assistant I've been able to witness 50 girls have their lives completely …

Senior dance students complete capstone despite social distancing

College dance classes may seem to be impossible to do online, but students and faculty at Dixie State University are determined to make it work. The dance capstone occurs in two semesters: the first semester, students take a course in the fall centered around choreography, then in the spring, these students focus on creating self-promotional …

Capstone projects continue through COVID-19 disruption

It is the time of year for seniors to showcase all they have learned throughout their educational experience with their senior capstone projects. With the move to remote learning and the partial closure of the Dixie State University campus due to COVID-19, these projects have had to take a more creative approach, especially for those …
Want to read more? Follow us on Twitter and Facebook for daily articles and updates!