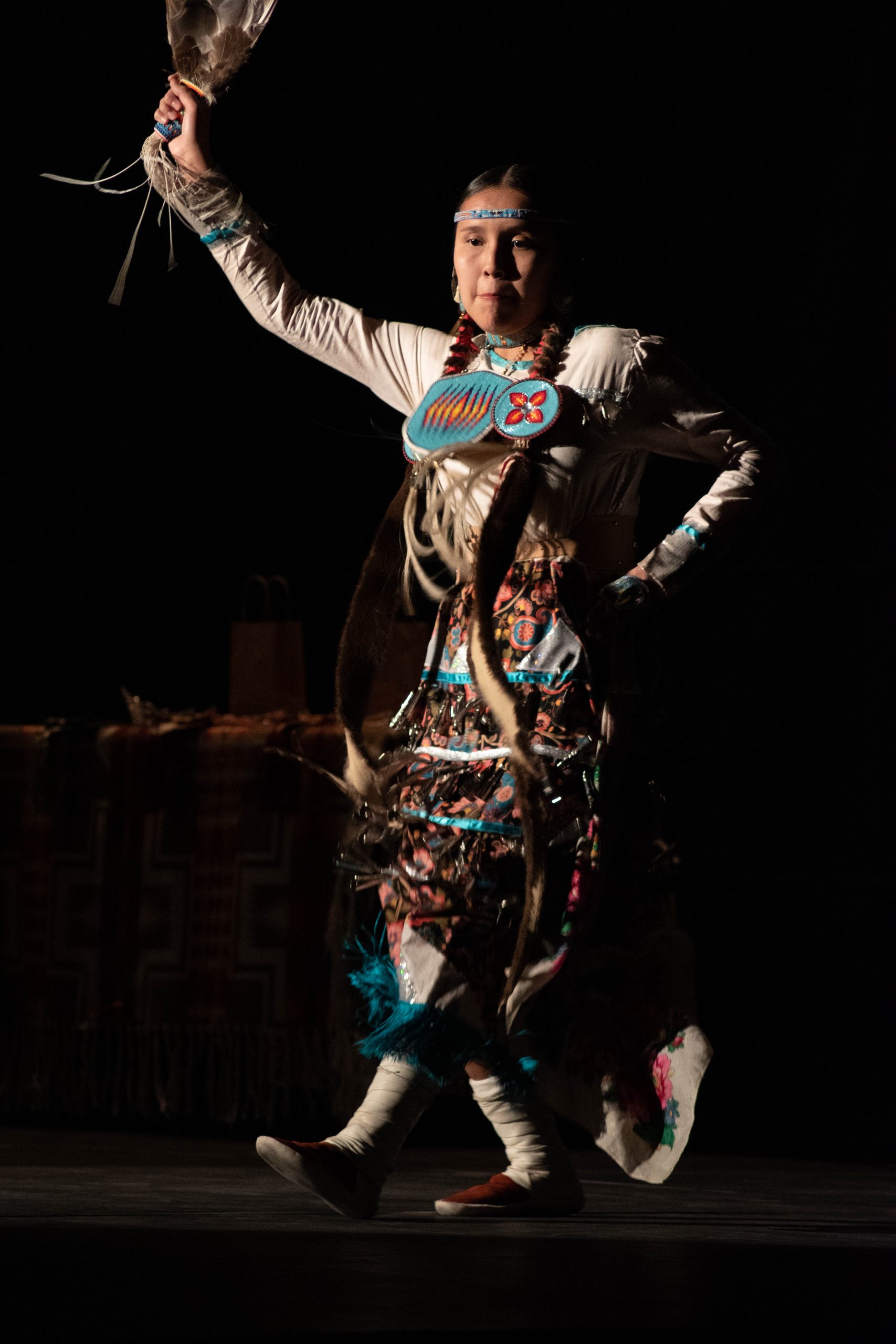 Marissa Clitso, a sophomore psychology major from Kanab, performed a traditional dance from her Navajo culture in the 2019 Miss Native Dixie pageant. The pageant is an important way for Native American students to showcase their heritage. Photo by Tia Walker.
---
The spotlight shines down on you brightly, you take a deep breath and remember why you entered the Miss Native Dixie Pageant: to represent your heritage.
This event is a way to proudly celebrate who you are and share the beautiful customs of your culture with others. You are bringing diversity to Dixie State University.
Three high-spirited contestants have the opportunity to represent their Native American cultures while competing for a crown at the 24th annual Miss Native Dixie Pageant on Jan. 29.
The candidates will be judged on their performances of a traditional talent, modern talent and an answer to a complex on-stage question.
There will be three judges scoring the candidates during the competition, each important figures of Native American preservation at DSU: David Zundel, former Native American Student Association adviser; Crissie Adams, Miss Native Dixie 2014-2015; and Melissa Hinton, a local member of the Native American community.
Mike Nelson, the assistant director of the Multicultural and Inclusion Center and Miss Native Dixie pageant director, said although it is a competition to win a prestigious title, the Miss Native Dixie pageant is a way for all who enter to represent and share their culture with students, staff and community at DSU who may not know much about it.
"Miss Native Dixie is a contestant who understands and appreciates her culture," Nelson said. "She is someone who goes the distance in the educational world. In addition, she is someone who can inspire and empower young, impressionable girls."
Each of the candidates must be someone who gracefully represents herself and her culture, completes service within the community, is exceptional in school and plans to graduate from DSU, and is a role model to all those around her, Nelson said.
Nelson said once someone is given the ultimate title of Miss Native Dixie, she must resume the significant duties of attending the DSU Homecoming parade, visiting a variety of schools within southern Utah, educating youth on Native American culture, and assisting at various scholarship fundraisers.
Farrah Duncan, a junior criminal justice major from Farmington, New Mexico, and 2019 Miss Native Dixie first attendant, said the pageant is a perfect opportunity to spread diversity and raise awareness of Native American culture across campus.
"When I first came to DSU, many people did not know what my ethnicity was or how important it was to me," Duncan said. "Being able to use the pageant to represent my Navajo culture gave me a way to show people all about where I come from."
Duncan said how it is essential for candidates to carefully prepare for the pageant. To educate others, they must fully understand their culture and rehearse continuously to perform traditional dances or speak their native tongue.
"I have been preparing and practicing my talents that I'm going to be performing with my friends and family," said Cristal Elias, a sophomore exercise science major from Cedar City. "I would love to bring more recognition to this event for people who may not know what we do at this pageant."
Nelson said Native Americans are not a long-forgotten people, and the pageant allows for everyone to recognize them for their contributions, especially in southern Utah.
"It gives the opportunity for our DSU students to recognize and see that Native Americans aren't a relic of the past," Nelson said. "Their culture is very much alive and thriving."
The Miss Native Dixie pageant will take place in the Kenneth N. Gardner Student Center on Jan. 29 at 7:30 p.m.

Want to read more? Follow us on Twitter and Facebook for daily articles and updates!