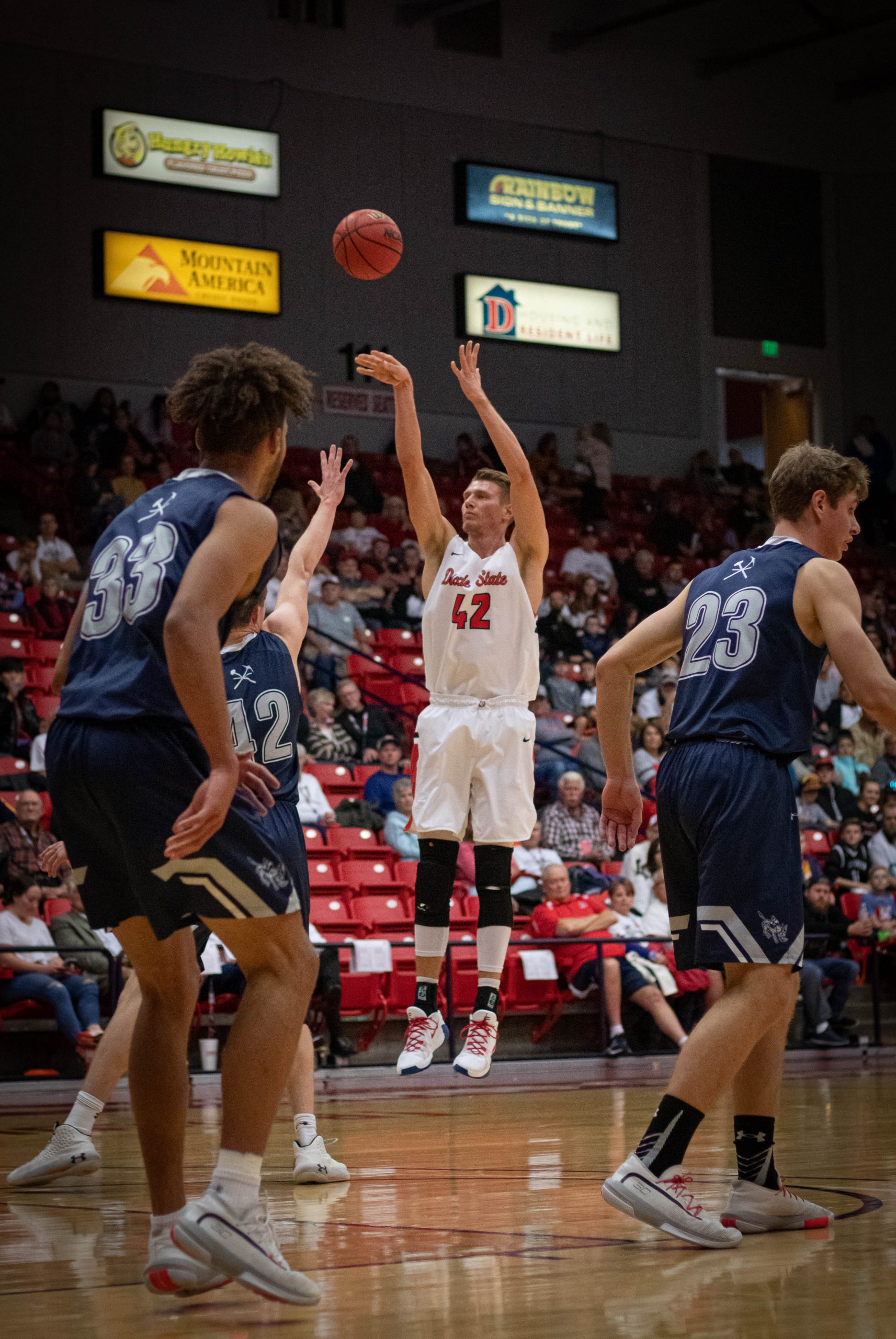 Cameron Chatwin, a senior in recreation and sports management from Meza, Arizona shoots a three-pointer against Colorado School of Mines on Jan. 4. Photo taken by Breanna Biorato
---
The Dixie State University men's basketball team has its longest road trip of the season ahead of them as they prepare for Metropolitan State University-Denver on Jan. 10 and Chadron State University on Jan. 11.
The Trailblazers are coming off a tough one-point overtime loss to Colorado School of Mines. The final score of 79-80 on Jan. 4 marked the team's first loss of the season in conference play. The day before, the team celebrated a 75-61 victory against the University of Colorado-Colorado Springs. Head coach Jon Judkins said it is important the team overcomes the long travel it has coming up.
Judkins said: "This is a very important trip. One, we just came off a loss which is tough and two, it's the longest trip we have all year long. We fly to Denver then we have to drive 4 hours to another game the next night. It's the longest trip of the teams we've played in our conference."
Frank Staine, a freshman general studies major from Inglewood, California, said his time playing for DSU has been surreal.
"I feel like I'm dreaming most of the time," Staine said. "It's just like everything a college basketball player could think about or want, so I'm just thankful every day that I have the opportunity and I try to make the most of it."
Dason Youngblood, a junior communication studies major from South Jordan, said the loss taught the team to focus on the little things.
"There are a lot of things we could have done differently that could have changed the game, but it was a fun game so we just gotta focus on the little things," Youngblood said.
In the game against Colorado Mines, Youngblood racked in 11 points, two assists, two rebounds and three steals. Staine contributed with four rebounds, one assist and one steal. The day before against UCCS, Staine led the team with 20 points, six rebounds, three assists and three steals. Youngblood brought in eight points, five rebounds, four assists and one steal.
Judkins said: "The reason why we've done as well as we have this early is because they're playing together. The two games that we've lost is when we stop doing that. We stop sharing the ball [and] we try to maybe do too much ourselves. I don't think there's a weak link on our team, so it's nice to get that ball moving from side to side and if you're open, then shoot it."
The Trailblazers said their team's greatest asset is the strength in its numbers.
"We're unpredictable; we can't say who is going to be our high scorer because we always have someone that can step up in any game," Staine said.
A major challenge every team in the Rocky Mountain Athletic Conference has to face is back to back games.
"It's a long season and you get worn out," Judkins said. "I thought Saturday I felt that. I thought we were a little tired playing three games in a week then playing back to back. The back to back stuff is really hard."
Despite the challenges, DSU holds an 11-2 overall record.
DSU will face MSU-Denver on Jan. 10 in Denver, Colorado, and Chadron on Jan. 11 in Chadron, Nebraska. Both games will be at 7:30 p.m.
Staine said the entire team is eager to bounce back.
"It'll be a tough test but I think we will be ready. We'll be hungry to get out there and play two more games," Youngblood said.
While watching film is a major factor in preparing for an opponent, the Trailblazers said they stay focused on themselves.
"Sometimes you focus too hard on how to stop them and you forget about things you need to work on or what you can hurt them with, so we do both," Judkins said.