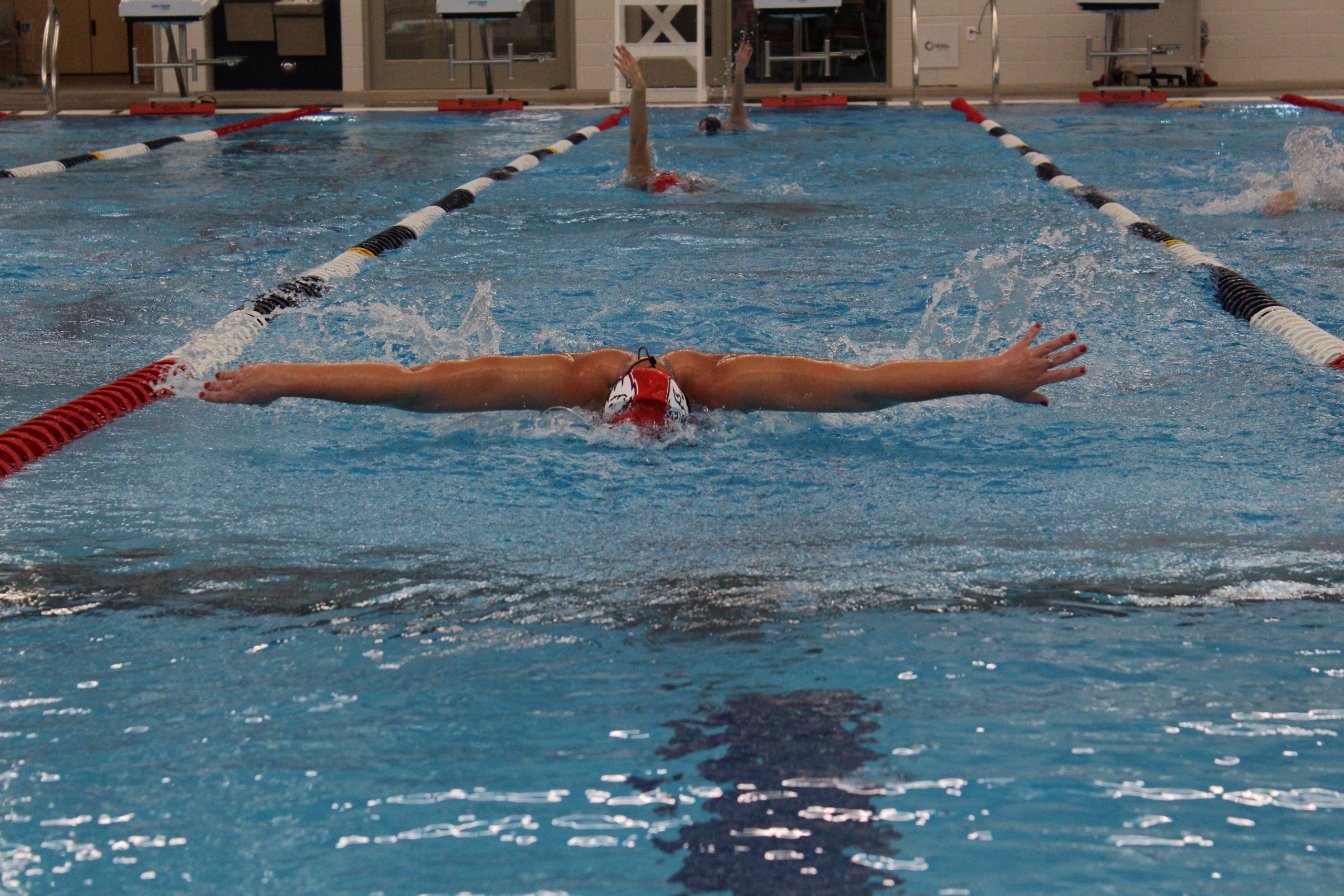 Nicole Christensen, a freshman elementary education major from St. George, practices for upcoming meets at the new Human Performance Center. Photo by Cammie Johnson.
---
By: Lindsey Grenowich
The Dixie State University women's swimming team is preparing for the San Diego Dual after placing second overall at the Colorado Mesa University A3 Performance Invitational.
Head coach Tamber McAllister said, "If you can compare it to where we were last year, we're leaps and bounds ahead."
The Trailblazers broke 12 DSU women's swimming records at the four-day meet.
Portia Blackert, a freshman general studies major from Las Vegas, said, "Coach Tamber is putting together a very good team that is getting increasingly faster and stronger over the years."
This is the last season that many of the athletes will compete at the collegiate level. For the seniors on the team, this is the last chance to come home with a better title.
Hannah Hansen, a senior exercise science major from Lehi, said: "We are just getting back to the grind. We have to build up our yardage to get back to where we need to be. December through January we are just focusing on building up our intensity."
Hansen finished the meet with 57 points, tied for fourth place overall.
"I am just enjoying every last minute of it," Hansen said. "I am hoping to make it to nations again, but I also hope some of my teammates make it because I think that would be the most memorable way to end the season."
The new Human Performance Center at DSU, which is equipped with an Olympic-sized swimming pool, serves as the team's new home. The new addition gives them the convenience and accessibility to practice and prepare for upcoming meets at any time of the day. Before the HPC was built, the Trailblazers occasionally had to drive to the Washington Recreation Center to practice because it was the only facility large enough for the entire team.
Kelsea Wright, a sophomore nursing major from Canyon, California, said: "It is super nice to have a pool on campus that I can walk to from my classes and still be on time. It just isn't the hassle like it used to be."
The new facility also gives them access to an on-site athletic trainer to help keep them healthy before and after practices.
McAllister said: "Our training space is amazing; we have two, three girls in a lane and that's really unheard of. It gives us the space to do whatever we want at practice instead of limiting us."
The Trailblazers will complete in the San Diego Dual on Dec. 14 at the University of San Diego for their final meet of 2019. The team's next home meet is the Northern Arizona University Dual on Jan. 18.