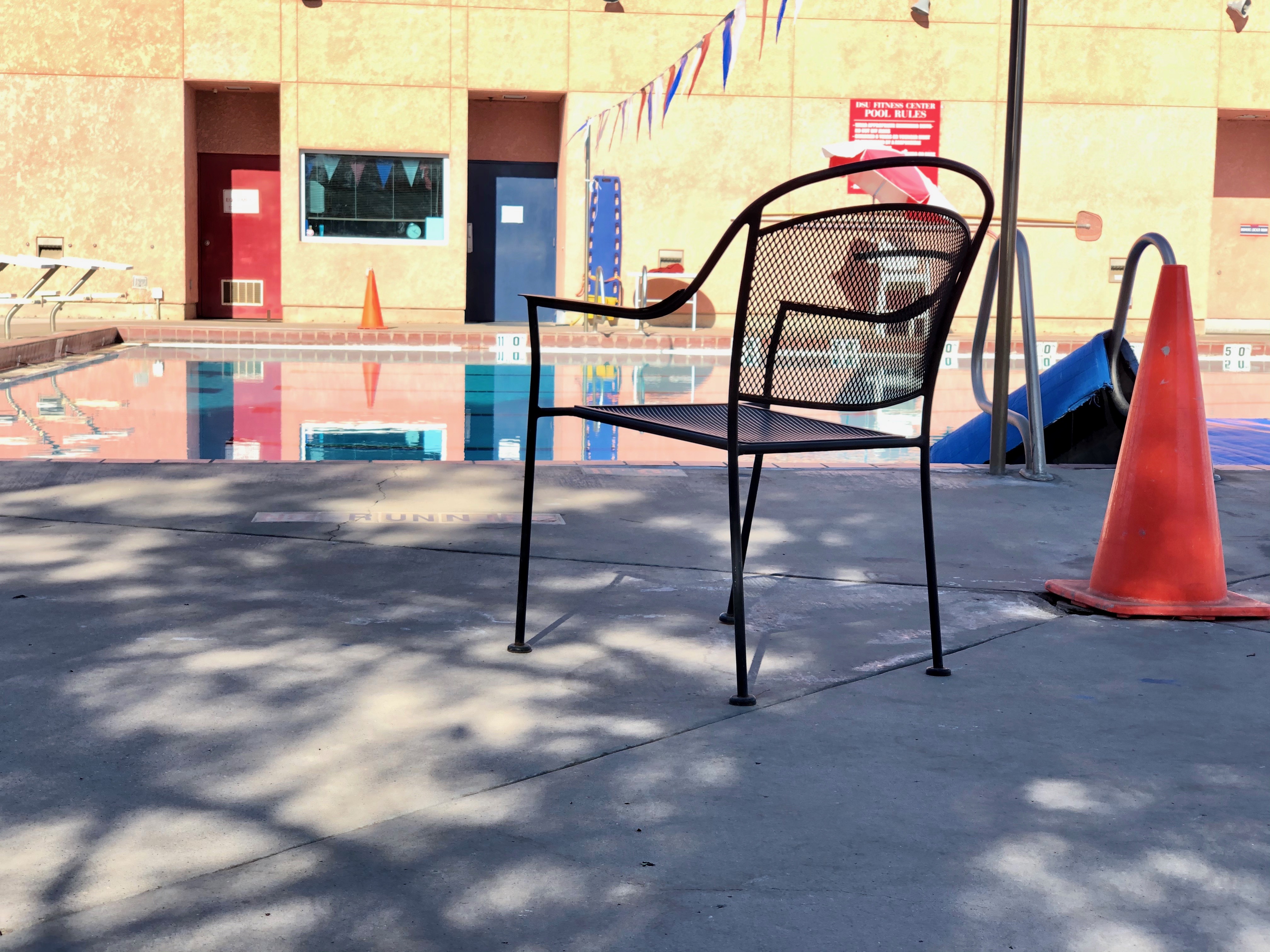 The 40-year-old pool located south of the George S. Eccles Fitness Center will be closing Dec. 14. In its place, services for the new master's of athletic training program will be available. Photo by Abby Doman.
---
The pool south of the George S. Eccles Fitness Center is officially closing on Dec. 14.
The decision came to the lifeguards and other pool staff members on Nov. 18 after much uncertainty about what would happen to the area after the official opening of the Human Performance Center on Nov. 13.
The HPC is furnished with a state of the art aquatic center, which includes an Olympic-sized swimming pool and a hot tub area. The pool in the HPC is only open to Dixie State University students, however, while the Eccles pool has been open to the community, alumni and students.
"All of our programs are going to change tenfold just because we have the new facility and all of the new equipment, so it will benefit everyone in the long run," said Courtney Given, part-time pool manager and DSU alumna.
Given said some of these programs will possibly include a junior lifeguarding program, a diving team, and classes, such as stroke correction classes or CPR.
"It opens up so many things for us to be able to do," said Tammy Williams, part-time training specialist at the Eccles pool.
As of now, pool staff are being told the fitness center will be renovated to accommodate a learning environment for the new masters of athletic training, Given said.
Sherry Ruesch, assistant vice president of facilities management, declined to comment.
Scott Jones, a senior finance major from Stansbury and Eccles pool lifeguard, said the thing he will miss the most about the Eccles pool are the regular users he sees on his shift, including DSU faculty, community members and alumni.
The Eccles pool has been open since 1980; the only other open at that time was the St. George City pool on 700 S. Community members as well as DSU students, faculty and staff have regularly used the pool since this time.
"It's just the closing of the era," Given said.
Students, faculty and alumni are able to access the pool until its closing on Dec. 14. For more information visit https://recreation.dixie.edu/aquatics/ or contact Given at dsuaquatics@gmail.com or 435-652-7989.