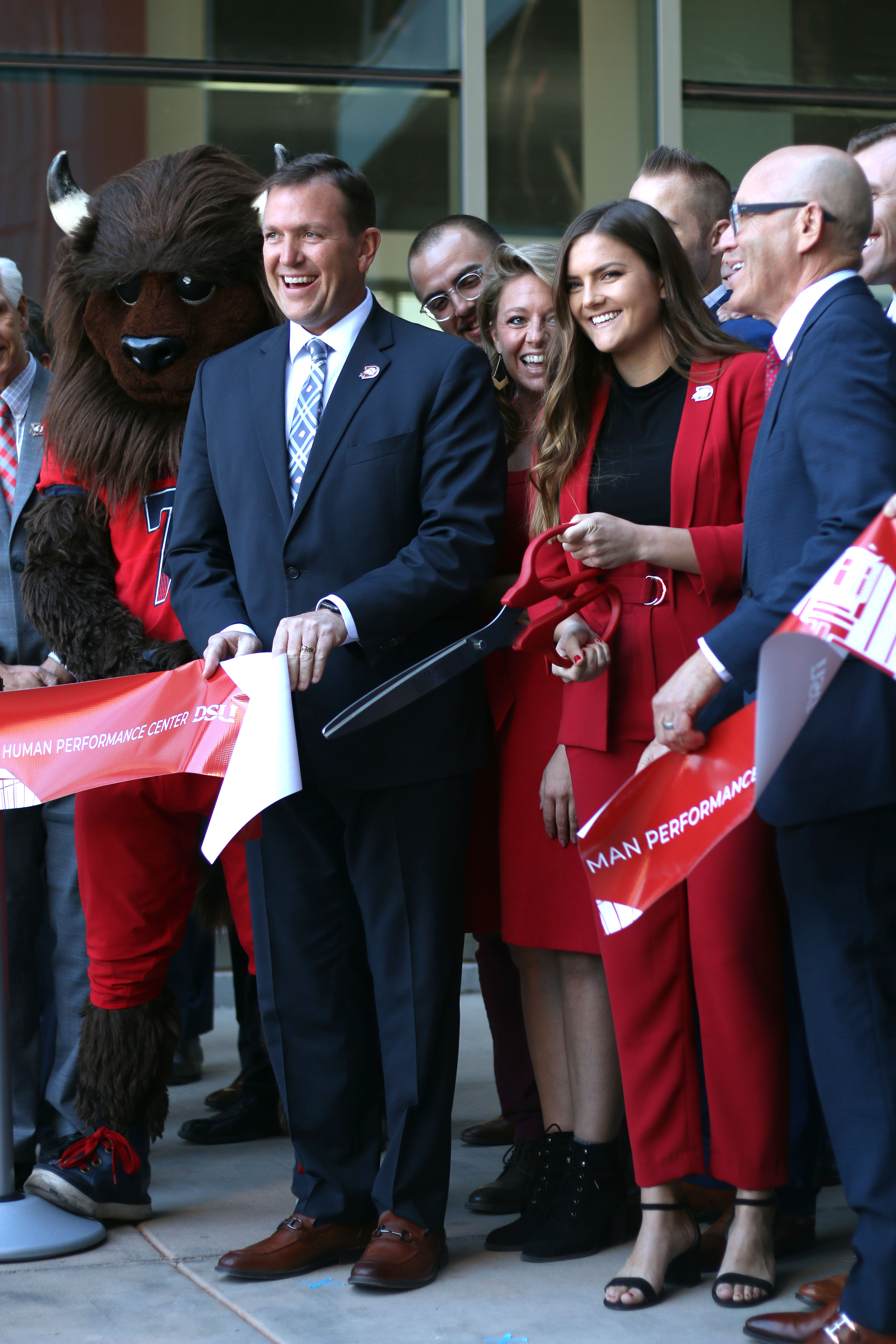 Invited guests, students and board members participated in the ceremonial ribbon cutting for the new Human Performance Center on Nov. 13. The HPC will host an annual community day, where residents can visit the building's resources. Photo by Jaxon Chapman.
---
Dixie State University's Human Performance Center had its official ribbon cutting event on Nov. 13, which included an open house of the building. The HPC features:
An aquatic center with an Olympic-sized swimming pool and a hot tub area
A gym that can host basketball, netball, volleyball, indoor soccer and aerobics classes
A two-story fitness center with two dozen treadmills and a variety of elliptical machines and stationary cycles, as well as a free-weight and strength-training area
Labs and classrooms
A set of indoor and outdoor running tracks on the roof
A 65-foot rock climbing wall
A lounge space
Grazers, a place for students to eat healthy food
The HPC started its construction phase in October 2017 and costed $60 million, half of which was funded by students.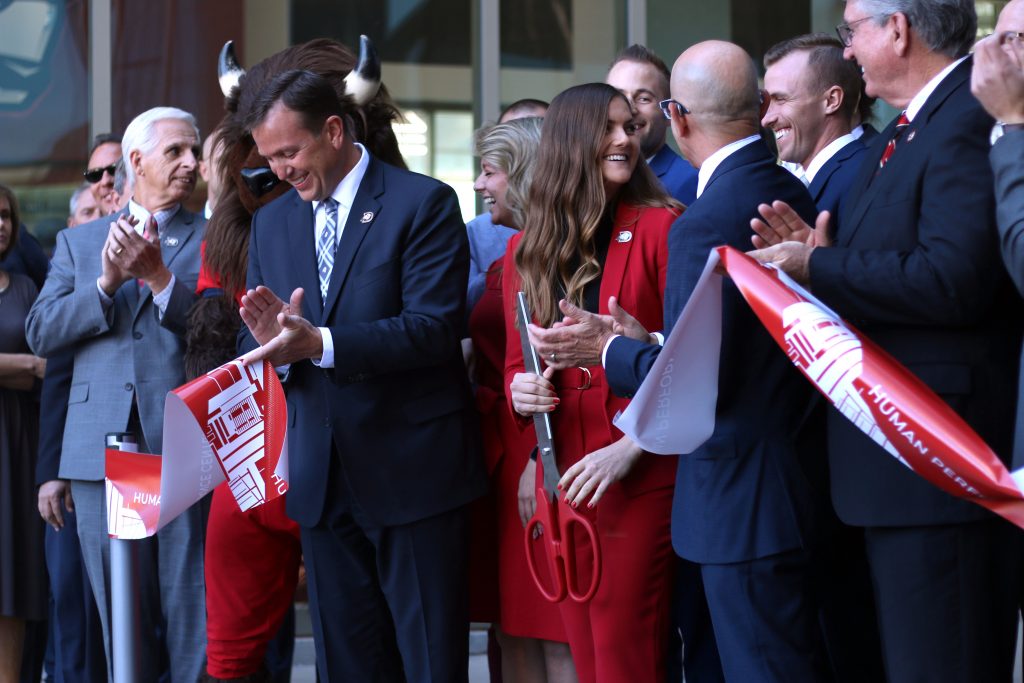 "I have to say, probably I'm more excited than most [people] for the completion of the Human Performance Center," said Eliezer Bermudez, dean of the college of health sciences. "We had some time when we thought, 'Maybe it's going to be there, maybe not,' but here we are."
Bermudez said it's imperative to have a place to prepare students to face high levels of obesity, overweight populations, inactivity and diseases so they can become qualified professionals who can educate, motivate and lead those they help toward a healthier lifestyle.
"This building embodies the spirit of [DSU] students and what active learning, active life truly means," said Student Body President Taylor Godfrey, a senior population health major from Buckeye, Arizona. "Students will be able to engage; they will work toward their fitness goals, win intramural championships, perhaps learn a new skill — like paddleboard yoga — and overall enhance their active lifestyles."
There was a moment of silence held during the ceremony for the late Lindsay Atwood, former chairman of the board of trustees.
David Clark, current chairman of the board of trustees, said, "Atwood was a dreamer in seeing what others can't see, being able to look into the future and find needs, to move into action to serve those needs."
"This building embodies the spirit of [DSU] students and what active learning, active life truly means,"

Student Body President Taylor Godfrey
Alumnus Sutherland Wyatt said the addition of the innovative HPC makes him wish he was still going to DSU.
"I'll be honest with you, I'm super jealous of the building and I'm kind of bummed with myself that I didn't slow down my education," Wyatt said.
President Richard "Biff" Williams said a few weeks ago he got a text late at night about 20 excited students who found their way prematurely into the pool.
"Most presidents would be concerned," Williams said. "I only had two concerns: one, were they alive, which they were, and two, did they have clothes on, and they did. … To say we're excited about the newest addition on our campus would be an extreme understatement."
The HPC is free to all students and faculty at DSU and only requires a student or faculty ID card at check-in. The community will be able to use the building once a year, though no specific date has been set after the inaugural community day on Nov. 14, which will include free classes, presentations and activities throughout the building from 3 p.m. to 9 p.m.
For more information, visit hpc.dixie.edu.
Want to read more? Follow us on Twitter and Facebook for daily articles and updates!