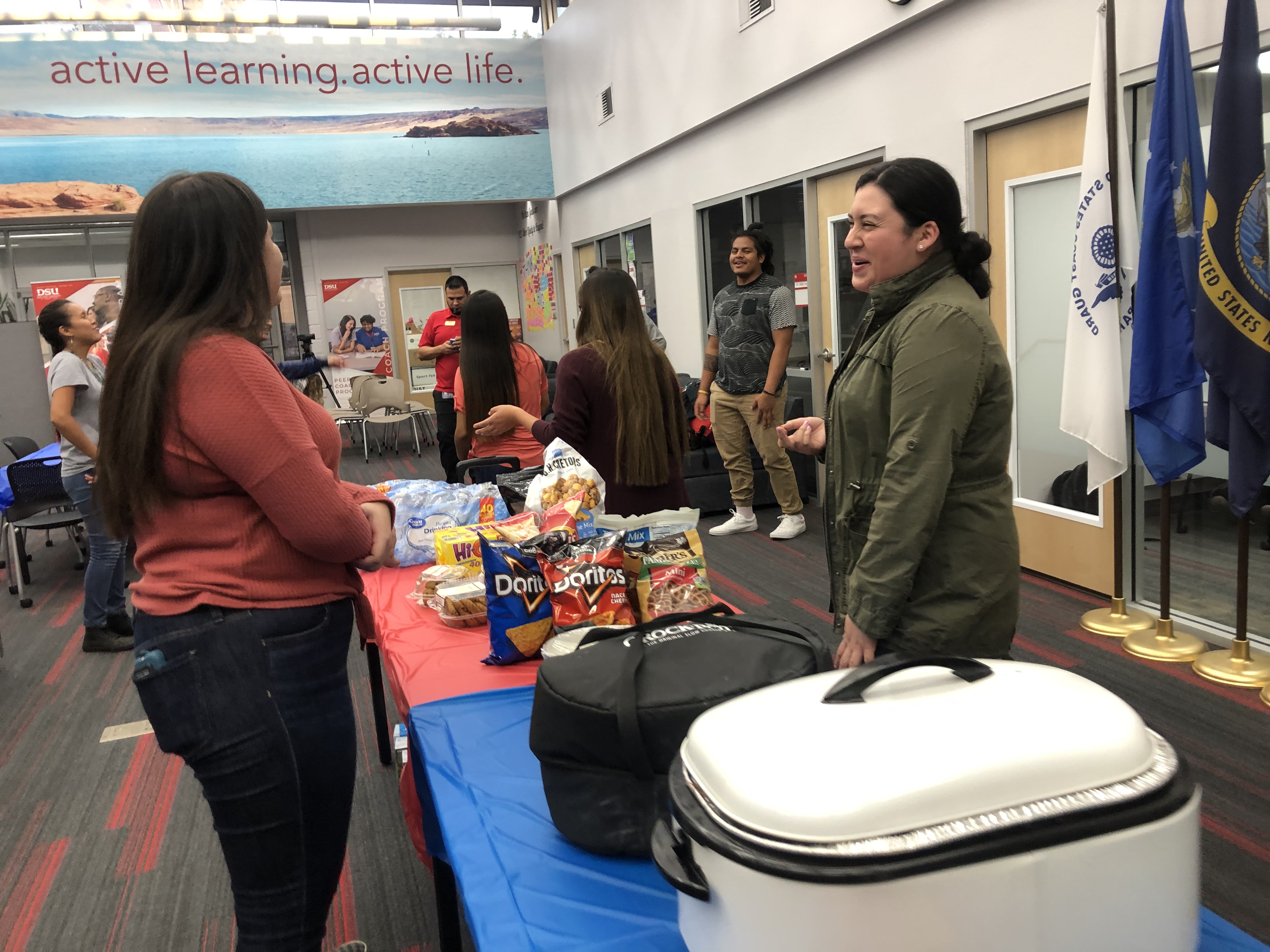 Students gathered in the Student Success Center for the Multicultural Inclusion Student Association's Friendsgiving Potluck in celebration of Native American Heritage Month. Photo by Monique Chavez.
---
By: Ilea Thompson
It is important to explore different cultures as a means of learning and expanding your knowledge about other cultures. Dixie State University is providing this opportunity by celebrating Native American Heritage month during the month of November.
Mike Nelson, assistant director of the Multicultural and Inclusion Center, said the MIC is hosting different events throughout the month to bring awareness, understanding and appreciation of the Native American culture.
Nelson said it is the mission of DSU, the Multicultural Student Association and MIC to promote diversity and inclusion on campus and in the community. They have been celebrating the month of Native American Heritage since 1990.
"Native students are here; we are a part of the culture at [DSU]," Nelson said. "Not only are Native students alive and well but they are thriving, they are earning degrees, they are moving on to graduate degrees, [and they are] getting employed in various fields of work, adding positively to all communities."
Nelson said he fears the Native American Heritage Month declaration is getting less attention these days and wants to be a part of bringing that attention back and creating a more inclusive atmosphere at DSU.
Marissa Clitson, a sophomore business administration major from Kanab and member of MSA, said she wants students to have a deeper understanding and appreciation of Native Americans as people.
"Native students are here; we are a part of the culture at [DSU],"

Mike Nelson, assistant director of the Multicultural and Inclusion Center
Clintson said the different events this month will allow students of all cultures to have a chance to experience different aspects of the Native American culture first-hand.
Phyllis Kitseallyboy, a junior exercise science major from Kirtland, New Mexico and member of MSA, said the most important take away that she wants people to know is Native Americans are present at DSU.
Kitseallyboy said: "We are here, even if we are small in number. Education is important to many people but for the Native American students at DSU, education is an even bigger deal. I'm just trying to get a higher education and then give back in a positive way to my native community and all the communities that I will become a part of someday."
This year's celebratory events consist of native bingo, reservation relations, fry bread making, and film screenings called Healing the Warrior Heart, Smoke Signals and Bloody Memory. Events that have passed include dream catcher making and a friends-giving potluck, if you missed out, don't worry because MIC is planning to continue the celebration month every year.
Check out their Instagram page, @dsu_mic, for event updates and details.
More in News:
Want to read more? Follow us on Twitter and Facebook for daily articles and updates!