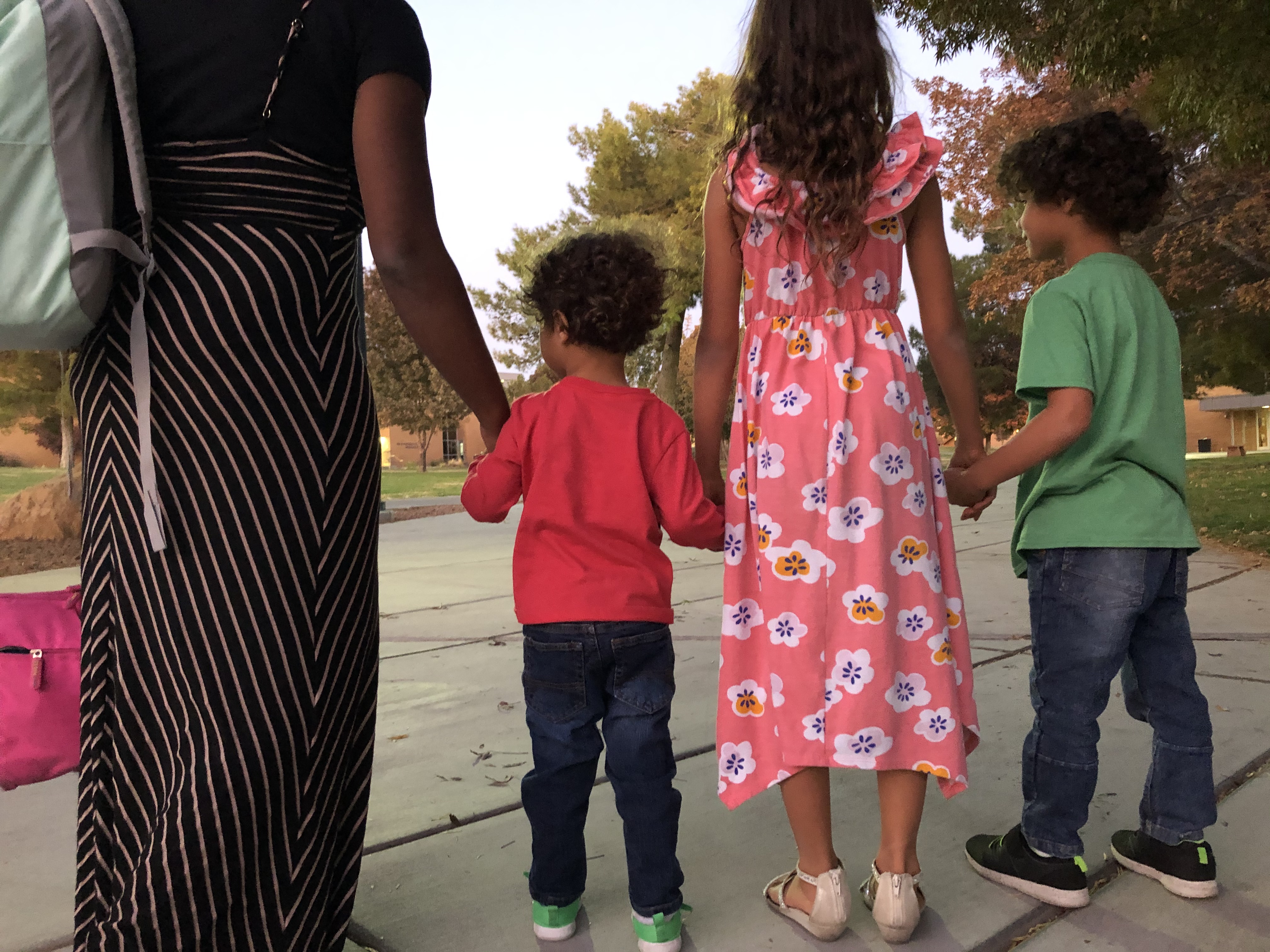 Tahina Wursten, a senior science and English major from Tallahassee, Florida, brings her kids to campus with her. Her and her husband's schedules are tight with not having easy access to affordable day care. Photo by Kristi Harris.
---
Dixie State University administration has discussed how to address the concern of not having a child care service on campus.
"As an institution, we do see the importance for a child care or day care on our campus; it's about leveraging those resources to what works best," said Tasha Toy, a member of the strategic planning committee and chief diversity officer.
Toy said the university wants to focus more on improving academics for students, such as better class times or more class options, which is why the administration is putting a hold on building a day care.
President Richard "Biff" Williams said when implementing something into a university, the administration needs to ensure there is a need for it. Based on the feedback from students, there have been more substantial matters to work on such as new degree programs, a recreation facility, more student housing, and an updated science building.
"As an institution, we do see the importance for a child care or day care on our campus; it's about leveraging those resources to what works best,"

Tasha Toy, a member of the strategic planning committee and chief diversity officer.
The university is meeting the more drastic concerns above the less voiced concerns, Williams said.
Williams said he believes the community is meeting the needs of families in having accessible day care around town; however, they are going off the research and student input, so it could be different than what is documented.
Williams said more input from the non-traditional students would be helpful to ensure their voices are being heard.
"I'm sure as a university we will have some sort of day care eventually," Williams said. "We just need to do it at the right time because it will be expensive."
The cost is a large factor in creating a day care, Williams said. They need money for equipment, furniture, employees, a new building, insurance and the subsidized cost of day care to make it affordable.
The university also doesn't want to compete with the community day cares; there is a large capacity of day care facilities around town available for students, Williams said.
There are plenty of resources, a few that are even close to campus; however, Toy said the university needs to make the information more readily available on the website.
Williams said as the student body and faculty grow, a greater need for day care will emerge.
"[The administration is] trying to figure out what's the best way to solve the problem when it comes to child care," Toy said. "It is important and does need to be addressed."
There are numerous solutions the university has experimented with, Williams said. A few have worked, others didn't, and another is just getting started.
In response to the child care issue, members of faculty senate are in the process of creating a sub-committee where they will meet and discuss how to facilitate the creation of child care for students and faculty, said Derrick Esplin, volunteer on the sub-committee and assistant professor of accounting.
The university allocated money in 2015 for a drop-in day care at the testing center because students had expressed the need for a place to bring their children while taking a test, Williams said. It only lasted 18 months because it wasn't being used enough.
Williams said the administration has considered partnering with community day care facilities by getting a grant to cover the subsidized cost for students and sending it to a local day care for students to have access but at a lower cost.
Jeffrey R. Holland Centennial Commons building has a room specifically dedicated as a nursing room that has been open for two years. It is located on the fourth floor in room 409 and is available on a first-come, first-serve basis during regularly scheduled DSU library hours. Students can visit the library circulation desk to check out the access key. Faculty, staff and students who wish to use the room on a regular basis can request an ID card for access by emailing their name, D number and email address to hcc.mothersroom@dixie.edu. Questions, comments or concerns can also be sent to this email.
"The university will be open-minded [about starting a daycare], we just need to make sure that we can plan for the future and meet the need," Williams said. "It will take a significant commitment from the university to have a daycare; it's not just starting a daycare, we want to start a great daycare."
Want to read more? Follow us on Twitter and Facebook for daily articles and updates!