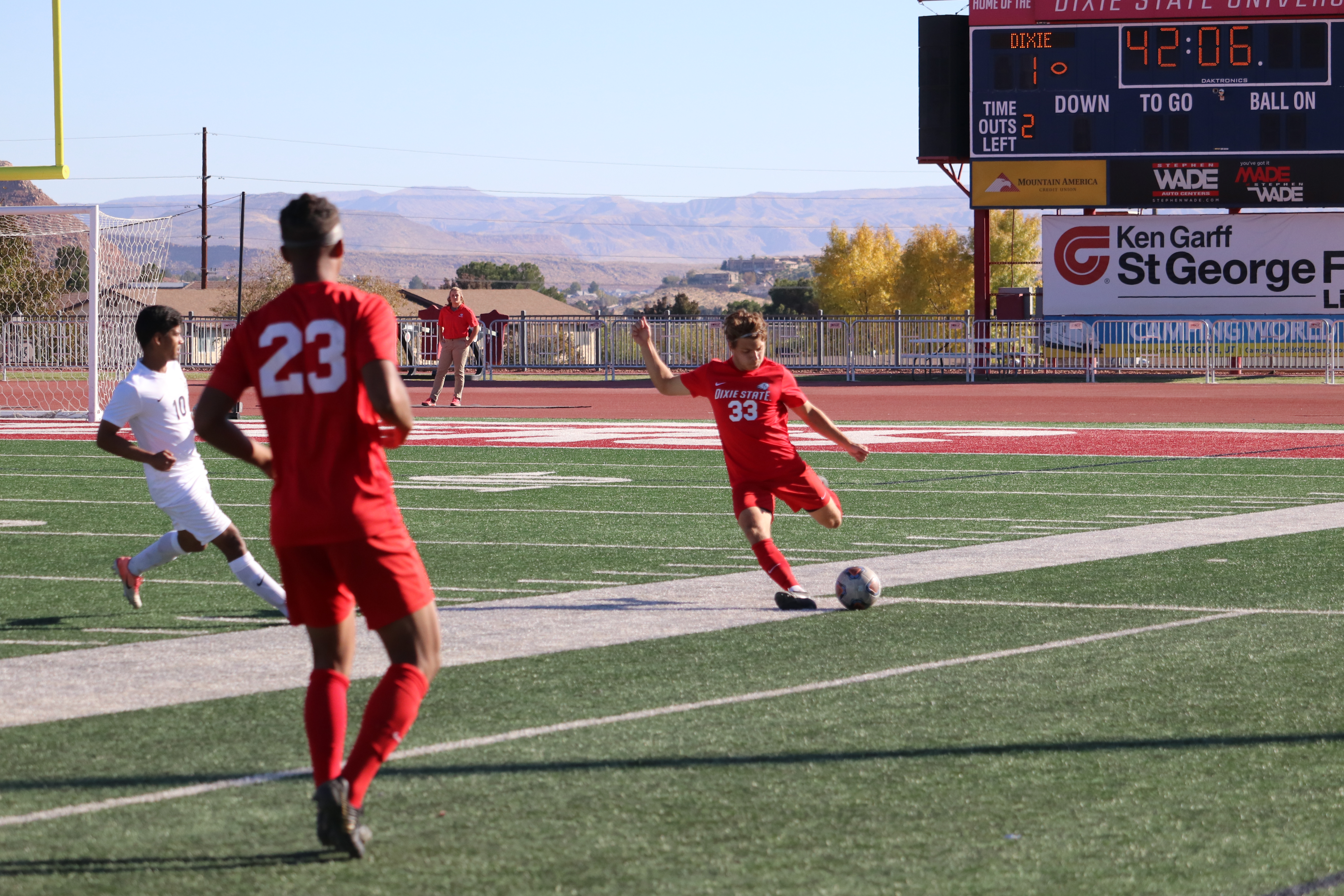 AJ Abbadessa, freshman exercise science major from Phoenix, goes to kick the ball to his teammate. The Trailblazers will host a home 2019 RMAC quarterfinal tournament. Photo by Madison Anderson.
---
The feeling of surrealness came over the seniors of the Dixie State University men's soccer team after defeating Colorado Christian University on their Senior Day game.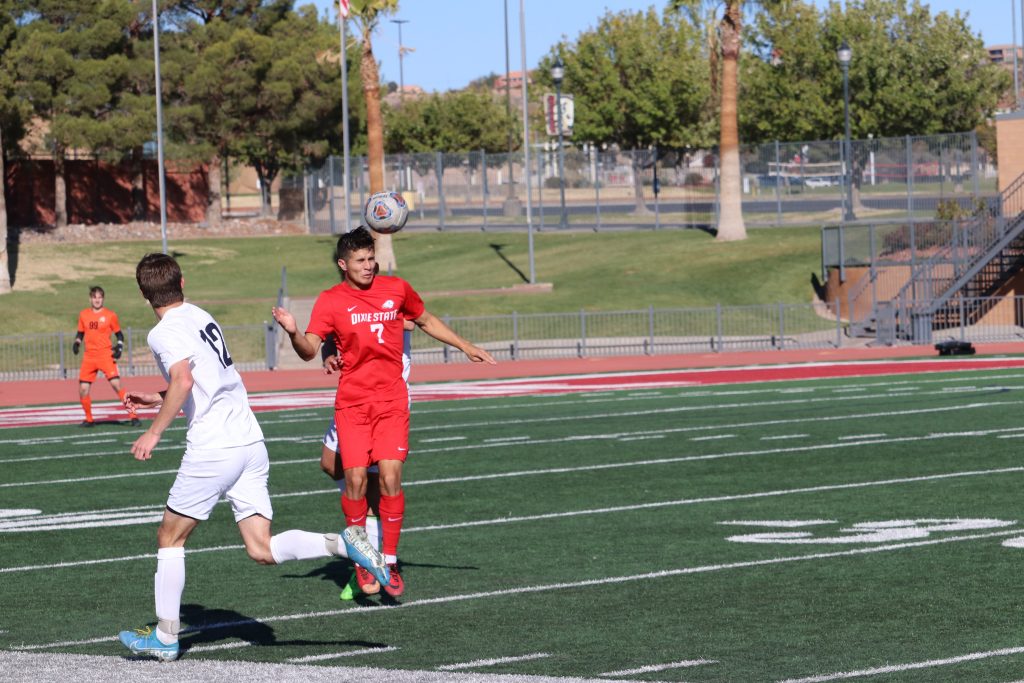 "It's really surreal being a senior and my time coming up," said goalkeeper Zach Nielson, a senior criminal justice major from West Point. "I think walking out here with my parents, getting a lot [of] talk and banter from the team letting me know that I'm an old man, it definitely hit today."
Forward Moises Medina, a senior general studies major from Mesquite, Nevada, said his time here at DSU has been amazing and he feels like he's been a part of a good team every year.
Head coach Jonathan Broadhead said he's proud of the seniors, they've done a great job this season and they deserve all the recognition that comes to them. Broadhead felt as if the seniors put too much pressure on themselves on a big day like Senior Day.
Broadhead said: "I think [the seniors] put a lot of pressure on this Senior Day. Everything they put in… they want a day to show it and I think that pressure got to us a little bit. It's a tough day, everyone wants to impress the seniors, everyone wants them to have that; it's still a team sport [and] you have to keep your composure."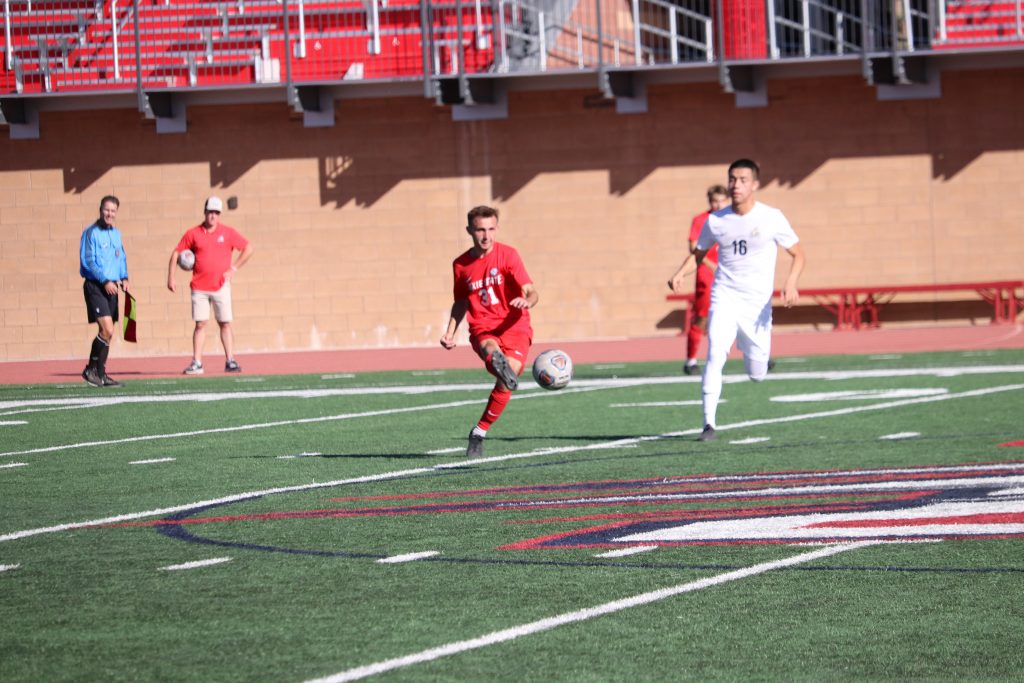 The Cougars struck first as they scored within the first two minutes of the game on a penalty kick. The Trailblazers answered back in the 15th minute with a goal by forward Daniel Brubaker, a sophomore general studies major from Hurricane, with the assist by forward John Joseph, a freshman art major from Richmond, British Columbia.
As the game winded down to the last two minutes of the game, DSU scored twice in the 88th minute with goals by defender Julian Herrera, a freshman health science major from Las Vegas, Nevada, and from Joseph. The final score from the game was 3-1.
With the win against CCU, the men's soccer team clinched a spot in the 2019 Rocky Mountain Athletic Conference tournament.
Medina said getting the win over the Cougars in front of family from his hometown felt amazing and he's thankful for getting a playoff spot and the opportunity to claim an RMAC championship.
Broadhead said he has mixed feelings about barely making it into the 2019 RMAC tournament and it's good to look ahead for next year to stay motivated for this year.
Broadhead said: "Is this all we want? Getting in on the last day? Are we going to celebrate over that or are we going to keep it in perspective that [we can] never be satisfied and can't look at any result and laugh. We have to take care of our job. If it's better than last year, that's great, but there's no way anybody is satisfied and celebrating tonight, not a chance."
The Trailblazers will host a home 2019 RMAC quarterfinal tournament game against in-state rival Westminster College on Nov. 7 at 6 p.m. at Trailblazer Stadium.
More in Sports:
Want to read more? Follow us on Twitter and Facebook for daily articles and updates!