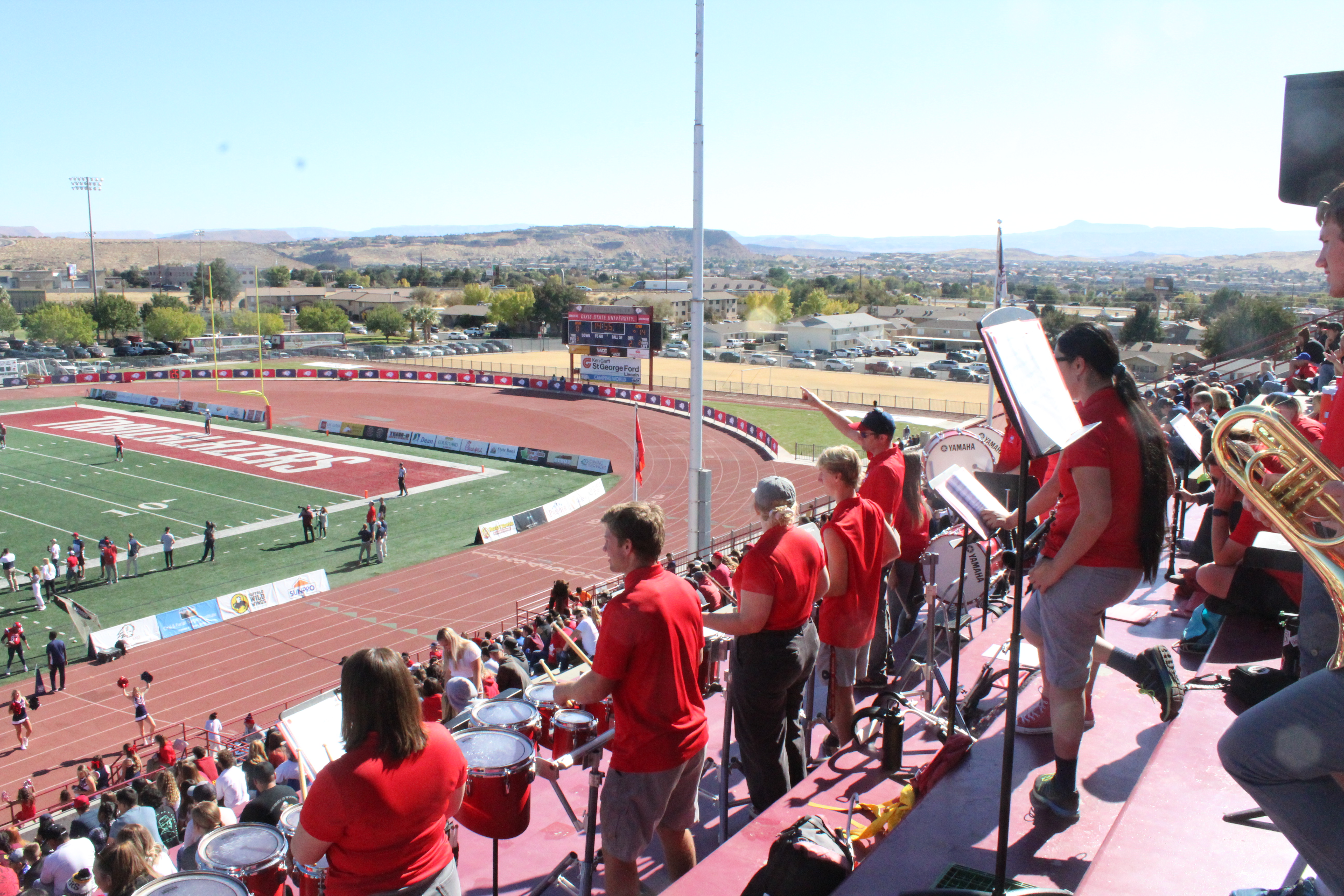 Students of the pep band rocks out during the DSU's football game. 38 students at Dixie helps the crowd get pumped up during the game. Photo by Madison Boyd.
---
The pep band is a key player within Dixie State University's athletics, contributing to the overall game day energy and fan experience.
The Dixie State University pep band practices once a week from 4:00-5:30 p.m. All 38 students practice stringently in preparation for the upcoming basketball and football games.
According to Google dictionary, Pep band by definition, is "an ensemble of instrumentalists who play at events, usually athletic, with the purpose of entertaining and creating enthusiasm in a crowd."
"We're part of a group, we're basically a musical family," said Director of Bands Bryant Smith, "We treat each other with kindness and respect and a good work ethic."
Students wait for a signal to start performing during the game. Students of the DSU's pep band help the crowd and stampede get into the spirit of the game. Photo by Madison Boyd.

The students of the pep band wait to perform during the DSU' football game. Brayant Smith, the director of the pep band says the 38 students involved are a musical family. Photo by Madison Boyd.
Smith said the pep band brings energy and works in conjunction with DSU cheerleaders, the dance team and even the players
Drummer Kyson Stoker, a sophomore music major from Layton, said, "I like when we all make noise in a way that sounds good and I like feeling pumped."
Everyone is training hard to make sure these events bring school spirit, create unity and involve the community and students. All teams trust each other to bring that energy to the field or court and come together as one, Smith said.
Not only does the pep band create an atmosphere for the players and other DSU teams, but it also brings the community and students in the crowds closer together as a whole.
"Not everyone has a thing for sports, but it seems everyone has a love for music," said Pep Band Captain Josh Payton, a freshman music major from St. George. "I think that the sports wouldn't feel the same without the pep band."
Pep band is an essential part of DSU athletics, and even though they don't get much recognition, the band still thinks of every game as a spotlight show. Whether it be on the band, the cheerleaders, the dancers or the athletic players, everyone is in the spotlight.

Although there are 38 students on the pep band, Smith isn't satisfied with the number. "It's a good number but I'm not content yet," Smith said. "I want more."
The pep band is always looking for more students to join and grow their musical family. If you share a love for music and a good work ethic, you might be a great fit.

To join the pep band, you must also take the course MUSC 1320.

According to the DSU website: "A performing ensemble is required to perform at all home football and basketball games. Students may be remunerated for their service in this ensemble. No audition required. Repeatable up to 8 credits subject to graduation restrictions."
"I really hope that anyone who reads this article and plays a band instrument says to themselves, 'I want to be a part of that' and comes and joins us," Smith said.
If you're interested in joining the pep band, contact Bryant Smith directly at bryant.smith@dixie.edu
Want to read more? Follow us on Twitter and Facebook for daily articles and updates!