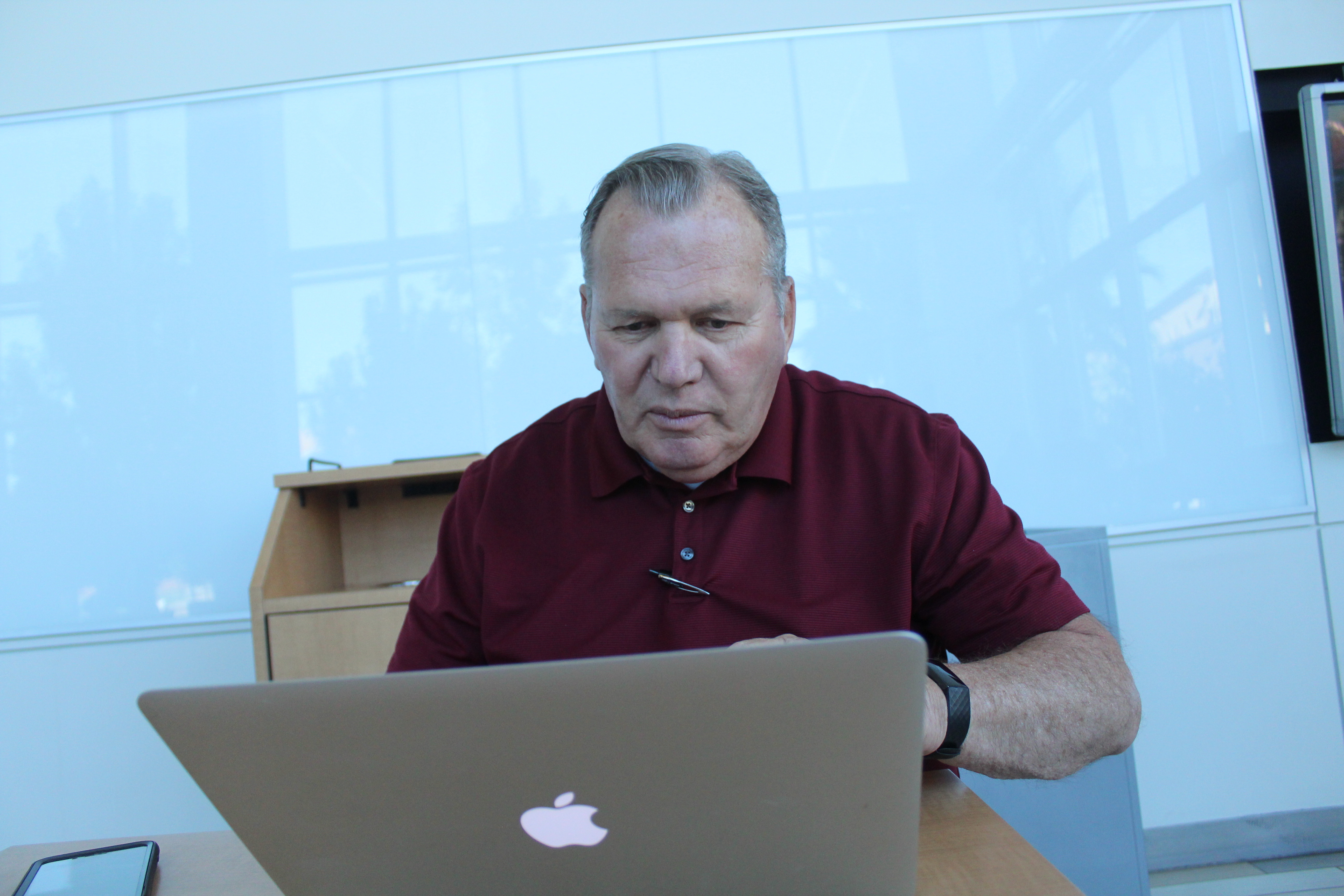 David Walter, a communications major from Saint George, goes over a paper for his History class at the Holland Building. Being the oldest student, Walter has many things to juggle, but always finds time for his family and volunteering in the community. Photo by Madison Boyd.
---
David Walter begins his typical day by getting ready for school at Dixie State University. David Walter heads into his English class at 9:30 a.m. and, just like any other DSU student, he endures the next lesson ahead. After classes, he then heads to work at 1 p.m., where he is a bus aide for special needs children at the Washington County School District.
What sets David Walter apart from other students? He is 77 years old, making him DSU's oldest student.
David Walter graduated from a Catholic high school in Coeur d'Alene, Idaho in 1960. While working trying to save enough money to go to college, he received a draft notice for the Vietnam War. He joined the US Navy in lieu of participating in the draft since everyone drafted was sent to Vietnam immediately after boot camp.
While serving in the Navy, David Walter was sent to electronics school for a year and crypto electronics school for an additional eight months. After schooling, he was sent to the Philippines where he served in a communication station until he received an honorable discharge at the end of his enlistment in 1968.
"By this time, I was married with two children and life got in the way of a college education," David Walter said.
After moving to Utah, David Walter met his now-wife, Donna Walter. She decided she wanted to go to college at DSU. They could not afford for both of them to be students at the same time even with financial aid funding, so Donna Walter pursued schooling first.
Donna Walter just graduated spring 2019 with two bachelor's degrees, one in clinical psychology and one in art. She said her plan is to start a non-profit mental care services center for youth, and David plans to assist her when he receives his degree in communication studies.
"Her success is part of the reason I am now enrolled at DSU," David Walter said.
David Walter has many other hobbies including volunteering at Tuacahn and Switchpoint, participating in the National Alliance on Mental Illness club, fishing, and woodworking.
David Walter plans to continue working on his associate degree in communication studies which will progress to a bachelor's degree, keep giving back to the community by volunteering, and partaking in his wife's future non-profit youth mental health services.
"The only thing you get to take with you when you die is your intelligence," David Walter said. "So, it's never too late to learn."
Want to read more? Follow us on Twitter and Facebook for daily articles and updates!