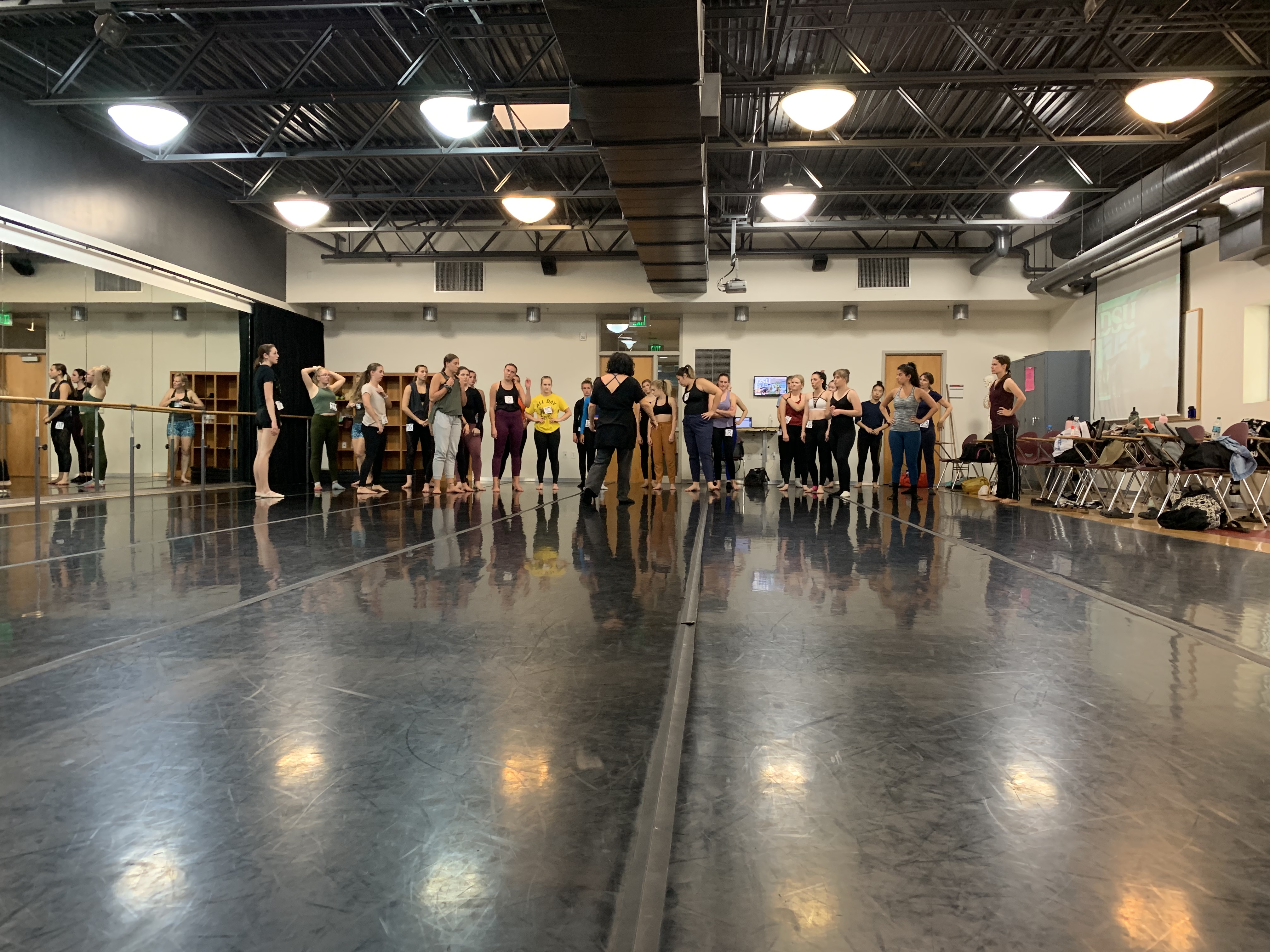 Dancers audition for the study abroad program in Florence, Italy. Dancers were chosen after the auditions for the program. Photo by Arielle Cabrera.
---
Dancing, experiencing Italian culture, eating gelato and a lot of walking is just a few of the activities students who are accepted to the Florence Summer Dance program will experience.
This year, the program has become part of Dixie State University's Study Abroad, which means scholarships and funding are more readily available than in previous years. DSU has participated in the Florence Summer Dance for two years and is elevating the experience by joining it with an official university program.
Artistic Director Liliana Candotti has been a part of the program for 15 years, said dance faculty member Jenny Mair. Candotti is from Italy and recruits from schools all over the country for this program every year.
The dance auditions for the program were held Friday Oct. 25. Candotti selected dancers who are intermediate level or above to travel to Europe over the summer.
During the auditions, Candotti told the dancers, "You're working on your technique, but also dance."
Candotti taught a few sets of moves and then watched as she put the dancers into groups to show her their dance moves . They repeated combinations several times to music and Candotti said she watched for artistry and technique.
This year, the dance faculty spread word about the auditions through flyers and emails hoping to gain a variety of dancers to audition.
Falynn Mackey, a sophomore dance major from Evanston, Wyoming, who auditioned this year said, "I've never been out of the country, so this is a good opportunity to travel."
Mackey said she is excited for the cultural immersion and making connections with dancers from all over the world.
Dance instructors from the U.S. and Europe will be teaching the students who go. The dancers will have three classes a day as well as rehearsals for the final performance which happens on the second half of the trip. In the past, the final performance has been held in historic places such as in an old villa or church which is no longer in use. Students will be experiencing the food, history and all Italian culture has to offer.
It's not all work though. Saturday and Sunday are considered "free days," in which dancers can go on tours and explore the city. As Florence is relatively close to Rome and Venice, Candotti said she encourages students to explore outside of the city they stay in.
Several dancers who auditioned from DSU last year and went to Italy this last summer re-auditioned this year to get the experience once again. Eight out of the 13 selected last year ended up going and four of them were back at this year's auditions telling the whole group how wonderful the pizza in Italy was.
Candotti said the trip itself helps students build their dance resume and gain a multicultural experience.
"It's a great experience for the human being," Candotti said.
Want to read more? Follow us on Twitter and Facebook for daily articles and updates!