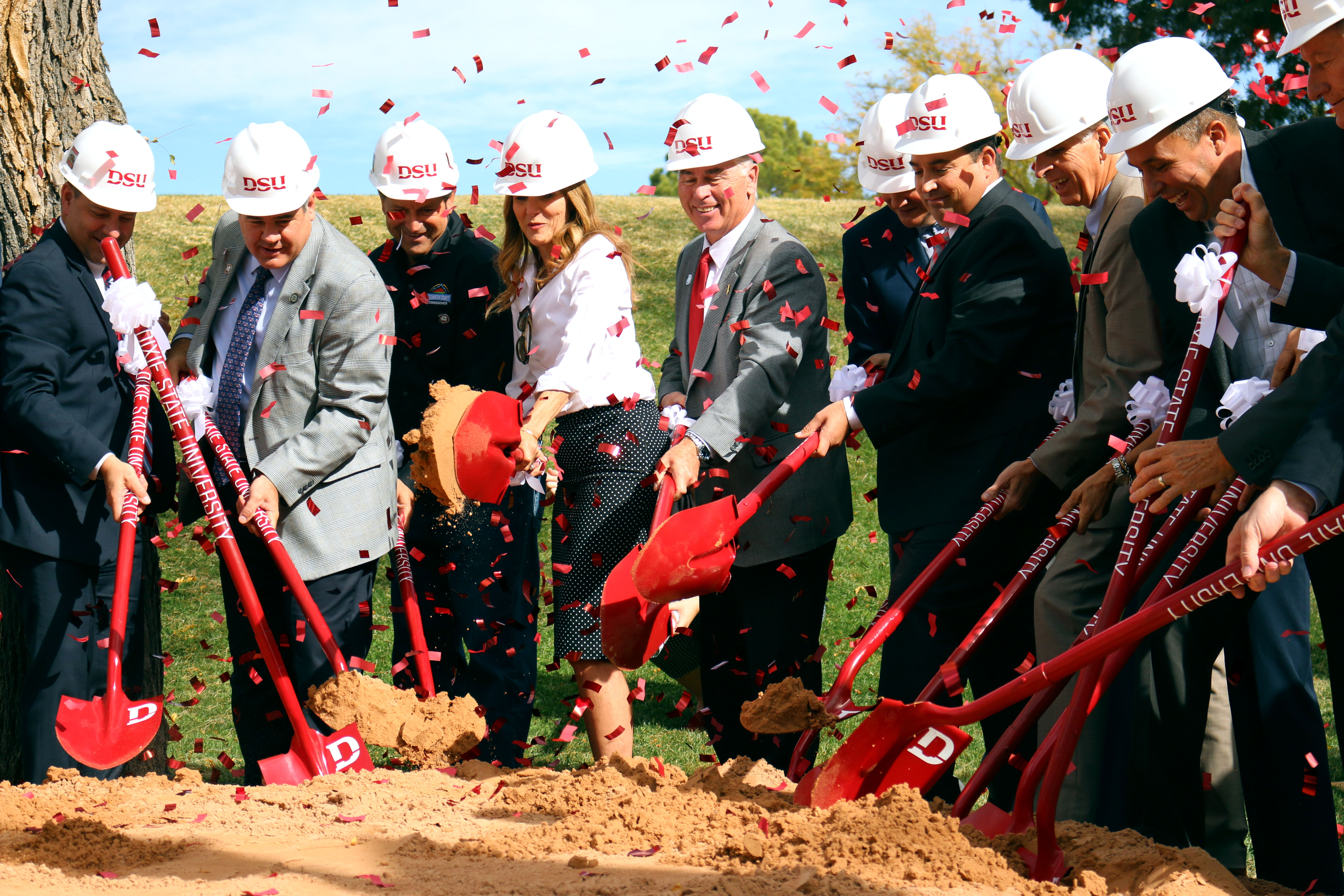 Members of the school board and faculty ceremonially dig up dirt as confetti falls around them. The Science, Engineering, and Technology building is projected to be ready by 2021. Photo by Jaxon Chapman.
---
Homecoming week at Dixie State University is known for its exciting and monumental events. Wednesday's event was no different.
Students, faculty and the community gathered at the Fountain Amphitheater on DSU campus to break ground on the new Science, Engineering & Technology building.
The building is expected to open Fall 2021, said DSU President Richard "Biff" Williams.
"This is a joyous time for Dixie State and we are grateful to have students, staff and the community to enjoy this with us," said Eric Pedersen, dean of the college of science, engineering & technology and master of ceremonies.
Latest from the Dixie Sun News:
Pedersen introduced the speakers for the event, which included Malia Dustin, a senior chemistry major from Boise, Idaho; Tiffany Wilson, DSU Board of Trustees Member; Ram Company President Kevin Ganowsky; Derek Payne, VCBO Architecture Principal Architect; and President Williams.
"This program has given me so many opportunities that surely other universities couldn't," Dustin said. "This new facility will provide an active learning environment where more students will be able to work with technology that pushes them to think deeper and explore more."
President Williams said the five-story building will host classrooms and other learning spaces to help prepare students for careers in STEM fields. In addition, the building will have 26 state of the art laboratories, which Williams said is what he is most excited for.
"The way you can measure progress on campus is whether or not you have a bulldozer on campus," Williams said.
Wilson said the reason the DSU student body is growing so rapidly is because students are noticing the growth on campus and want to attend it.
"I can't wait to see what's to come at DSU," Wilson said. "As far as innovation and growth are concerned, we are just getting started."
President Williams expressed thanked the community for their support and the faculty and staff at DSU for being so flexible during these times of incredible change on campus.
"This is a truly historic event that won't only change our campus, but also our community," Williams said. "It's always a great day to be a Trailblazer."
Want to read more? Follow us on Twitter and Facebook for daily articles and updates!