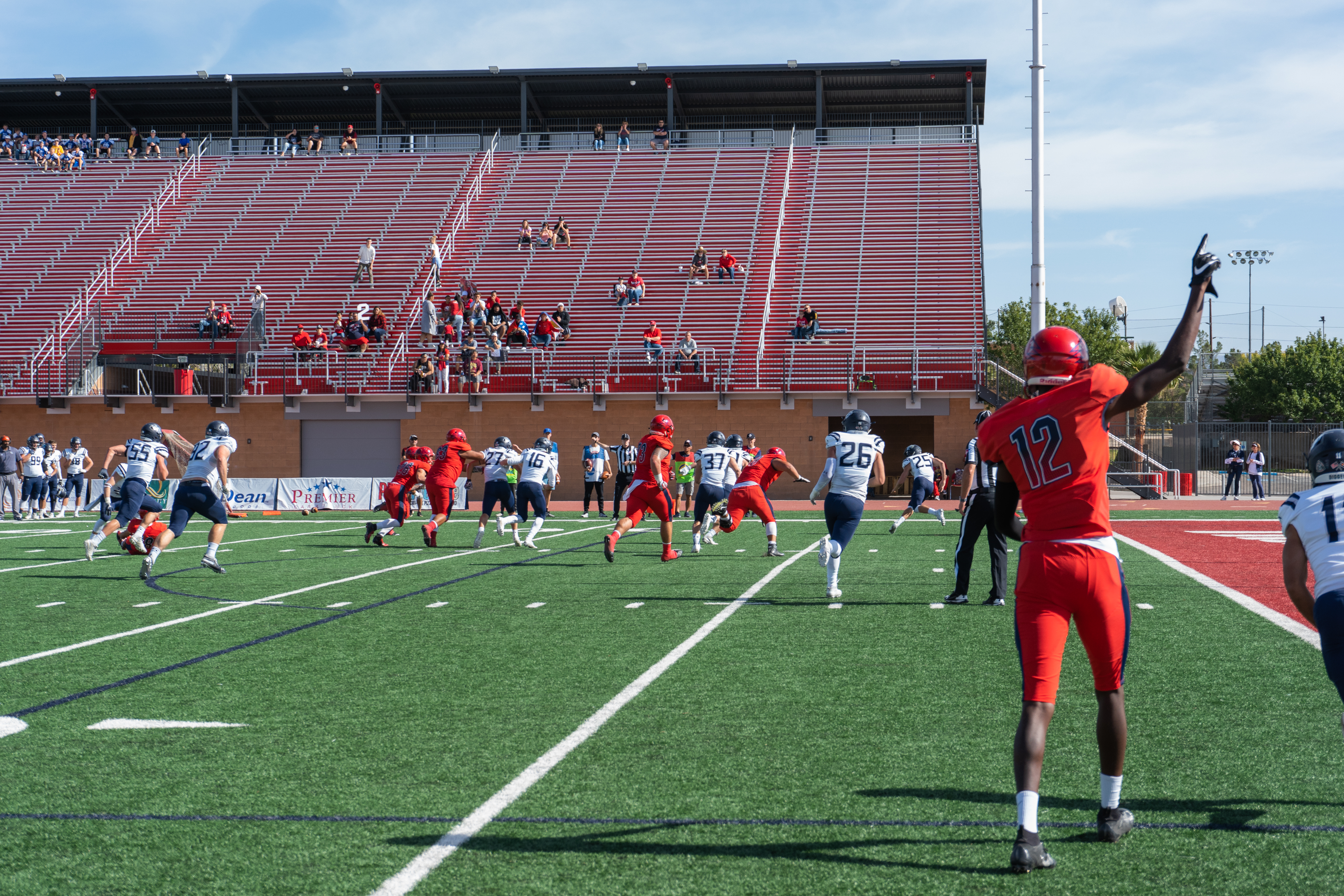 Dixie State University plays against Colorado School of Mines during 2018 homecoming game. The Trailblazers are attempting to stay focused during homecoming week to prepare for the homecoming game on Oct. 26. Photo courtesy of UMAC.
---
It's homecoming week at Dixie State University and there are various activities happening on campus.
For example, tonight is the Comedian Variety Act with Ivan Pecel, tomorrow is the Trailblazer 5K: Glow with the Flow and on Saturday, it's the DSU football homecoming game. Despite all the fun activities that are going on campus, the football team is focused on their next game against Chadron State.
"We're going to treat [the homecoming game] like any other game," said Head coach Paul Peterson. "There's some fun stuff going on campus which is awesome, but we're trying to limit our distractions, come back to work and put the effort in for Saturday no doubt about it. It should be a fun atmosphere we're always excited to be home."
The football team is coming off another victory against Western Colorado with a final score of 28-20. With their win against the Mountaineers, the Trailblazers claim their sixth straight victory in a row.
With the football team focused on their next game, Defensive Coordinator Tyler Almond said they're not focused on implementing any traditions as they have the toughest offensive team DSU has face this season coming into town.
CSC will try and play upset for the DSU homecoming game as they come into the match up 3-4 overall on the season. They previously defeated Texas-Permian Basin by a final score of 43-21. CSC ranks No. 2 in scoring offense, No. 2 in passing offense and No. 1 in total offense amongst the Rocky Mountain Athletic Conference, according to the official RMAC website.
Defensive back Alex Lilliard, a senior recreation and sport management major from San Diego, is tied with the most total tackles on the DSU defense, according to DSU Athletics. Lilliard said his strategy going into CSC is to watch more film to see what they do best and play his game.
Lilliard said: "We don't have to do anything special for any team. We know we play our game, be disciplined and we come out with a win."
Wide receiver Dejuan Dantzler, a redshirt senior communication major from Moreno Valley, California, is tied with most receiving touchdowns on the DSU offense and is ranked No. 10 in receiving yards amongst other RMAC receivers, according to the official RMAC website. This homecoming game will be Dantzler's last and he said he is excited for the game and for his former teammates coming out and supporting him.
Dantzler said: "I bring a little emotion to every game. I treat every game as it's my last because you never know when it'll be the last. It's going to be like any other game I treated this season."
The DSU football homecoming will be on Oct. 26 at Trailblazer Stadium at 1 p.m.
Latest in Sports:
Want to read more? Follow us on Twitter and Facebook for daily articles and updates!