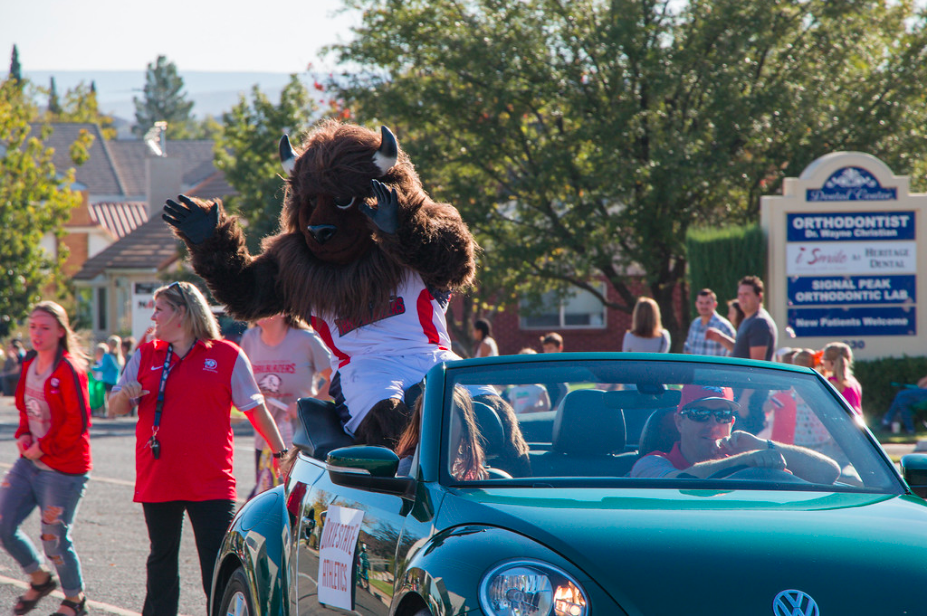 Brooks traveling through the parade in Dixie State University's 2018 Homecoming. This year, the community can expect many of the same traditions for homecoming week, happening Oct. 2 – 26. Photo courtesy of UMAC.
---
It is that time of year again. The time of student spirit, alumni and a week's worth of activities. It is time for homecoming.
This year, Dixie State University has both classic activities, such as the classic car show and the Miss Dixie pageant, as well as some different twists available for the week.
Oct. 21
The events will kick off on Oct. 21 with the classic car show as well as a carnival for all DSU students, past, present and future.
John Bowler, director of alumni relations, said about 60 cars will be showcased near the Atwood Innovation Plaza.
The carnival is a unique aspect of homecoming this year. In the past, the carnival was substituted with a trunk-or-treat, seeing as the week of celebration was closer to Halloween. Bowler also said the carnival would allow for a larger crowd and a more interactive activity.
"[The alumni relations] thought, 'This will be a fun homecoming thing for the whole community and especially our alumni,'" Bowler said. "It will be a little more engaging than walking through the cars."
Oct. 22 and 23
On Oct. 22, the Miss Dixie State Scholarship Competition will be held at 7:30 p.m. in the M.K. Cox Performing Art Center. According to the DSU website, the winner will be awarded a full-tuition scholarship and the chance to represent DSU at the Miss Utah Pageant in the summer.
The Science, Engineering, and Technology building will hold a groundbreaking on Oct. 23 at 11 a.m. at the fountain amphitheater. Comedian Ivan Pecel will perform in the Kenneth N. Gardner Student Center Ballroom at 7:30 p.m.
Oct. 24
The Trailblazer 5K will kick off on Oct. 24. This year, the 5K is starting at 7:30 p.m. instead of the traditional midnight and will feature a glow in the dark theme.
Jeannette Blake, a sophomore exercise science major from South Jordan and student alumni association director of special events, said each runner will be given a glow stick and glow in the dark paint. There will be checkpoints throughout the race where runners will be sprayed with glow paint.
Blake said the alumni association hopes changing the start time will encourage more people to participate.
"We found that the midnight 5K was hard for most people to get to, especially with it being in the middle of the week," Blake said. "We want as many people to get involved as possible so we decided to make the time change so that more people would have the opportunity to be there and get involved."
There will also be a homecoming assembly held at 10 a.m. in the Dolores Dore Eccles Fine Arts Center.
Oct. 25
The alumni banquet and hall of fame induction ceremony will be held on Oct. 25. Jeffrey R. Holland will also be speaking at the banquet. Tickets were priced at $20 for the banquet; however, Bowler said they sold out fast.
If you did not purchase a ticket but still want to participate in homecoming events, a drive-in double feature will take place at 6 p.m. at 620 S. Tech Ridge Dr. "Hotel Transylvania 3" and "Insidious Chapter 3" will be played. There will also be food trucks available.
Students can also look forward to Rock the Mall, a lip-sync/skit contest between students where different versions of the school song are performed. This will be held at noon outside of the Kenneth N. Gardner Student Center Plaza.
Oct. 26
The final day of homecoming will finish off with three traditional events: the homecoming parade, tailgate and football game. The Trailblazers will be playing Chadron State at 1 p.m. at the Trailblazer Stadium.
This year, the Brad Stapley Memorial Foundation will be awarding a $1,000 scholarship to a current DSU student at the football game halftime. Students can apply for the scholarship here.
Bowler said the main goal of this year's homecoming is not just to bring alumni back, but to express the spirit of DSU to all generations.
"We want to make sure that our alumni hear this message loud and clear: Not only do we want you back to celebrate your legacy here at [DSU], but you have legacy kids and grandkids and great-grandkids and we want them to feel the [DSU] spirit," Bowler said. "We want them to get the sense that you belong here… You always have a place with us."
Blake said this was the experience with her and her family.
"My parents actually met at Dixie state so I've had red sand in my shoes since the day I was born," Blake said. "Since I can remeber I have come to almost every single Dixie Homecoming and have always been extremely involved with the school."
Kelli Lunt, DSU alumna who graduated in 2000, said one of her favorite things about homecoming was the formal dance; however, DSU no longer hosts formal dances for students.
Lunt said she hopes her children will attend DSU and she is grateful for the experiences she had.
For more information about this year's homecoming, visit https://alumni.dixie.edu/alumni-events/homecoming/.
Want to read more? Follow us on Twitter and Facebook for daily articles and updates!