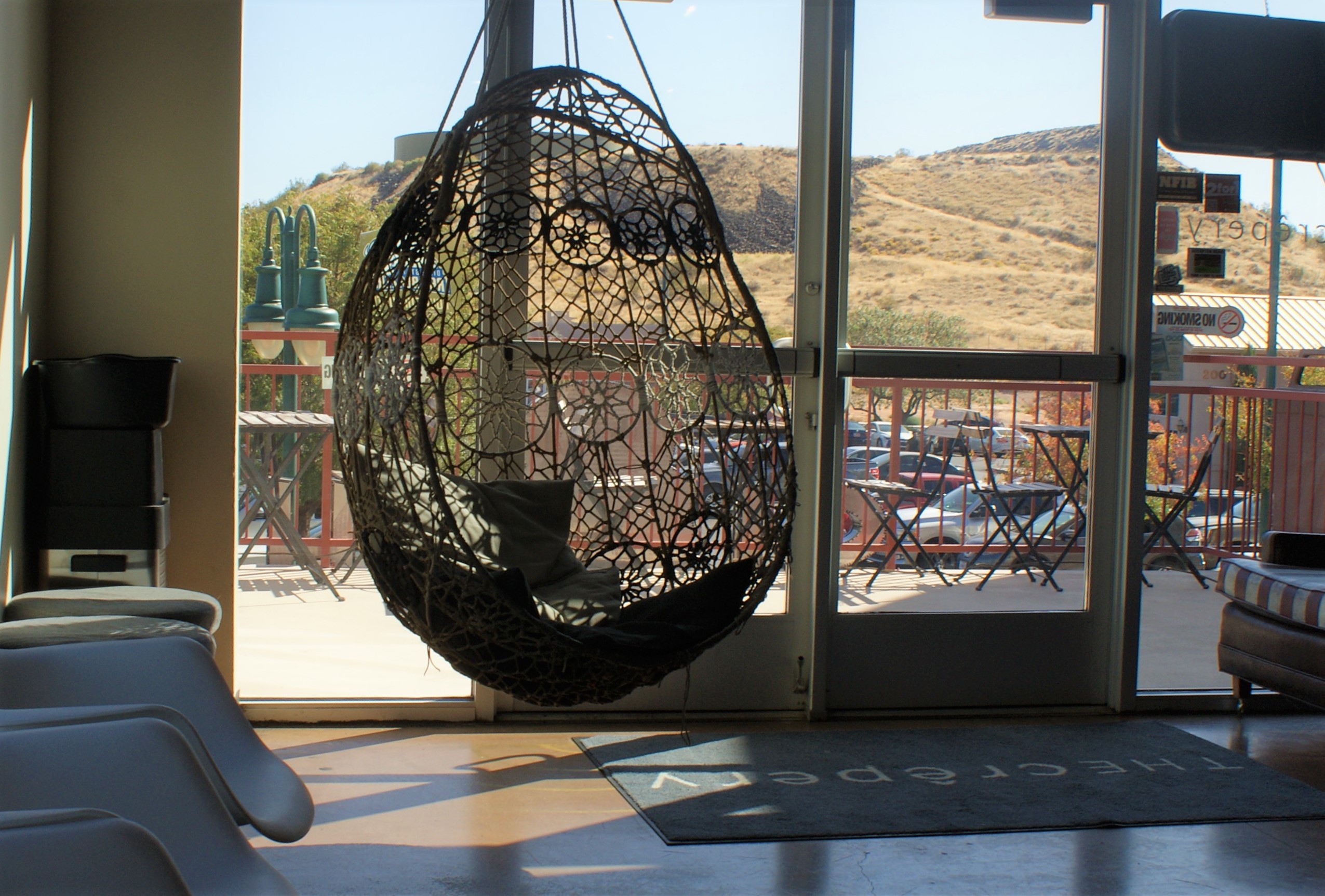 The Crepery provides comfortable seating, tasty food and drinks, free Wi-Fi, and an artistic atmosphere, making it a perfect study spot. Photo by Kristi Harris.
---
By: Claire McCall
With the fall semester in full swing, noisy roommates and limited space can make even the most disciplined student feel unfocused and restless. If you're finding it increasingly difficult to stay motivated, a change in scenery might be in order.
The following are five relaxing places to study that you may not have considered before.
Vernon Worthen Park
The outdoors can be a great place to study because being outside can help clear your mind, keep you from feeling cooped up, and the extra vitamin D will keep you from feeling tired and bored.
"Studying outside can be a lot less stressful than studying inside a building," said Jenni Garcia, a sophomore education major from Victor, Idaho, and Hiking Club Secretary. "Most students already spend most of their time inside in classrooms, working or doing almost any other activity."
The Vernon Worthen Park, located on 300 S. 400 E., is just 0.5 miles away from campus and has free Wi-Fi. This spacious outdoor area offers a cozy gazebo area or picnic areas where you could lay out a blanket and enjoy the sun.
The Crepery
The Crepery is a café style restaurant and coffee shop that has a relaxing atmosphere with indoor and outdoor seating available. Inside, you will find comfy couch-like seats, a hanging hammock chair, and original artwork along the walls that adds to the artistic aura of the room.
"I really think we have a super chill environment to hang out and study during the week," Jacob Peterson, the manager of The Crepery, said. "Plus, free Wi-Fi and tasty coffee."
If you need an extra energy boost, the Crepery has got you covered; they have brewed, iced and frozen coffee options. If coffee isn't your speed there are plenty of other drink options such as fresh lemonade, orange juice, hot chocolate, chai lattes, milk steamers and Italian sodas with almost any flavor mix-ins you can think of.
The Crepery has a wide selection of sweet and savory crepes for your mid-study snack break. The "Pin-Up" crepe is a popular choice among customers looking to satisfy their sweet tooth. It's full of cheesecake filling, fresh strawberries and chocolate sauce.
One of The Crepery's specialty sweet crepes, "Scout Camp," is filled with marshmallow cream, chocolate sauce and graham crackers. The "Pepe Le Pesto" is a prominent savory crepe option, filled with smoked turkey, roasted red peppers, pesto and mozzarella cheese.
With the shop's atmosphere, food and drink options, and free Wi-Fi, The Crepery creates a perfect study spot. To view their menu or see the weekly specials visit their website or stop by their restaurant located at 1091 N. Bluff St.
Historic Downtown
Main Street is full of various study spots; picnic tables and benches line the street as well as a number of popular restaurants and cafes, most of which provide free Wi-Fi.
Taylor McKinley, a junior communication major from West Jordan, said, "The best two places I've found [to study] are TwentyFive Main and the Holland Building. They both provide a comfortable, but productive atmosphere that I've always turned to during my time here at DSU. "
If music helps you concentrate, Historic Downtown might just be the perfect fit for you, as live music is often being performed. To see more restaurant and entertainment options visit the St. George Historic Downtown website.
Jeffrey R. Holland Centennial Commons
Located in the center of campus, the Holland building offers a variety of resources to students such as free access to computers, printers and study rooms. The library also carries a copy of select textbooks required for classes put on reserve by professors. These textbooks can't be taken home but can be checked out from 1 to 4 hours at a time while at the library.
If you need peace and quiet, the fourth floor is the designated "quiet zone," so you won't find people chatting, working on group projects, talking on their phones, or listening to their music loud enough for everyone to hear. The balcony also serves as a homework area that may make homework a bit less boring to do.
Dixie Sugarloaf
The Dixie Sugarloaf, otherwise known as Dixie Rock, is located just a short distance from campus on Red Hills Parkway. While there isn't Wi-Fi available like at the previously mentioned locations, students can enjoy this location free of distraction, other than the gorgeous view of St. George.
Dixie Rock makes for a perfect study spot because you can tune out the rest of the world. Although visiting this location requires a bit of climbing, the exercise can relieve stress, but be sure to wear comfortable shoes.