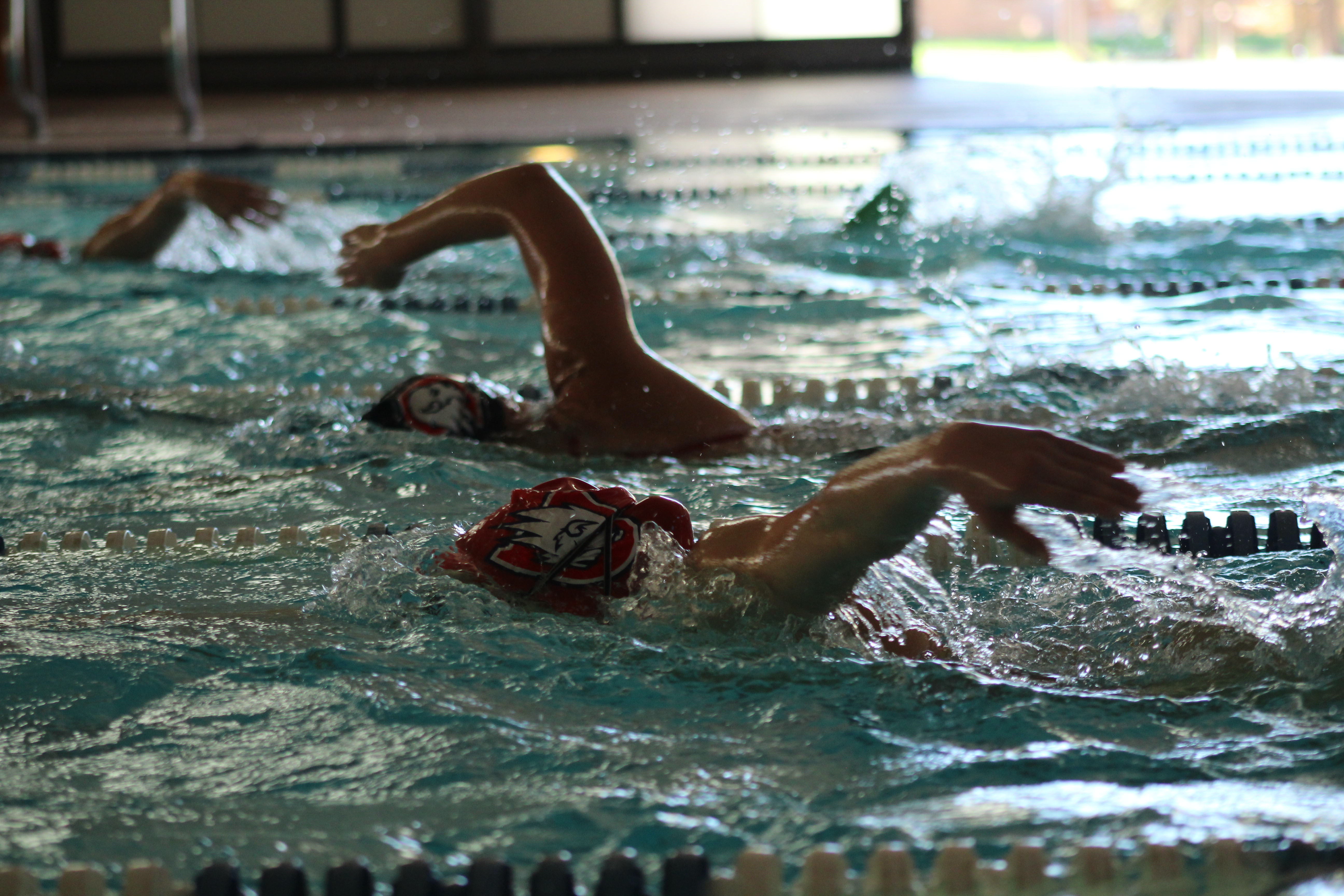 DSU swimmers practicing their best strokes for their upcoming meet. The DSU women's swim team will take action at the Pepperdine Malibu Invitational on Oct. 11 at 5 p.m. Photo by Madison Boyd.
---
After two meets racing against each other, the Dixie State University women's swim team is ready to go into action at the Pepperdine Malibu Invitational.
"We're excited to go compete against another team," said Hannah Hansen, a senior biology major from Lehi. "We're training hard and having fun. We've had two dual meets with each other and that got us in the race mentality."
Head coach Tamber McAllister is excited about the depth the team has on the roster. The 2019 DSU women's swim recruiting class brought in more freshman and McAllister said she feels like the team is more well-rounded and deep than last year.
McAllister said: "I feel like we don't have any areas where we don't have someone or multiple people that we can rely on, event wise. So, we're really excited to compete and see how much that will propel us forward against other teams."
Last season, the Trailblazers took second place at the Pepperdine Malibu Invitational. McAllister said it's hard to come up with a game plan going into the meet because it's the beginning of the swim season, so it's hard to predict what the other teams are going to do.
"We're going [into the meet] individually by trying to compete the best that we can and I have no doubt that if they do try their hardest and do their best, we'll compare really well against them," said McAllister. "I know Pepperdine brought in a really good recruiting class so it'll be interesting to see how we stack up against them and the other teams that'll be there."
Kenzie Chesler, a sophomore exercise science major from Highland, said her strategy going into the meet is focusing on technique, hard work and everything she's learned thus far in the year.
McAllister said the team's biggest strengths are the swimmers who do backstroke and butterfly. The area to improve in, McAllister said, is training for individual events.
"[The backstrokers and butterflyers] have been able to be really competitive in practice and push each other hard, so I enforce that helping them get faster as a whole," said McAllister. "Individually, we have a long way to go because in swimming, it takes three to five months to build up that strong base before you can compete at your fastest. So, we'll continue doing what we're doing now and I have no worries about the future."
Since this is Hansen's last year, she advised her teammates to enjoy the season because it will go by quick. As for the upcoming meet, Hansen's advice is to stay calm, race your best and don't let bad races get to your head.
Hansen said: "Just keep doing your best because if it goes to your head the rest of your meet goes bad. If you have a bad race, just shake it off."
The DSU women's swim team will take action at the Pepperdine Malibu Invitational on Oct. 11 at 5 p.m.
More in Sports:
Want to read more? Follow us on Twitter and Facebook for daily articles and updates!