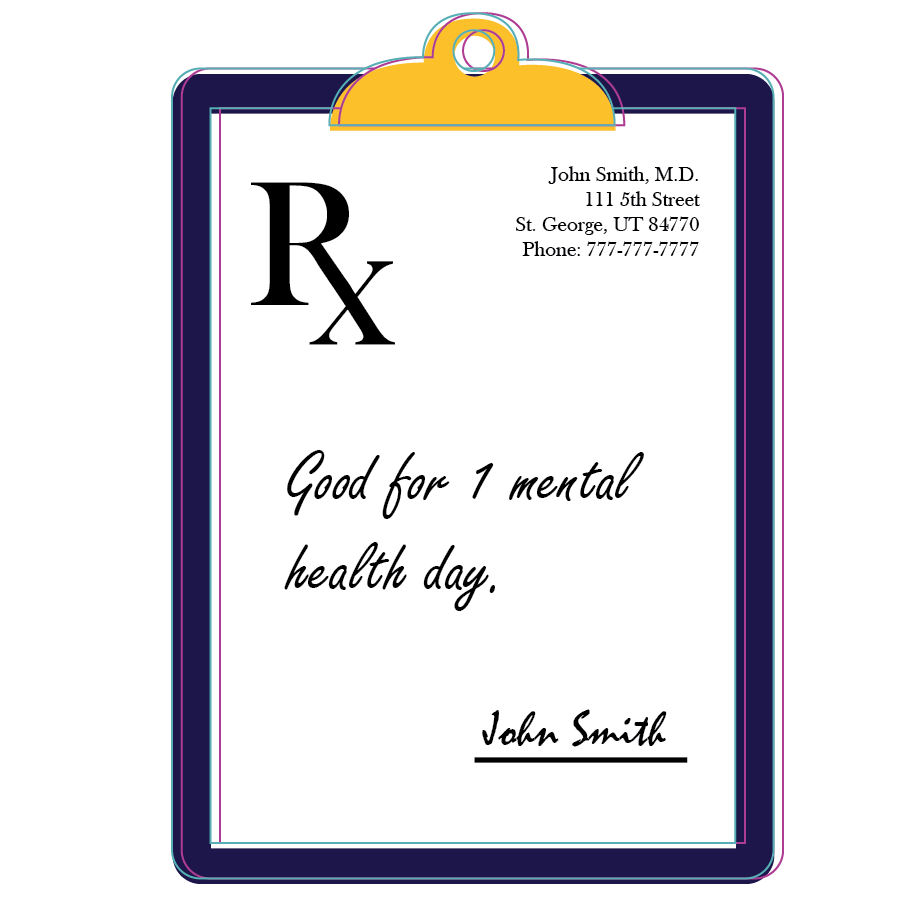 Graphic by Jade Cash.
---
Mental health days count as sick days in Utah, but they need to be better implemented.
In 2018, Utah revised its education laws surrounding excused absences to include "an illness, which may be either mental or physical," which may be interpreted as permission for mental health days.
But do these mental health days only apply to those who have been clinically diagnosed with an illness, or can they be used sparingly by anyone? Will doctor's notes still be necessary, even if students only want one day off?
It's reasonable to ask for a doctor's note if a student exceeds a set number of mental health days, especially since Dixie State University students have access to free mental health services through the Booth Wellness Center, but I've known professors to ask for a doctor's note on the first absence even for physical health, which may pose a problem for students who aren't aware of this service or who can't get an appointment until after the issue has passed.
"Many factors would need to be assessed in regard to determining how mental health days should be regulated on a college campus, which would likely involve a team of individuals assessing this," said Jamy Dahle, mental health counselor and outreach coordinator at the Booth Wellness Center. "It would likely be beneficial to have an individual access a mental health professional for an assessment if they requested to exceed the allotted number of valid excuse mental health days."
Related Posts:
In that case, professors shouldn't ask for a doctor's note to excuse a single mental health absence, and DSU should implement a formal policy to enforce this; as it stands, it appears there are only two references to students requesting excused health-related absences.
One is in policy 533, which doesn't actually mention illnesses of any kind and just states, "Faculty will not be arbitrary, capricious, or discriminatory in granting or denying a request for a content accommodation."
The other is under the attendance section of the Academic Policies and Procedures webpage and simply states, "If a student must be absent from a class due to illness or another personal issue, they should work with the instructor to stay current."
Neither of these references is clear enough about health-related accommodations or absences, so DSU needs to either add to policy 533 or create a new policy addressing illnesses both physical and mental, though mental health should be the focus since Utah is one of the bottom-ranking states in mental health measures, ranking between 38 and 50 depending on the measure, according to Mental Health America.
We need to do better than 38-50; while it might not be quick or easy, we need to strive for the top 10.
Mental health is just as important as physical health and should be treated as such. Professors need to be more accommodating to mental health absences, and DSU needs to enforce those accommodations. Regardless, students can seek mental health services by going to wellness.dixie.edu or calling 435-652-7755.
Students may also voice their concerns with policies by emailing policies@dixie.edu.
Want to read more? Follow us on Twitter and Facebook for daily articles and updates!