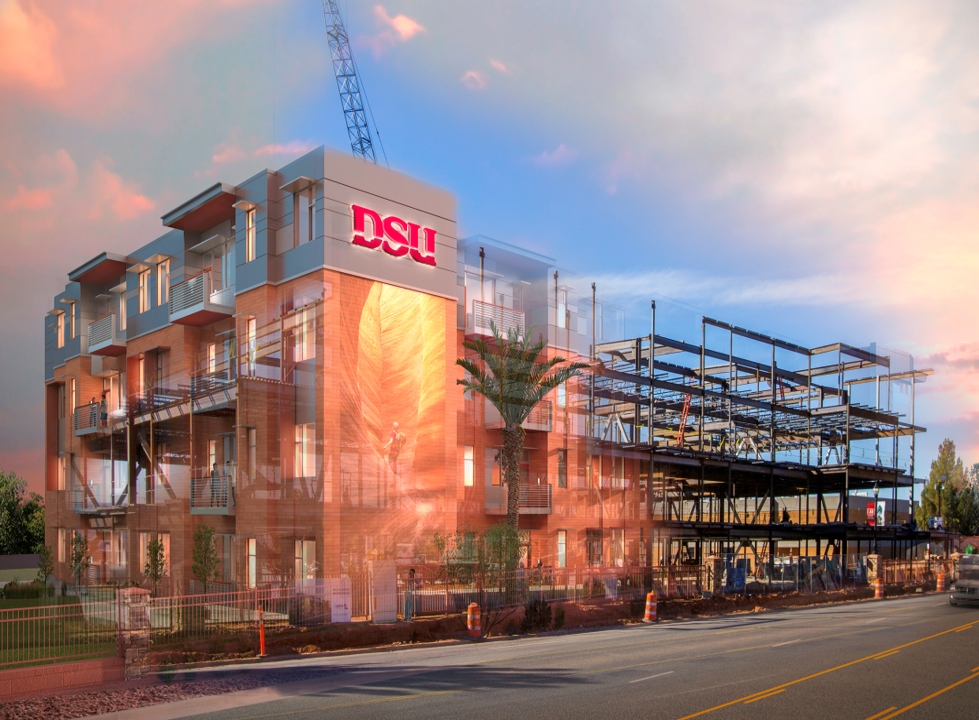 Rendering of Campus View Suites under construction.
---
As Dixie State University nears full capacity of beds in its on-campus and private housing, a new student housing complex, currently referred to as 'Campus View Suites Phase II', is expected to make its debut in 2021 in efforts to accommodate the increasing rate of student enrollment.
The construction of Campus View Suites Phase II will come at the expense of tearing down Shiloh Hall. The new building will be located in its place, across the way from Campus View Suites. Shiloh Hall currently houses 48 male students, but will not be available for rent next year.
The DSU Board of Trustees, Utah State Board of Regents and Utah State Legislature all had a role in approving the bond for the addition of the new building.
Paul Morris, vice president of DSU administrative affairs, said, "We are getting near full capacity in beds with our own on-campus beds and the private beds around, so to be able to support the new students that want to come to [DSU], we are going to need to have new housing in the next couple of years."
Related Posts:
The new complex is projected to be one-third larger than CVS and contains approximately 450 beds, compared to the 350 beds in CVS. 50% percent of the rooms in the building will be private bedrooms and 50% will be shared rooms.
"I know a lot of people who wanted to live at [CVS] but weren't able to because spots were full," said Josh Thompson, a junior recreation and sports management major from Ontario, California. "I think this new, larger building will make a lot of students happy."
The apartment layout and features will be similar to those in CVS. Each apartment will have a refrigerator, sink and a microwave but will remain without an oven or stovetop. Like in CVS, there will be a full kitchen on every floor for students who like to cook full meals.
Resident life specialist Jill Fiske said: "I think adding the new complex will make on-campus housing more desirable to prospective students and current students. As well as give students a more positive experience while they're in school living in on-campus housing."
Architects will help make the decision on exactly how many students and rooms there will be per unit, but the anticipated norm is three to four rooms and five to six students per unit.
The similarities between CVS and Campus View Suites Phase II will also be reflected in the pricing.
"It'll be priced similarly to Campus View Suites and what's happening with the private housing complexes," Morris said. "The reality is we have to borrow money to build this building and the rent that we collect from students living in the building have to pay the payments on the bond. But, we'll make sure it's priced fairly in relation to all of the other beds that are available."
The project is still in the financing stage and DSU has yet to name a contractor or architect. While there is no groundbreaking date set at this point, Morris said the structure should be completed by fall 2021.
"The biggest benefit of the project is it allows more students to continue to come to [DSU] and they can find housing and attend school here; so it really supports the educational mission of DSU," Morris said.
Want to read more? Follow us on Twitter and Facebook for daily articles and updates!