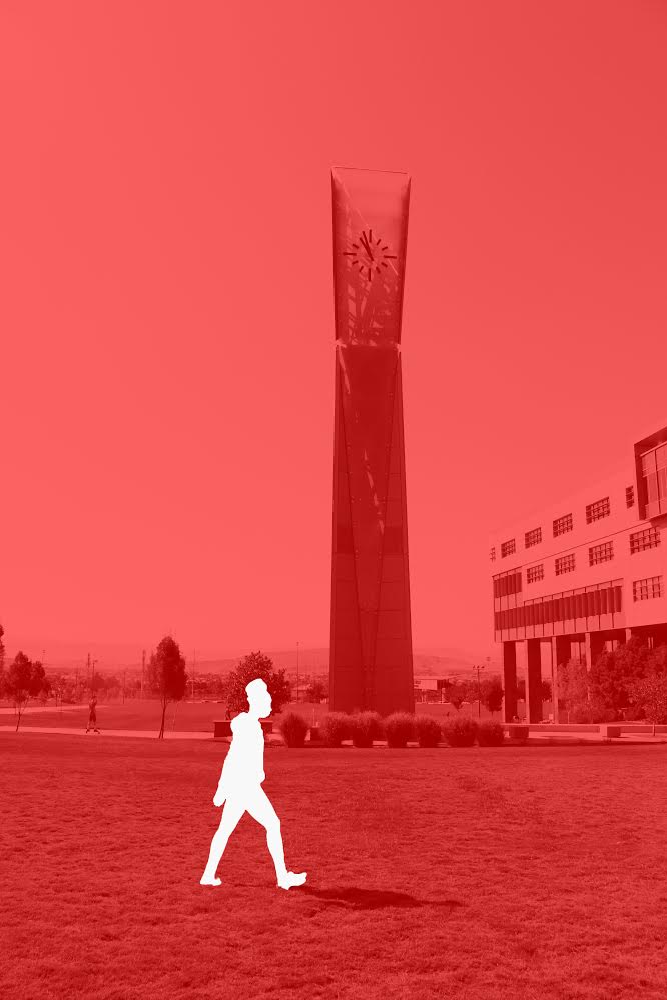 Jasmine Forte a freshman business major from Ogden walks across the Encampment Mall Field. The first two to three months of college is the most prominent time for sexual assault, also know as the Red Zone. Photo Illustration by Madison Anderson.
---
Dixie State University is four weeks into the semester. Students are meeting new people, going to parties, sporting events and staying out late. With that being said, students should be having conversations about the red zone.
The red zone refers to the most prominent time sexual assault occurs on college campuses, which is the first two to three months of school.
According to RAINN, more than 50 percent of campus sexual assault incidents happen during this period of time. Most of the time, the predator is not a stranger jumping out of the bushes, said Title IX Coordinator Cindy Cole.
"Most of the crimes that happen are acquaintance crimes," Cole said. "It's with someone that you know, someone that you trust."
According to DSU's Clery Report, from 2015-2017 there were six reported sexual assault cases on campus. Cole said the Clery Report comes out every Oct. 1 for the previous year; she is currently compiling the numbers for last year.
Southern Utah University and Utah Valley University have higher reported sexual assault cases on their campuses.
SUU's Clery Report shows statistics of 15 on-campus sexual assault cases from 2015-2017.
According to UVU's Clery Report, there were 16 reported sexual assault cases on campus from 2015-2017.
DSU has several resources to help keep students safe. DSU administrators have implemented new safety measures on campus for sexual assault incidents and have resources for students who may have experienced sexual assault or trauma. These resources include an increase in lighting, a new police officer position, campaigns to raise awareness, and partnerships within the community.
A concern on campus that has been discussed is the lack of lighting on campus at night, Chief of Police Blair Barfuss said.
Barfuss said there is a huge emphasis on lighting and cameras in the new buildings such as the new Human Performance Center and the future Science, Engineering and Technology building.
"Every new thing that happens is just greatly reducing these hidden areas and the darkness," Barfuss said. "The president and the whole administration here is aware and doing a great job with those concerns."
DSU police department is also hoping to get funding for a new advocate victim response officer position, and will find out within the month if it is approved, Burfuss said.
Barfuss said he has hired Officer Mikaela Vega, the department's first-ever female police officer, as the dedicated officer for victim support services.
Vega is currently attending the police academy and will return to her position at DSU police department after she graduates on Nov. 11.
Barfuss said her role is beneficial to students because instead of going through the St. George city's victim advocates office, students will have someone on campus to walk them through the criminal investigation process, explain how to get a protective order and a sexual assault kit, and guide them towards the resources they need.
"I think awareness is the biggest thing that can help students," said Taylor Godfrey, student body president and senior population health major from Buckeye, Arizona.
Godfrey said she wants to start including something each month in the Blazer Digest or Trailtracker in regards to sexual assault to make students more aware of the issue and the resources that are available for them.
Another resource on campus is the community partnerships. The Women's Resource Center has been partnering with the DOVE Center since 2015.
This partnership was established because the university thought it would be a good idea to have community-based advocacy available on campus, said Elizabeth Bluhm, sexual assault advocacy program manager at the DOVE Center.
Bluhm is available to students who have experienced any kind of sexual assault. She said the most important thing to know is that the information stays confidential.
Bluhm is on campus every Monday 3 p.m to 5 p.m in the Jeffrey R. Holland Centennial Commons room 489. It is free for all students and walk-ins are welcome.
"I personally feel safe [on campus]," Godfrey said. "But I know that if I'm not, I know that there are great individuals that I can turn to if I need help."
If you or someone you know has experienced sexual assault, fill out an incident reporting form and/or contact Cindy Cole at (435)-652-7731 or Cindy.cole@dixie.edu. Or you may contact Elizabeth Bluhm at elizabeth@dovecenter.org
Want to read more? Follow us on Twitter and Facebook for daily articles and updates!