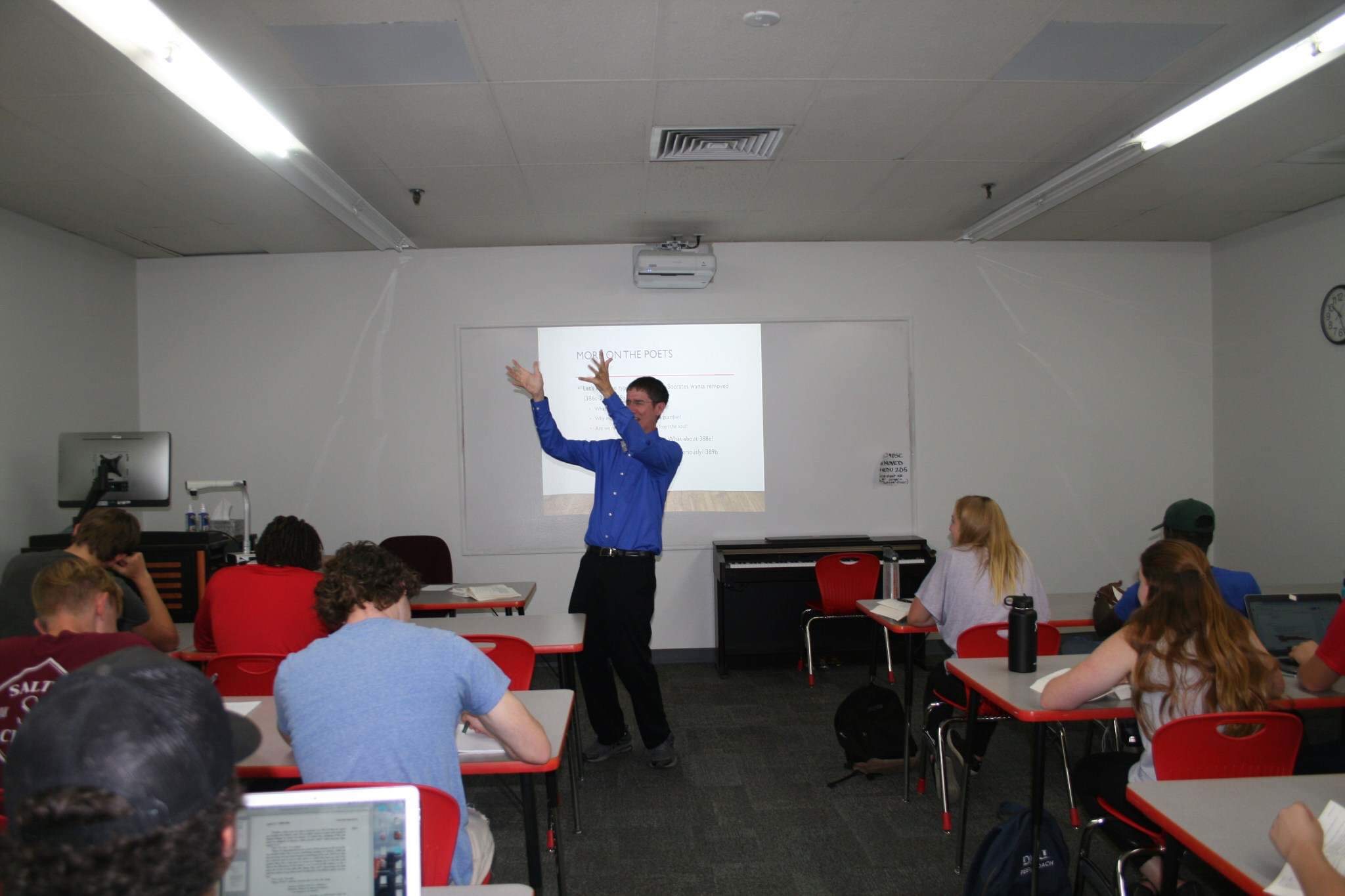 ---
I sit down in the chair where a stack of books was just moved from and bring my eyes up to the red and white polka dot bow tie and purple shirt.
Before me sits John Wolfe, the only tenure-track philosophy professor at Dixie State University.
Around me are shelves of books, disheveled papers and posters with references to shows or movies I have never seen before. This is a man surrounded by his passions.
"Why philosophy?" I asked.
He answered simply, a smile spreading across his face: "Because it's awesome."
Wolfe has been a professor at DSU since 2013 and has taken a very active role on campus, including a role as the associate director of the Booth Honors Program, an intensive and rigorous curriculum geared towards students who want a challenging university experience, where he works with Jeff Yule, Booth Honors Program director and professor of interdisciplinary arts and sciences.
"He's very involved in things," Yule said. "Every time you turn around, odds are good that you'll see [Wolfe]."
However, it is not Wolfe's campus involvement that makes him a special professor, but rather his attitude toward students and learning.
"[Wolfe] is both professional … but he is also very humane and concerned about other people – concerned about students," Yule said. "He's got no shortage of 'I can do it; let's go, let's get something done.'"
His students attest to this passion and dedication to the discipline.
"I can say without a doubt he personally created a learning environment that had made the class great," said John McLendon, a sophomore business administration major from St. George and repeat student of Wolfe's. "He is one of those professors that truly care about the subjects he teaches, and one could easily tell he does it for the betterment of each student."
Wolfe said one of his favorite things about teaching is to watch a student grow and change as they read historical philosophical texts.
As Wolfe himself puts it, "I teach because I believe that the material matters and I believe that students matter and I believe [student's] lives can be enriched by understanding how complex the world is and understanding how nuanced a lot of the things they think are cut and dry actually are."
This semester Wolfe is teaching trailblazer connections, social ethics, world religions and an independent study. He said he encourages any DSU student to stop by his office in UPLAZA B 213 or email him at wolfe@dixie.edu if they are curious about the discipline or just want to talk.
Related Posts:
"I like talking to people," Wolfe said. "Listening to people's stories and experiences – listening to who you are and watching you as a student wrestle with things is something that is just amazing."
As I stand to leave I take a final look at the man behind the glasses.
"There is an inherent coolness to being who you are and not worrying so much about what other people would prefer you to be," Yule said. "[Wolfe] is an intellectual who wears bow ties and he is a very kind human being… what could be cooler than that?"

Want to read more? Follow us on Twitter and Facebook for daily articles and updates!