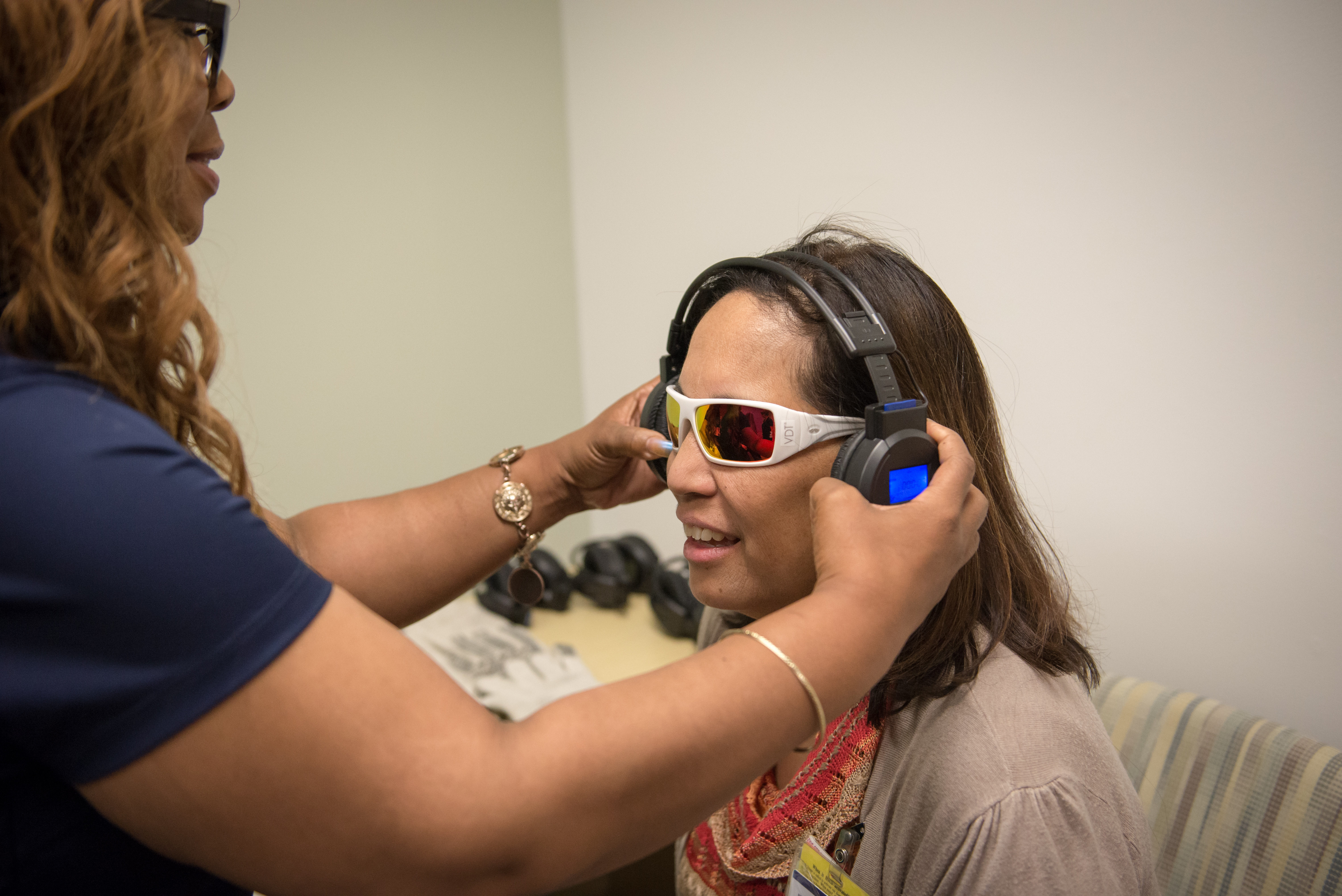 A lady is being put into the Alzheimers experience. Students can sign up for the Alzheimers experience for free. Photo courtesy of Melora Jackson.
---
Imagine being able to step into the shoes of someone struggling with Alzheimer's. Now you can.
A new virtual reality simulation was created and patented by PK Beville, founder of Second Wind Dreams, an organization dedicated to the awareness of Alzheimer's disease and fulfilling dreams of those who suffer from it.
According to the National Institute on Aging, "Alzheimer's disease is an irreversible, progressive brain disorder that slowly destroys memory and thinking skills and, eventually, the ability to carry out the simplest tasks."
With the virtual reality simulation, everyone can experience the life of an Alzheimer's patient.
Beville created the Alzheimer's simulation to help those who know of someone suffering from Alzheimer's to understand what their loved ones are fighting through.
"People with dementia are unable to tell us when noises are too loud, interruptions are causing frustration, too many movements through their space, [and] feeling too cold," Beville said.
Aubrey Brown, a sales representative at Wentworth at the Meadows senior living facility, is an expert on the virtual reality simulation and is in charge of running it.
Brown does the experiment on 2-3 people at a time. The experiment impairs them cognitively, emotionally, and physically by putting on the equipment, which includes goggles, gloves, shoe inserts and headphones.
The goggles impair your vision with depth perception, the gloves have different textures to confuse your brain, the fingers are sewn together to emulate loss of muscle in the hands, the shoe inserts have small spikes that cause discomfort that you can't fix or tell someone it's uncomfortable, and the headphones play a track that is designed to distract you and make it hard to concentrate.
Brown and her assistant help the participant with tasks such as drinking water and picking items up off the ground or tables.
"It really gives you an idea of how overloaded your brain gets and the perspective of the hopelessness and senseless feelings those struggling with Alzheimer's experience," Brown said.
After the simulation, groups are encouraged to talk about the experience and share their perspectives, Brown said.
"The whole point of this is to give others empathy towards those suffering with Alzheimer's because without empathy, we lack understanding to those who are suffering," said Melora Jackson, Virtual Dementia Tour Clinical Manager.
Brown said students can call ahead and set up an appointment to experience the virtual reality Alzheimer's simulation for free at Wentworth at the Meadows senior living facility at 435-275-4886.
Want to read more? Follow us on Twitter and Facebook for daily articles and updates!