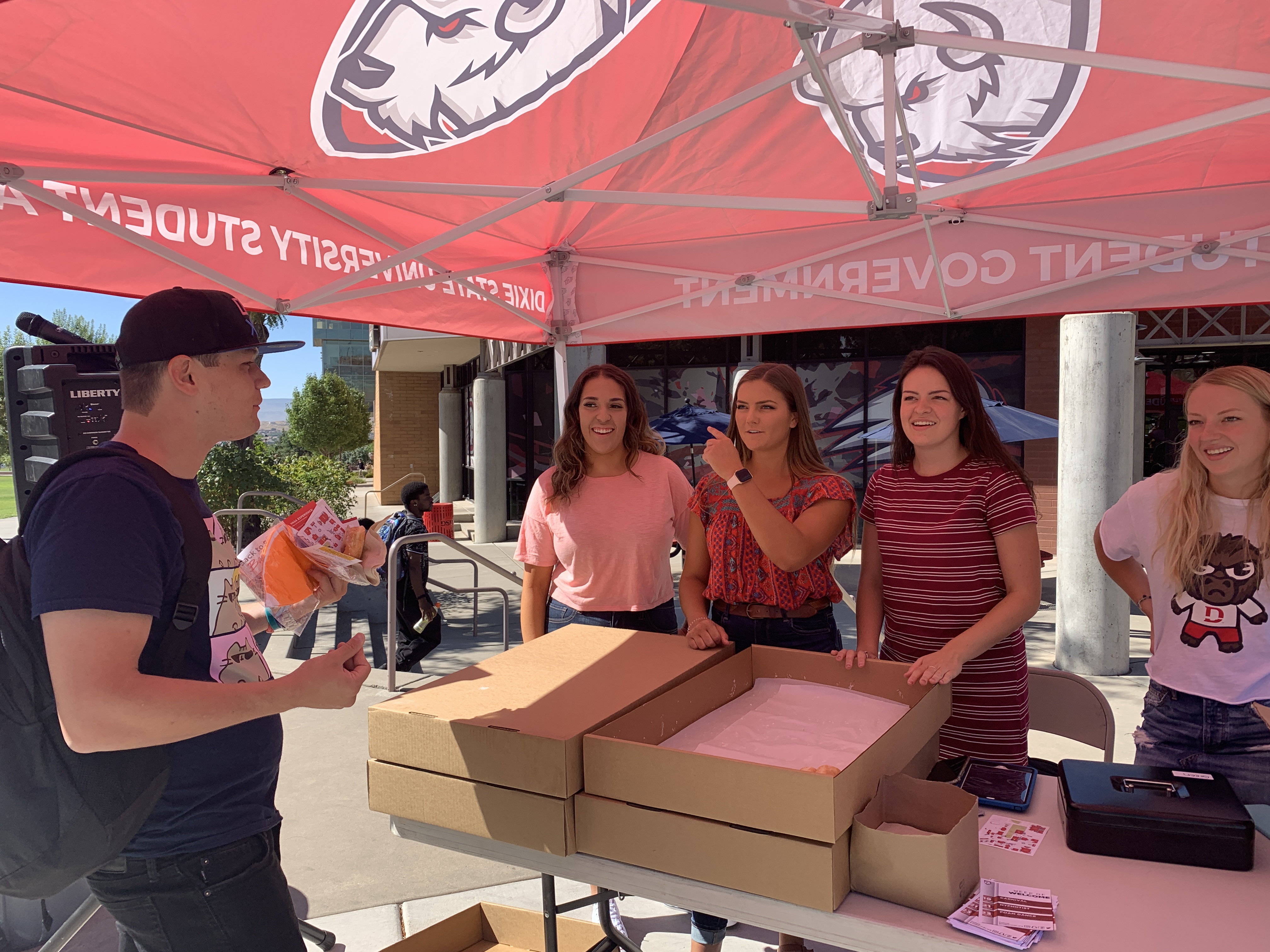 Student Government hands out donuts on the first day of school in front of the Kenneth N. Gardner Student Center. You can reach these student government officials by visiting the student government room in the Kenneth N. Gardner Student Center. Photo by Madison Anderson.
---
Just a few months ago, Dixie State University students rallied and campaigned for a chance to serve as members of your student government. Now, the winners are taking their places and preparing students to have a successful college experience.
As seasoned students at this university, these elected officials know the ins and outs of the maze that is college life, and each offered the same piece of advice: get involved.
"Invest in yourself," said Taylor Godfrey, student body president and senior population health major from Buckeye, Arizona. "Your college experience should be the best years of your life… Put yourself out there, get comfortable being uncomfortable, and try new things. The best way to do that is to get involved. Get involved in the classroom and outside of the classroom."
DSU offers different ways to get involved, truly living up to its slogan of "active learning. active life;" however, some of these methods are not so well known.
Kaylyn Fulton, vice president of academics and a senior dance and business administration major, said the student senate is one of these lesser-known avenues of involvement.
The student senate passes bills to help fund students' various academic pursuits, like conferences and research, and is made up of students from each of the eight major academic schools on campus: business, visual and performing arts, biology, math and CIT, humanities, health science, education and communication. To find out more about your senator, visit http://www.dixiestudentlife.com/senate/.
Fulton said: "I recently got back from a summer dance intensive that I went to in Florence, Italy, which was made possible due to the senate… I got funding to help pay for this trip that has improved my dance technique and honestly changed my life as a whole."
Maire McDonough, the vice president of student life and a senior communications major from Tooele, said another great way to get involved is to go to the Wednes-D events.
"I would love a student atmosphere on campus that promotes social engagement and where students feel they can meet new people and make the most of their college years," McDonough said.
Student government also includes a president of clubs and organizations, vice president of public relations, vice president of service, and vice president of athletics.
You can reach these student government officials by visiting the student government room in the Kenneth N. Gardner Student Center, reaching out on social media or through their preferred method: email.
As Godfrey puts it: "I am here for [all students]! I want to meet their needs and I have made it a goal to do everything I can to make that happen. The students are my priority."