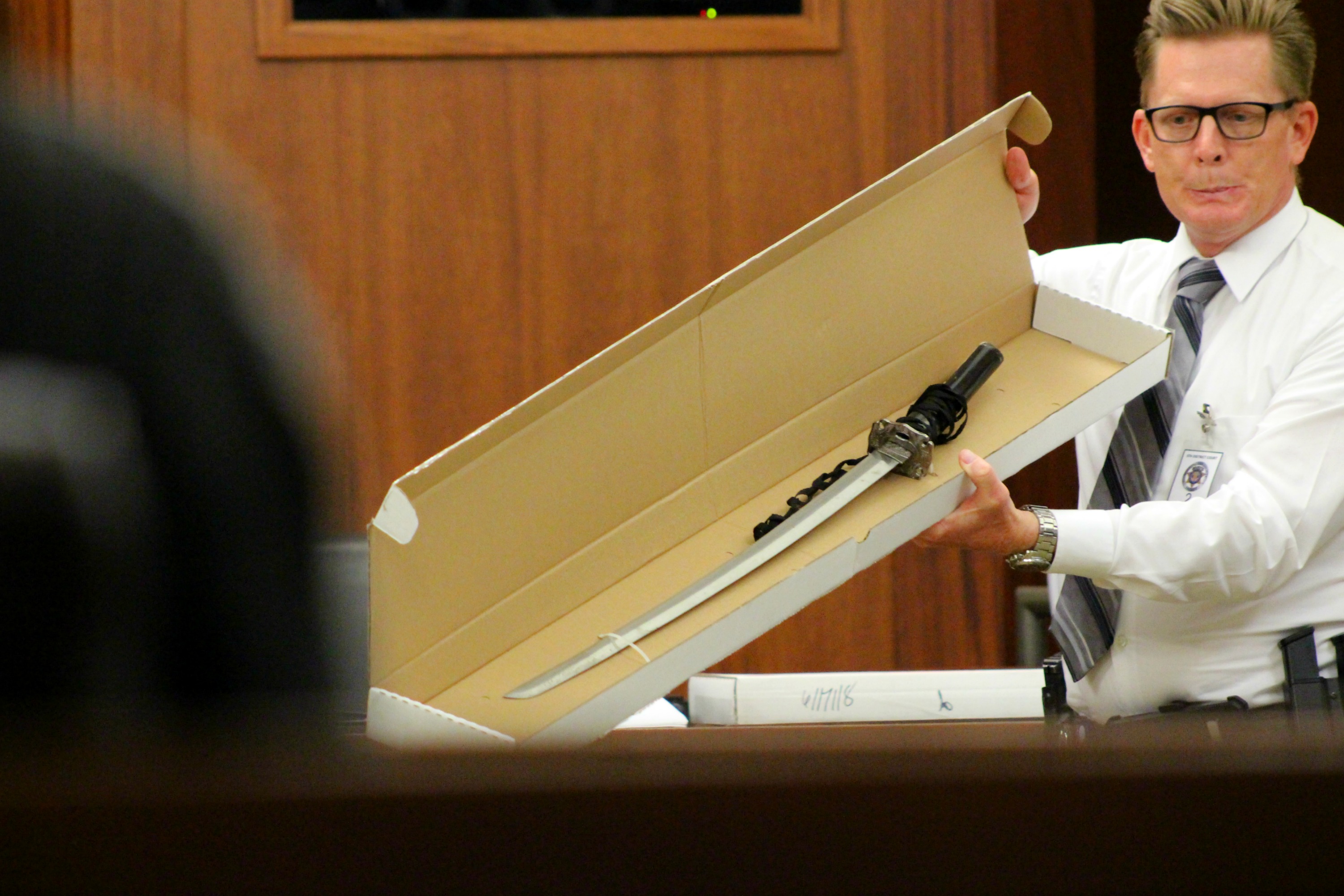 Photo courtesy of Cody Blowers at St. George News.
---
After a week-long trial, a jury decided that the stabbing of a former Dixie State University student was indeed murder — not manslaughter — under the law.
Twenty-nine-year-old Kevin Ray Mcaltin was found guilty of the first-degree murder of Elizabeth Carter.
Mcaltin admitted to stabbing Carter in the right side of her neck 16 times with a decorative katana sword on the morning of June 2, 2018.
Defense Attorney Edward Flint said this occurred after an argument erupted surrounding Mcatlin's missing items, including around $2,000 in cash and a meth pipe. After Mcaltin confronted her, Carter slapped him, which induced Mcaltin's rage, he said.
Flint said because of Carter's provocation, Mcaltin was exempt from being charged with murder, and he should rather be charged with manslaughter, a lesser charge resulting in a 15-year sentence.
Due to the severing of her carotid artery, transcendence of the jugular vein, and cut trachea, Carter died within 10 seconds, said Deputy County Attorney Zach Weiland.
"She said, 'Help,' and I didn't want her to scream," Mcatlin said. "It just got so bad."
Mcaltin said he continued to stab her until she stopped squirming.
Carter was found 11 days later, unattended and covered in couch cushions in her own bathtub.
Detective Josh Wilson was called to the scene after a Jensen Property Manager, Anthoney Maurer, found her body. Wilson said he could smell Carter's decomposing body from the base of the stairs outside the apartment.
"There was an overwhelming smell of dead, decomposing human body," Wilson said. "It was absolutely horrendous."
Deputy County Attorney Mark Barlow, who acted as co-counsel for the state, said he believes justice was served.
"I think the jury saw this was a cold-blooded murder and killing for personal reasons," Barlow said. "Whether it was because she took his drugs, which we don't believe, or [Mcatlin] just couldn't control himself."

Murder under Utah law requires a prison sentence of 15 years to life. Mcaltin's sentence will be handed down from the Board of Pardons on May 22.