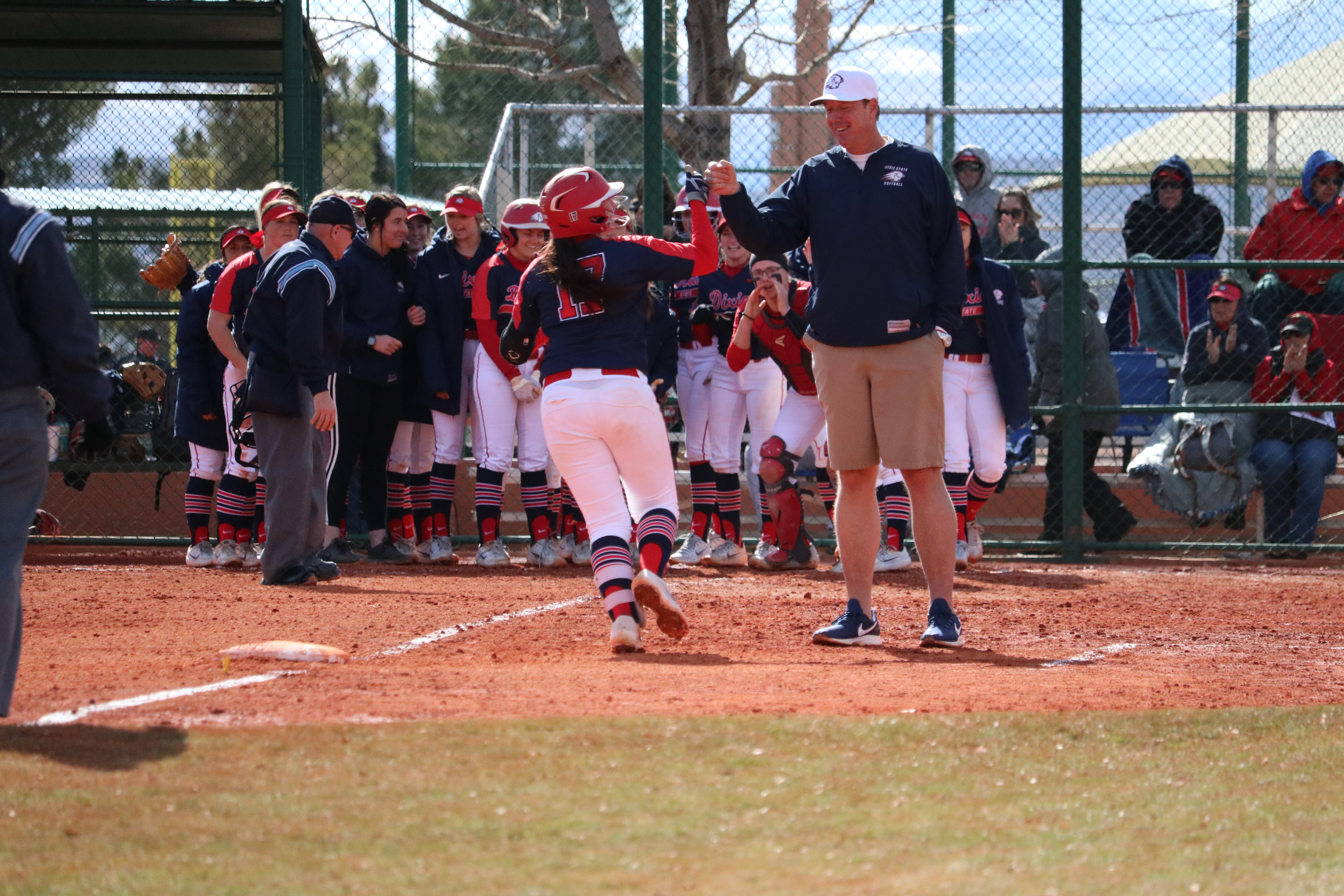 Photo by Madison Anderson.
---
The Dixie State University women's softball team is only two opponents away from wrapping up the regular season and heading into the Rocky Mountain Athletic Conference Championship.
Jessica Gonzales, a senior business administration major from Kingsburg, California, said her goals for the rest of the season are to win ball games and finish strong.
"We just keep dropping little games here and there and I think we just need to finish strong this year," Gonzalez said. "If we keep losing those games it's going to hurt us in the end."
Gonzalez said her game-day superstition is having to wear eye black every game.
Gonzalez said: "I actually ended up not wearing it when we went to Colorado Mesa and I did not play very well. So every game I put eye black on."
The Trailblazers have eight games left in the regular season before they head into the RMAC championship. DSU is currently ranked No. 4 in the RMAC, behind No. 3 Colorado School of Mines, No. 2 Colorado Christian University and No. 1 Colorado Mesa University.
The Trailblazers are returning to their home field this weekend with back-to-back double headers against New Mexico Highlands University. Head coach Randy Simkins said they do not know a whole lot about the NMHU Cowboys.
"Honestly, I think we're probably more talented in all phases: pitching, hitting and defense, but we got to go prove it," Simkins said.
Simkins said the way they prepare for games against new opponents is by trying to get as much scattering report information as possible, watching videos and talking to other coaches who have played them.
"The biggest thing is to just prepare your own team," Simkins. "Get us to play the best possible version of us."
DSU softball will also be honoring the senior Trailblazers at their home finale this weekend.
Bailey Gaffin, a senior business administration major from Glendale, Arizona, said her goal before ending her softball career is to earn All-American.
"I feel like I've worked really hard all of my four years, and I've worked especially hard this year," Gaffin said. "I've been All Pac West, All Region, All West Region and I'm just one step away every time from being an All-American."
Gaffin said her game-day superstition is her bow. If she is not playing well with it in, she takes it out. If she is playing well without it, she will leave it out.
DSU plays four games against NMHU starting on April 19 with game one at noon and game two at 2 p.m. The Trailblazers wrap up their home finale April 20 with game three at 11 a.m. and game four at 1 p.m.