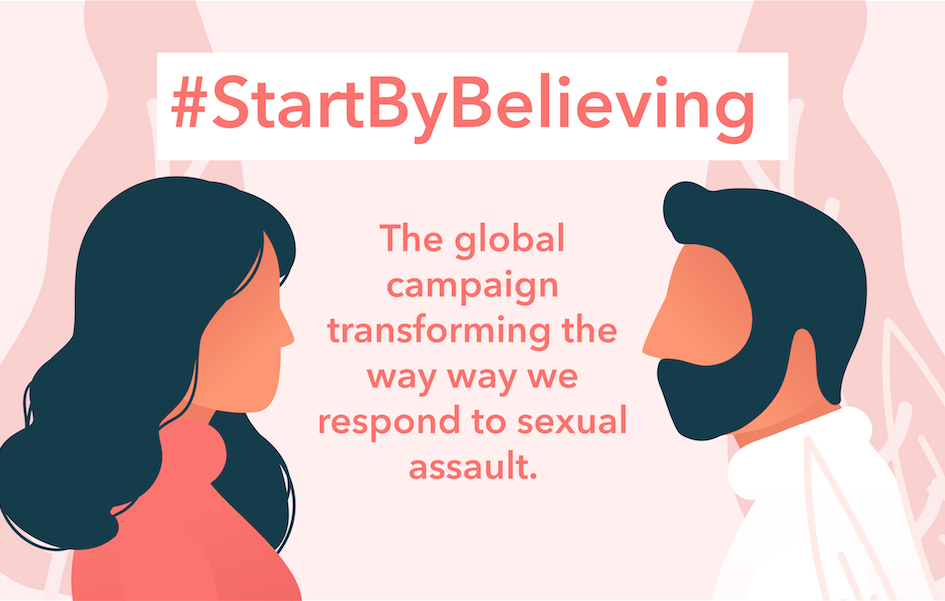 Graphic by Valerie De La O.
---
She didn't plan on getting raped at the party, but the man she met there forced himself on her. He never expected his teacher would coerce him, seduce him, take advantage of his innocence, or that she would continue to do so until he graduated.
Two victims who never reported the crimes committed against them because they would be shamed, asked what they were wearing, asked if they conveyed any consent, which they didn't. Two individuals who didn't report because they felt as though they didn't have a voice. Now they do through the efforts of "Start by Believing."
The first thing you'll see on the "Start by Believing" website are the words: "It's time to start by believing." Scroll down and you'll see it is a global campaign whose goal is to transform the way people respond to sexual assault.
Blair Barfuss, the Dixie State University Chief of Campus Police, said he and Rep. Angela Romero brought the campaign to Washington County and DSU because he saw its direct influence and value while employed with the West Valley Police Department. He said the most outstanding issue with sexual assault is lack of reporting and the reason these crimes aren't reported is because victims feel they don't have someone to speak to about it or anyone who will believe them.
"The police department adopted the 'Start by Believing' campaign to try [to] show and demonstrate to our community, our students, staff and faculty here at DSU as well as our community that visits, that if they have been a victim, that we will believe what they have to tell us," Barfuss said. "We start our investigation by believing what's being reported and then we do a complete and thorough police investigation."
Elizabeth Bluhm, Dove Center victim advocate coordinator, said "Start by Believing" is a way to introduce a change in our attitude toward victims of sexual assault. She said the campaign, as well as the "What Were You Wearing" exhibit, are both about not blaming the victim.
"Stop asking stupid questions that are judgmental or blaming and that stifle victims," Bluhm said. "It's hard enough to come forward. The barriers against reporting are huge and many, and if a victim is going to be questioned and harangued and treated like a perpetrator when they disclose a victimization, then they're not going to have the courage necessary to go forward with seeking help."
According to the "Start by Believing" website, the campaign connects victims with resources like "Seek then Speak" and "Victim Link," which work together to break down the barriers of shame and fear in order for victims to gain information, find options and take action through dialogue using the internet, phones, mobile devices and texting.
"It gives comfort to people who have gone through sexual assault," said Sandra Hutchings, Dove Center client services coordinator. "They see all these people come together, and their signing [of] this pledge, and it's not just students, it's community partners and they maybe haven't told anybody they've been sexually assaulted and they're seeing all of this and people are talking and people are there with resources, and it makes them feel safe that 'Oh, people will believe me.'"
DSU students can participate in the "Start by Believing" campaign by going to its website, signing the pledge and becoming an advocate.
"There might be other victims who are still living in the shadows," said Florence Bacabac, associate professor of English. "We want them to come forward and know that there are people that believe in them."