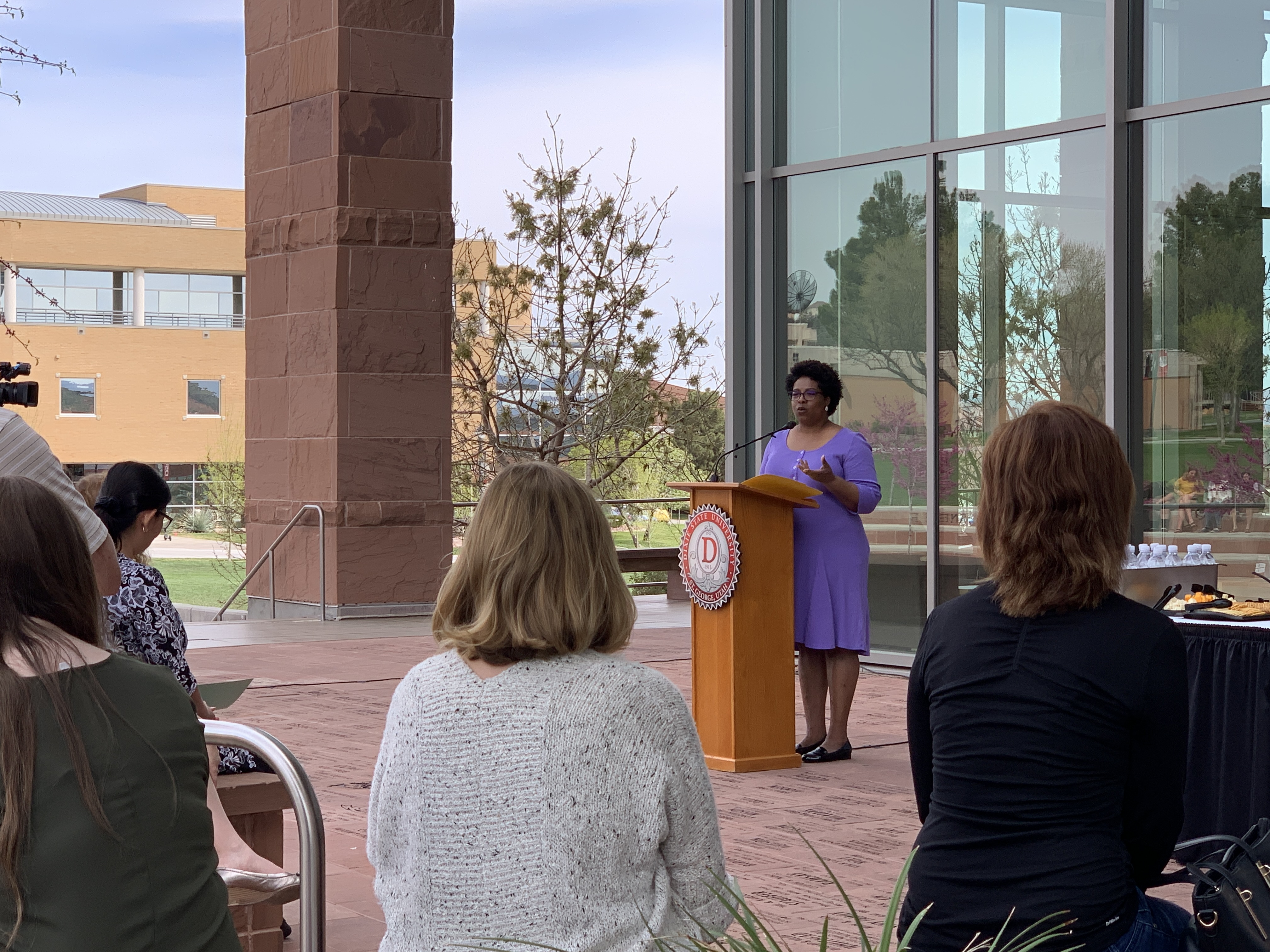 Chief Diversity Officer Tasha Toy speaks at the opening ceremony for the "What Were You Wearing" exhibit on April 1. Toy and a group of 18 other members attempted to conduct a study regarding campus diversity, but the responses were too little to yield a confident significant finding. Photo by Madison Anderson.
---
A team of 19 individuals attempted to assess the climate of diversity at Dixie State University and in St. George by sending out an email survey from March 22 to April 19.
The survey was included as part of the university's strategic plan and was deemed vital to the improvement of campus, said Ali Threet, executive director of career services and member of the diversity council.
Chief Diversity Officer Tasha Toy said this is the first time a diversity survey has been conducted on campus.
"You have a lot of stories and a lot of innuendos or rumors and such coming around of things that are happening when it comes to diversity inclusion and equity, not only on campus but in the wider community," Toy said.
Toy said 7 percent of students, about 5,000 students, who received the survey have responded to the survey, while 22 percent of faculty and staff responded.
Braxton Thornley, a senior English major from Taylorsville, said though he received the survey, he did not fill it out.
"The university actually sends a lot of surveys, I feel like," Thornley said. "I got it on my email… [but] if it is not pressing, I usually do not look into it more."
Threet said that in order for the survey to be effective, there needed to be a minimum level of participation from students, faculty and staff. Toy said she hoped more people would participate and make their voices heard on campus.
"[This survey] represents everyone," Toy said. "We want everyone to have a say."
The survey included questions such as:
"If you heard someone make an insensitive or disparaging remark, about how often was the source of that remark a member of the following groups?"
"Have you ever been discriminated against or harassed on the DSU campus, at an off-campus residence, or at an off-campus program/event affiliated with DSU?"
Toy said that after the results of the survey are received, DSU hopes to construct a diversity plan and include this foundation in the university's 2020 strategic plan.
Meanwhile, Toy said there are invitations for focus groups being sent out. After an outside consultant reviews the results of both the survey and the focus groups, there will be a presentation to the university explaining their suggestions.
Threet said: "I feel that we are definitely doing better with diversity and inclusion on campus. However, just like everything else, we are quickly adapting and changing. We have only been a University for a short time and with that stature comes increased diversity. This is a great thing. I feel that St. George and Dixie State are growing and changing for the better."