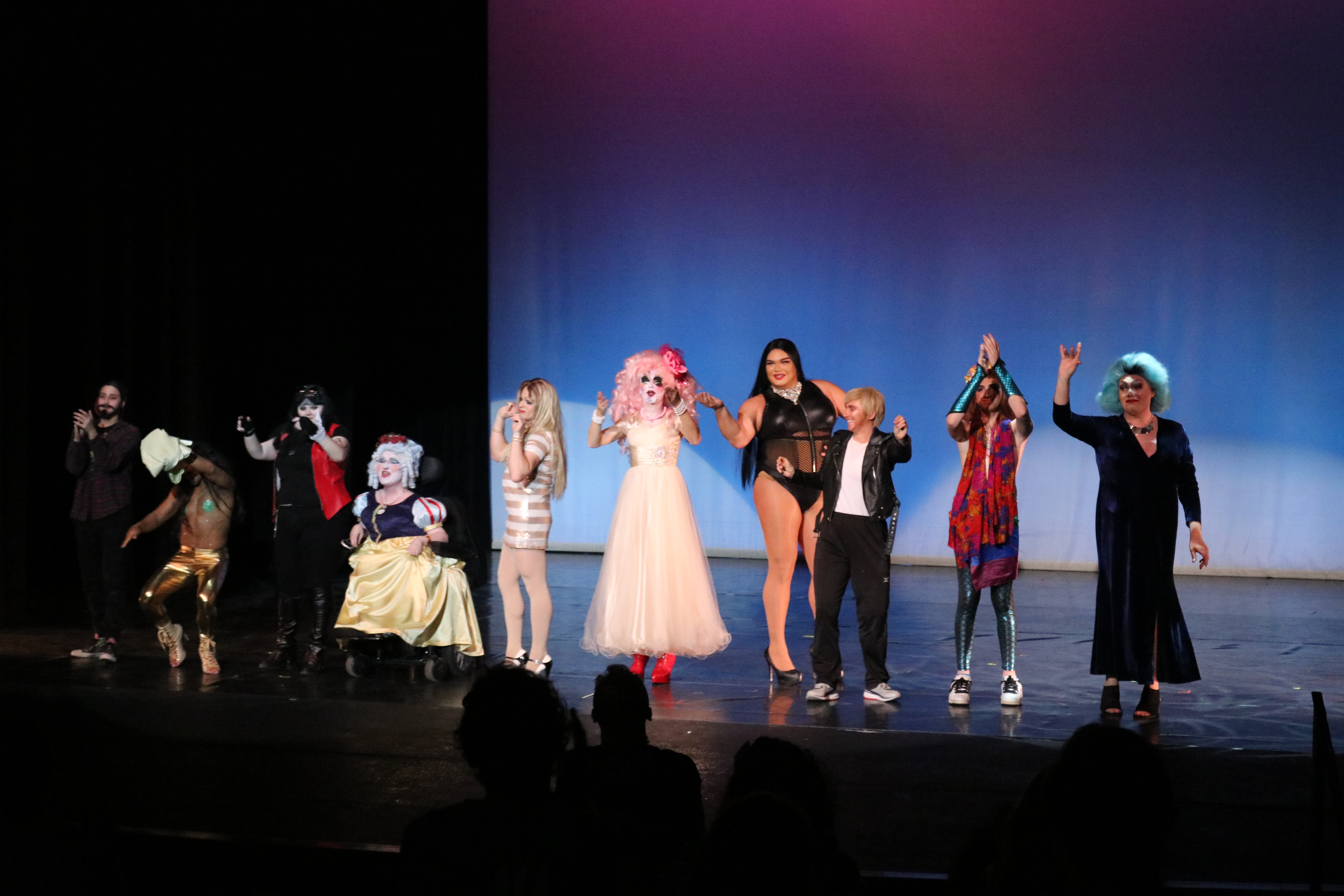 Photo by Madison Anderson.
---
Dixie State University's first ever drag show was anything but a drag.
The audience of over 100 people were captivated with performances from students and professional drag queens and kings on April 6 at the Dolores Doré Eccles Fine Arts Center Mainstage Theater.
The audience shed tears, shared laughs and celebrated diversity as the performers lip-synced and danced to songs of their choice.
Jacob Barlow, a professional drag queen, hosted the night as "Jafabulous" with plenty of wigs, witty jokes and high-heeled boots that polished off his look.
Barlow articulated the overwhelming atmosphere of acceptance after an emotional performance from Joshua France, a junior theater major from Dammeron Valley, as Lady Chaise-Roulante, who performed "Into the West" by Annie Lennox.
"That [performance] really hit me in a lot of ways I didn't think it would," Barlow said through tears. "I lived for that. I don't usually get this emotional while I am in drag."
The night was also filled with a positive message toward the LGBTQ+ community.
Tanner Gilman, a freshman theater education major from Pocatello, Idaho, performed "I'm Coming Out," by Diana Ross as his drag persona, Mama Huckleberry.
"As your mama, I want you to know that every day a teen as an LGBTQ – in our community – commits suicide," Gilman said. "I want you to become an ally, friends. Show your support and love and just do everything that you can to support our community."
This was Gilman's first drag performance, as it was with many of the student performers. However, he has been on stage since he was 10 years old. He is a member of the theater club as well as the LGBTQ+ Student Association.
Gilman said: "You are unleashing another side of your performing [when doing drag]… It is stuff you don't get to do as a male in theater. It's fun."
Kile Allen, a senior theater major from St. George, performed alongside Dusty Ravsten, a senior theater major from Tremonton, as Ebony and Ivory. Their performance of Disney princesses Tiana and Ariel elicited plenty of laughs from the audience, especially when Ravsten slid across the stage in his Heelys with purple star stickers covering his nipples.
"To me, I have always kind of wanted to do [drag]," Allen said. "Just to have that experience and know what it's like and whatnot."
Allen said he hopes DSU will decide to support the show and the collaboration between the Theater Club, LBGTSA and DSU Student Association by making it an annual experience.
NataLee Briggs, a sophomore psychology major from Salt Lake City and drag king participant, said: "This is my first time performing. I've really enjoyed [getting involved at DSU]."
Briggs said the drag show was a way to express herself.
"This is my time to shine,"Briggs said. "Here we go; let's knock this out."
The night ended with a runway walk from participants and a standing ovation from audience members.
"This is a place of love," Barlow said. "It doesn't matter who you are. If you are trans or straight or black or white. This is a drag show and you know what? Everyone is welcome no matter who you are."