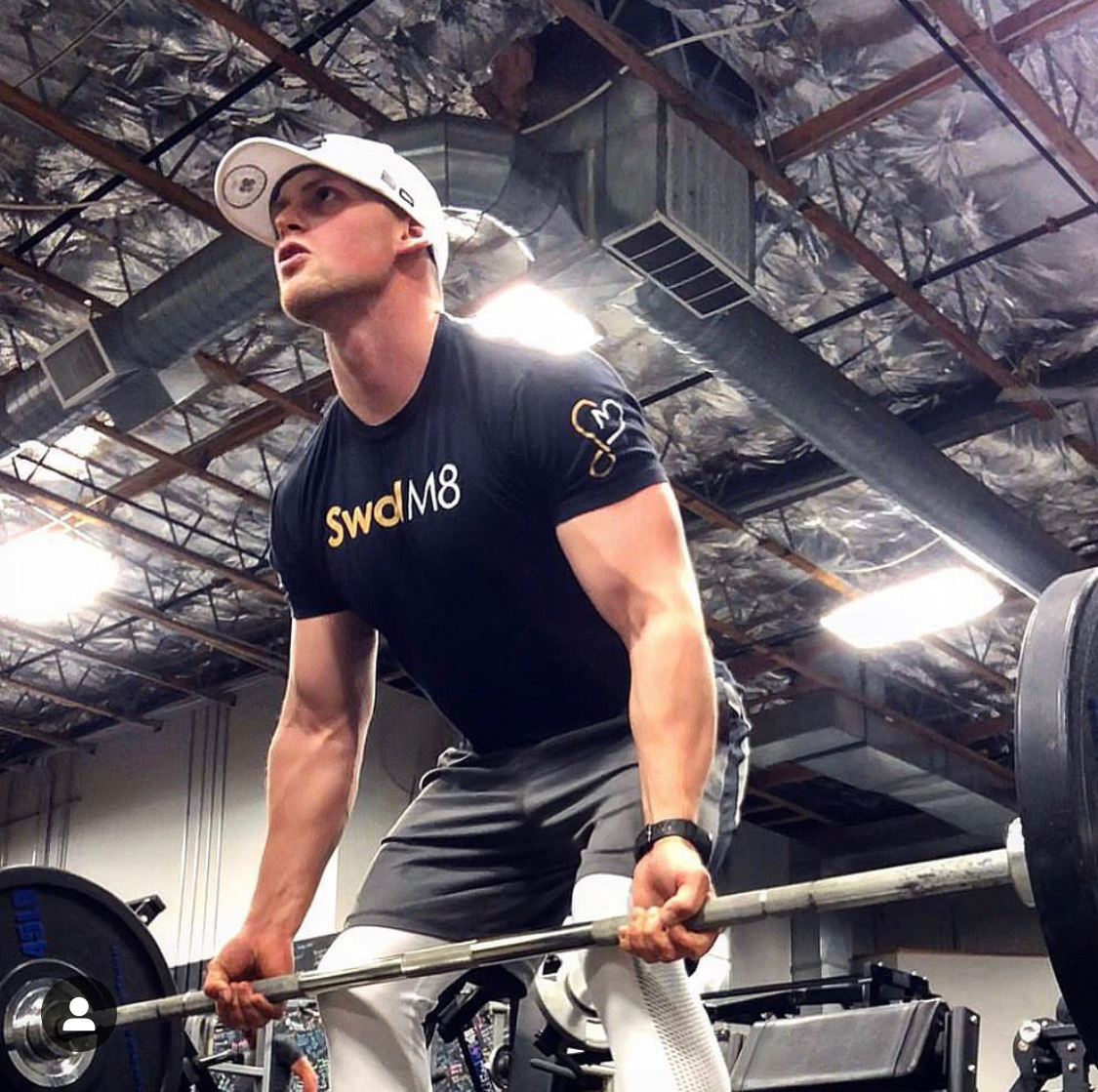 ---
There is a company dedicated to active living and "active love" that was started by one Dixie State University student who had a vision of combining love and fitness; this company is called SwolM8.
Myles Morrison, a senior communication major from Los Gatos, California, started SwolM8 in March 2018.
Morrison said he thought of his business idea when he saw an unfit couple working out and motivating each other at the gym. He said he wanted to take that exact feeling and put it into a shirt.
"I'm a big cheese-ball," Morrison said. "I'm in love with love. Love motivates me."
SwolM8 is a play on the words soul mate, and the number eight represents an infinity sign because Morrison said he believes love goes on for an eternity. Each shirt has a heart on one sleeve to represent that he wears his heart on his sleeve, and an American flag on the other sleeve to represent his time in the national guard.
Although the idea of SwolM8 started with a couple, your SwolM8 doesn't need to be someone you're romantically involved with; it is anyone who motivates you.
Morrison said he met Blake Kelley and Kyle Loftin, the owners of Hustle Sports Nutrition, a protein and nutrition store, while promoting his business on the street. They offered him a manager job at Hustle and a spot in their shop to sell his product, which includes sweatshirts, tank tops, and long and short sleeve T-shirts, Morrison said.
"[My favorite thing about Morrison's brand is] the message behind it, and that it brings people together to push each other to be better," Loftin said.
Anyone can create a brand, but it requires a vision of what you want, hard work, dedication and money, Morrison said.
Morrison said the first step he took in starting his business was following the golden circle rule he learned from a Ted Talk, "what you're going to do, how you're going to accomplish it, and why you're doing it."
Morrison said his next step was promoting his brand to the public. He spent a lot of time talking to people about his brand and asking them their opinion. This led him through the networking cycle, which helped him to meet famous gym athletes such as Steve Cook.
One of the toughest parts about starting up a business is not everyone is going to believe in the product you're selling, Morrison said. He said to push through the negativity and not quit on yourself; remember why you started in the first place.
The money portion of starting a business is another tough aspect. Morrison said he spent a big chunk of his own money in starting his business, and he even had to sell his motorcycle. Morrison said he hit some lows where he wondered what he was going to do, but couldn't bear to quit on himself.
Chris Brown, instructor of entrepreneurship, said starting a business when you're younger is the best route to take because you will have more time on your hands and a little less financial risk.
Brown said the most recommended way to start a business would be to first enroll in an entrepreneurship program; it's a way to learn how to start a business and avoid the common pitfalls many entrepreneurs and small business owners face. This program allows students to find mentors, which is a crucial step in having a successful business.
"The pros [of starting your own business] are, when done right, the opportunity to really control your time and remove any ceiling on your earning power," Brown said. "[However], if an entrepreneur isn't careful, the business will end up owning their time."
Morrison said it is definitely hard work and a piece of advice he would give to aspiring business starters is: "If you believe in it, you can do it. When you start something, there is going to be a lot of people saying you can't do that and you just gotta push through and stick to your own guns."
Morrison was able to build his company from the ground up, which has now gone worldwide to Ireland, Scotland, Australia and Canada with the help of SwolM8's ambassador program.
"It's so cool to see it growing so quickly," said Ella Barlow, an ambassador for SwolM8 and a junior biology major from Eagle Mountain. "It's unreal to see this idea that [Morrison] had last year be headed to one of the biggest fitness conventions, [Fitcon]."
Morrison said he is hopeful that his company will continue to grow. He said he wants to organize seminars to answer questions for people who strive to have fitness motivation.
"It's been a wonderful ride," Morrison said. "What I hope to do in the future [is] build a whole entire family together."
You can find his products online at swolm8.com or in store at Hustle Sports Nutrition located at 2351 S. River Road No. 2, St. George 84790 open Monday – Friday from 10 a.m. – 7 p.m. and Saturday from 9:30 a.m. – 6 p.m. DSU students get 15 percent off everything with student ID.