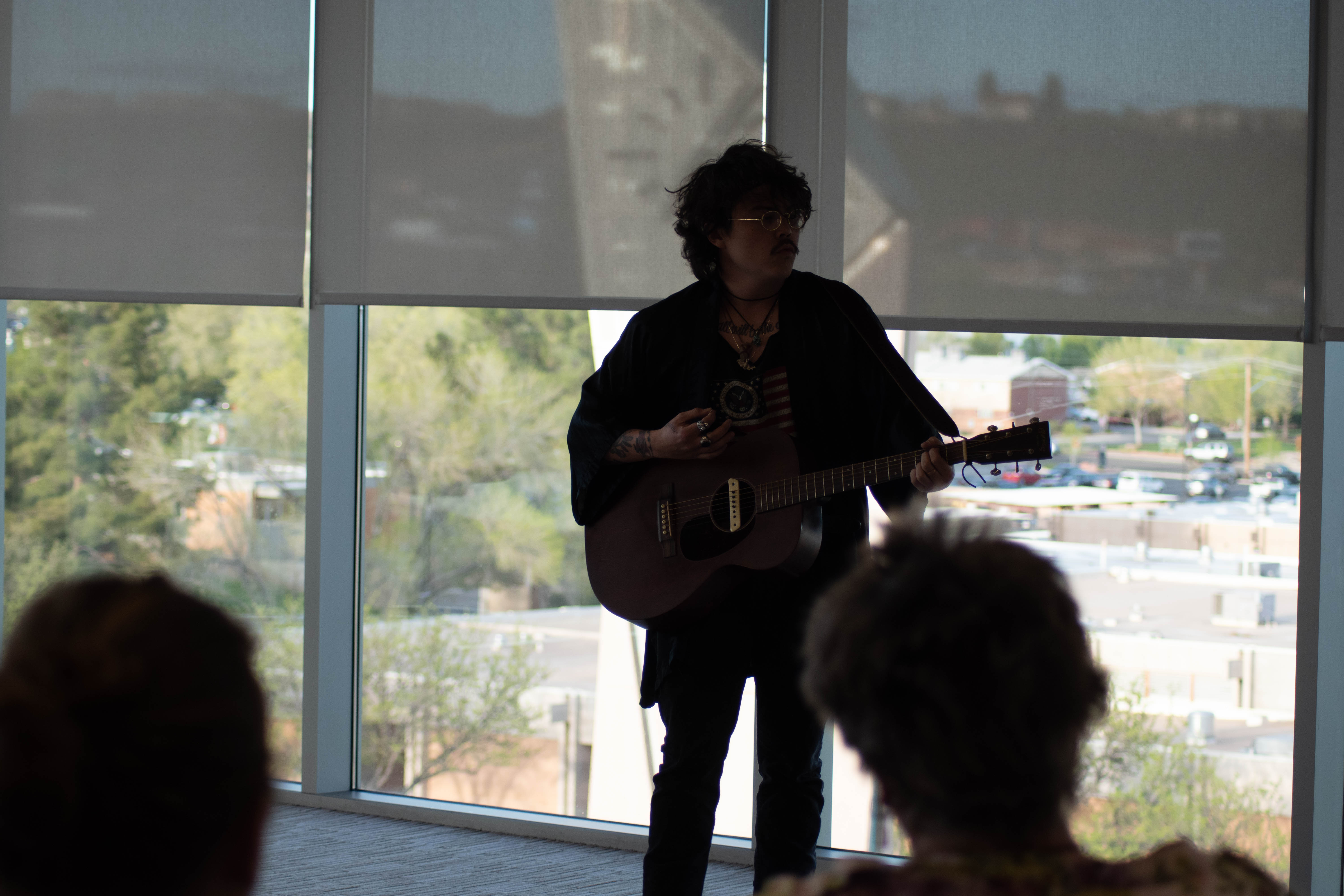 Photo by Tia Walker.
---
The Southern Quill hosted its third annual benefit reading and silent auction to raise money for its student-run literary magazine.
The silent auction was intended to fund The Southern Quill's production costs for its yearly magazine and was held in the Zion Room of the Jeffrey R. Holland Centennial Commons on April 3.
Items sold at the silent auction ranged from handbags, shoes and clothes to Tom Selleck memorabilia. A first edition copy of adjunct professor Dorothy Solomon's book "Daughter of the Saints: Growing Up in Polygamy," a Fender guitar, and books containing the complete works of F. Scott Fitzgerald and William Shakespeare were also up for auction as well as an artisan sink and three books from the series "Game of Thrones" is based on. The silent auction was held throughout the event, with the highest bid going toward the Fender guitar for $80.
Cindy King, The Southern Quill's faculty adviser and an assistant professor of English, said the students on The Southern Quill's staff were heavily involved with everything from the planning stages to hosting the event.
"Overall, it's a terrific, hands-on, active-learning experience in fundraising, event planning and hosting," King said.
King said while the exact numbers haven't been calculated yet, due mostly to after-auction bids, she believes the amount of money earned this year will surpass the previous years since the auction tends to earn more money each year.
"It allows us to make The Southern Quill bigger and better every year," King said. "And most importantly, we are able to increase the length and quality of the journal each year."
Austin Mariano, lead singer and guitarist of local band NVM, performed acoustic versions of his band's songs while his fellow bandmates live-streamed. One of these acoustic covers included the debut of a new song intended to be released during the summer called "Glimmer of Doubt."
"It sounds like 'Wonderwall,' but it's not," Mariano said, eliciting laughter from the audience.
Mariano also joked about how he'd already stolen the best item at the auction while tugging on his scarf, then said those in attendance should look at the table that was set up with NVM's merchandise.
The two authors who read samples of their work at the event were Solomon, author of books such as "Daughter of the Saints: Growing Up in Polygamy" and a variety of other polygamy novels, and Tom C. Hunley, a poet and professor of creative writing at Western Kentucky University. The authors volunteered their time because of their friendships with King and English professor Stephen Armstrong, while The Southern Quill's student staff secured NVM's performance.
Solomon said: "[The original copy of my book] has a really funny and embarrassing typo in it. President Gordon B. Hinckley [former president of the Church of Jesus Christ of Latter-day Saints] in that book is President Gordon B. Hinckey."
Hunley recited poetry from his latest collection, which is based on the idea of his death and is titled "Here Lies." He also read a poem he wrote for one of his creative writing students who had committed suicide the year before titled "Will be done" (a play on his student's name).
One of the lines Hunley read from "Will be done" said: "Everybody who left came back. You left and will not come back."