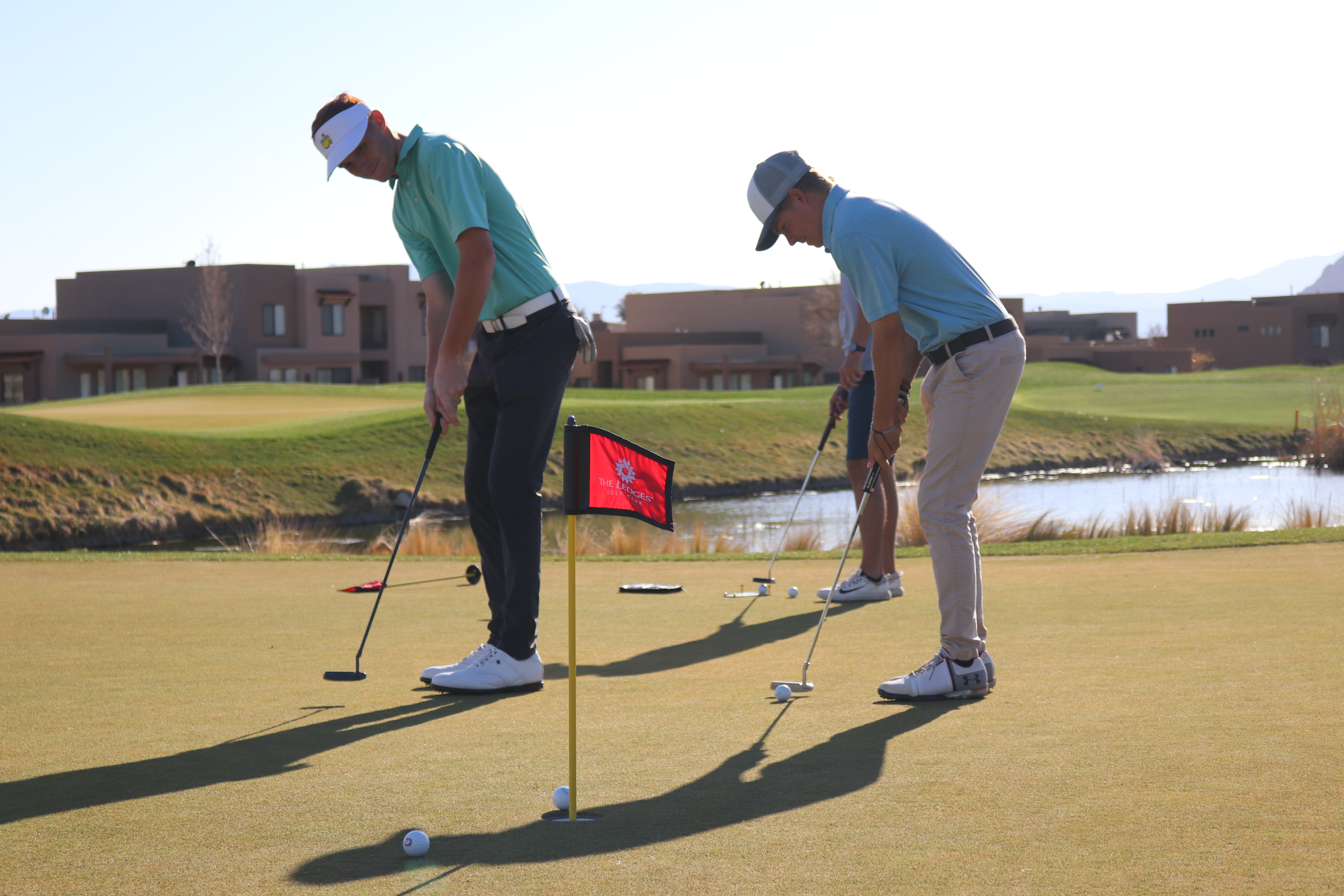 Photo by Madison Anderson.
---
The Dixie State University men's golf team is putting in the hours at practice in preparation for the Dallas Baptist Patriot Classic.
The team practices four times each week at southern Utah golf courses including The Ledges Golf Club and The Entrada at Snow Canyon. In addition to team practices, each of the players use their time to practice on their own. Triston Gardner, a freshman general studies major from Ivins, said his favorite thing about golf is the mental aspect of it. Gardner said he began playing golf when he learned to walk but started taking it seriously when he was ten years old. Gardner said he enjoys practicing at Dixie Red Hills Golf Course in St. George the most.
"It's just tricky," Gardner said. "It's one of the shortest courses in St. George, but it's also really hard for how short it is. It's one of the hardest courses and that's what makes it fun, just having to figure out shots."
Head coach Brad Sutterfield said: "[Our] strength is we're deep. The travel squad we're going with, anybody can win out of the five that go. Normally in the past you usually have two [or] three guys that are capable of winning and the other guys are good, but this year I think out of all our five, any guy can win and be the low on the team."
Sutterfield said consistency is what the team needs to work on most.
"I think around the greens we need to get a little better, a little sharper, but overall I think we got the talent, we just need to put it together," Sutterfield said.
Gardner said chipping is his favorite aspect of golf and he considers it his strength. He said his favorite tournament of the year so far was going to Hawaii for the Hawaii Hilo Intercollegiate Tournament because of the beautiful weather, fun course and getting the chance to go to the beach everyday.
While at tournaments, Gardner said he tries to stay as calm as he can and take it shot by shot when he is out on the course.
"I just focus on staying relaxed and having fun," Gardner said. "Breathing is honestly something I think is super important and that's something I use to calm me down."
Aside from breathing routines, Gardner said for his pre-shot routine he visualizes his ball flight before he hits it and commits to that. While Gardner is considering becoming a business administration major, he said his goal for now is to figure out exactly what major he wants. After college, Gardner said he hopes to become a professional golfer. As for his goal before finishing the 2019 season, Gardner said he would like to finish in the top three.
Noah Schone, a freshman general studies major from Washington, said his favorite part about practicing with the DSU team is getting better at the things he is not as consistent at each day. While Schone said his favorite aspect of golf is driving, he believes he is best at putting.
"We all have the same goals, we all have the same mindset: to get better and to eventually turn pro," Schone said. "So that's what we're all shooting for and working towards."
Schone said he began his golf career at four years old when he lived at a golf course with his family. Since then, he played on the Pine View High School men's golf team and is now going through his first year as a Trailblazer. Schone said he takes advantage of golf tournaments in town to help prepare him for bigger tournaments.
"I try to play in every event that I possibly can," Schone said. "Recently, three of us just played in winter champs at Sunriver in Green Springs. I feel good about how I'm playing and ready going into Dallas, so I'm excited."
Schone said his mindset at tournaments is having a good attitude and being positive.
"I don't try to change much," Schone said. "I'm going to play well if I have fun so I just try to have a good time, stay focused on what I'm doing, but have fun overall."
For his team goal, Schone said he would like to make it to nationals. For his personal goal, Schone strives to beat his lowest score which currently sits at 63.
"We've never been to nationals in Dixie State [University] history and we got a really good chance with regionals here at Ledges in St. George," Schone said.
The Trailblazers will be in Dallas April 1-2 to compete in the Dallas Baptist Patriot Classic for the first time.