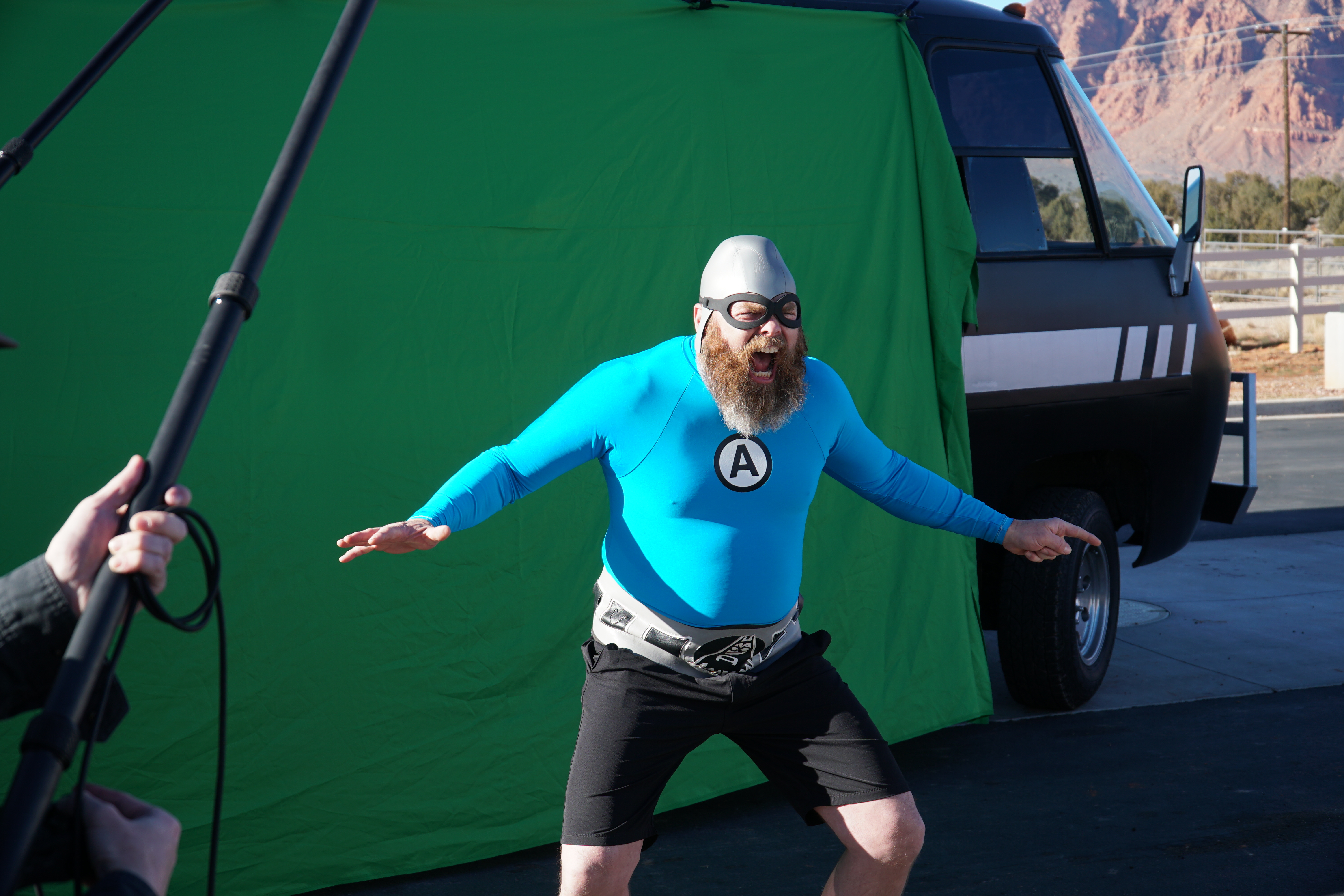 Crash McLarson, played by Chad Larson, is "getting emotional" and growing to 50 feet tall thanks to the help of some green screen and VFX. Dixie State University students assisted in production, which wrapped on March 27. Photo courtesy Jordan McArthur.
---
Planning a birthday party is proving troublesome. There aren't any musicians who want to play at a superhero themed party. Then you realize there is a music group that are superheroes. The Aquabats! But they can't come to your party; they're in some city called St. George. You wonder what on Earth they could be doing there.
"The Aquabats" were in St. George last week finishing the last bit of filming for their television program. With the help of DSU Film and Dixie State University students, the filming wrapped Wednesday.
Producer Jordan McArthur said "The Aquabats" started as a rock band 25 years ago and had a children's television show on Hub Network, but since the network shut down, their television show could no longer air. McArthur said fans of the show have been asking for a comeback since it went off the air, so he put together a Kickstarter to raise money to produce more episodes.
Through the Kickstarter, fans and producers joined together and invested in bringing back "The Aquabats Supershow," McArthur said. With this combined effort, filming new episodes became a reality after raising over $600,000. However, filming in California was too expensive, so that is what brought filming to Utah.
"Working with the Utah Film Commission, they have a very friendly policy with people coming from out of state," said Christian Jacobs, who plays MC Bat Commander. "They help you with tax incentives and things to help bring the budgets down and put more on the screen."
McArthur said they came to DSU to film new episodes of "The Aquabats Supershow" because the DSU Film hanger is an ideal place for film production with an insulated roof and plenty of space. There was enough room at the hanger that they were able to recreate sets from the original production, McArthur said. DSU students have been helping with lighting and as production assistants.
Wyatt Naplin, a senior film major from Grantsville, said he originally got involved being on set for "The Aquabats Supershow" in January when he took a film class at DSU and was invited to help. They invited him back as a production assistant when they returned for final filming.
Getting the opportunity to work on the set of a film or television program is an invaluable way for film students to gain experience in the industry, Naplin said.
"It's the most practical real-world thing you could do as a film student because it's the real deal," Naplin said. "You do shoots at the school, but they're not on the same level. You don't have the same amount of things to be done."
"The Aquabats Supershow" isn't entirely gone from the world; you can watch episodes of their first three seasons on their YouTube channel, so be sure to tune in and watch "The Aquabats"on their zany adventures.