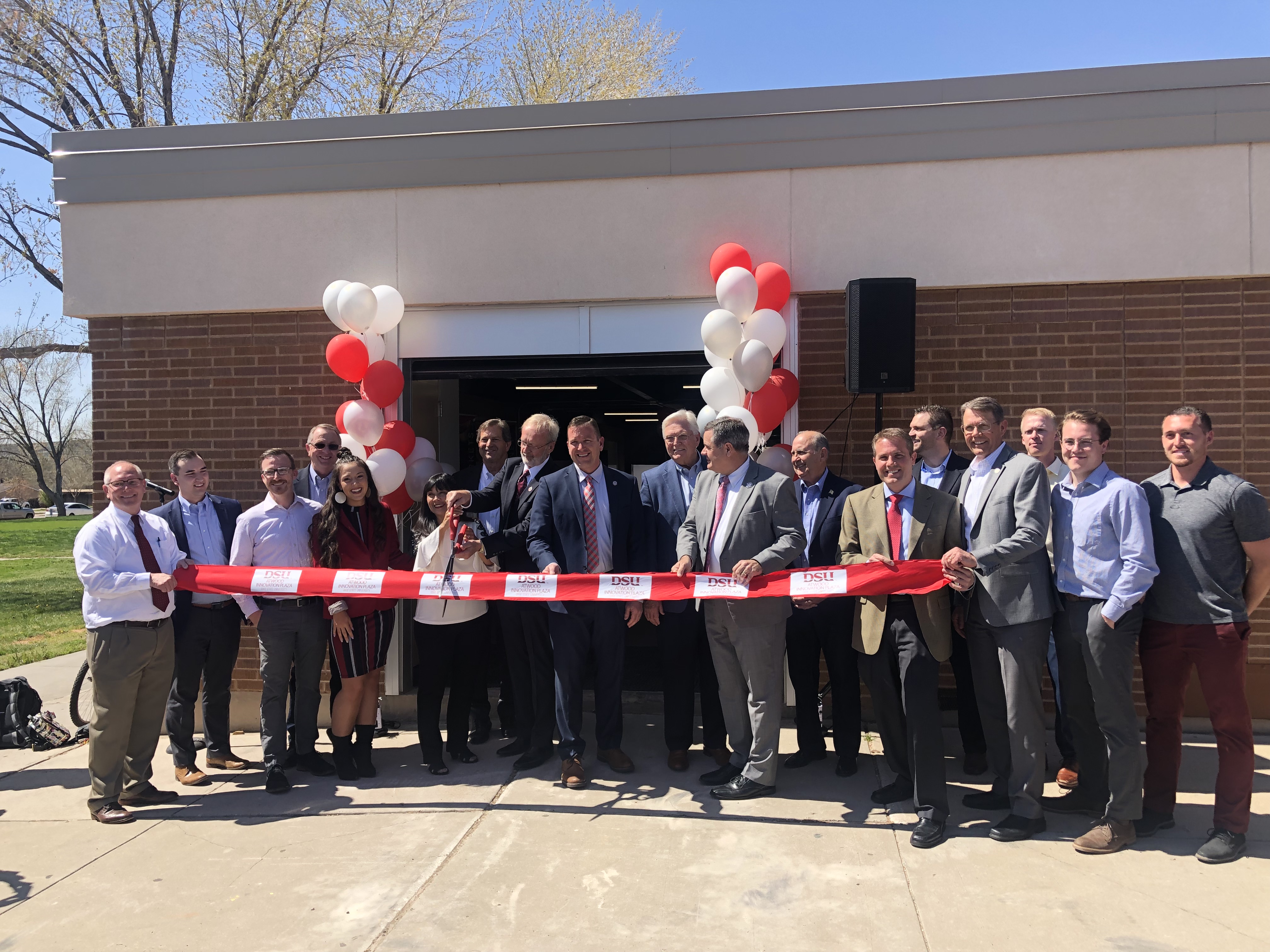 Dixie State University officials mark the beginning of the Makerspace open house by cutting the ceremony ribbon on March 25. Makerspace, located at Atwood Innovation Plaza, is meant to aid the St. George community in cultivating entrepreneurship. Photo by Jessica Johnson.
---
Dixie State University administrators and St. George city officials participated in a ribbon-cutting event for the DSU Makerspace at Atwood Innovation Plaza on March 25.
Don Willie, executive director of the Technology, Innovation and Entrepreneurship Center and the Business Resource Center, was the introductory speaker who welcomed the community to the event.
"This has been a startup effort if there ever was one, I would say," Willie said. "Pulling this together has been many people doing many tasks, a lot of them shouldering the burden for this."
Willie also thanked the deans, staff and student scholars involved with making the DSU Makerspace a reality, as well as Provost Michael Lacourse and President Biff Williams.
Kyle Wells, dean of business and communication, said: "[The DSU Makerspace] has this opportunity for people from the community to come and engage and learn what they can do through 3D printing and laser cutting and other things like that. But more than that, it creates a culture, and that culture really is about entrepreneurship, innovation and opportunity."
Wells said while the facility may not have exactly what every entrepreneur needs, the culture and community of the DSU Makerspace can cultivate an individual's entrepreneurship.
"I also can't say enough about Lindsay and Laura [Atwood] and what they've done," Wells said. "It really was them that made this possible. We always joke that [Lindsay's] never been asked for $1 million over a text. I didn't think that was true, but I did pull up the text yesterday, and yes Lindsay, I did ask you for $1 million over text. So, I'm new at this, quite a novice. I really don't know what I'm doing. Thank you."
DSU Trustee Lindsay Atwood said Wells had indeed asked for $1 million via text message, while he was talking to Williams.
"I said 'boy, your dean really has some guts here.'" Atwood said. "[Williams] said 'what are you going to do?' I said 'I'm going to give him his million dollars.'"
Williams said 4 ½ years ago when Paul Morris, vice president of academic affairs, came to his office for one of their first meetings, Morris said purchasing East Elementary School — now Atwood Innovation Plaza —  should be their first priority.
"We had no idea what we wanted East Elementary School to be," Williams said. "But we knew it was right close to campus, we knew that we were growing more so than most of the campuses in our state, in our region, and we knew it would just be something that's very important to us."
Atwood cut the ribbon a half an hour ahead of schedule, marking the beginning of the open house portion of the event. Members of the community freely toured the facility and had the chance to view the equipment inside, including laser cutters and working 3D printers.
Wells said there are plans to have a grand opening of the facility in early November.