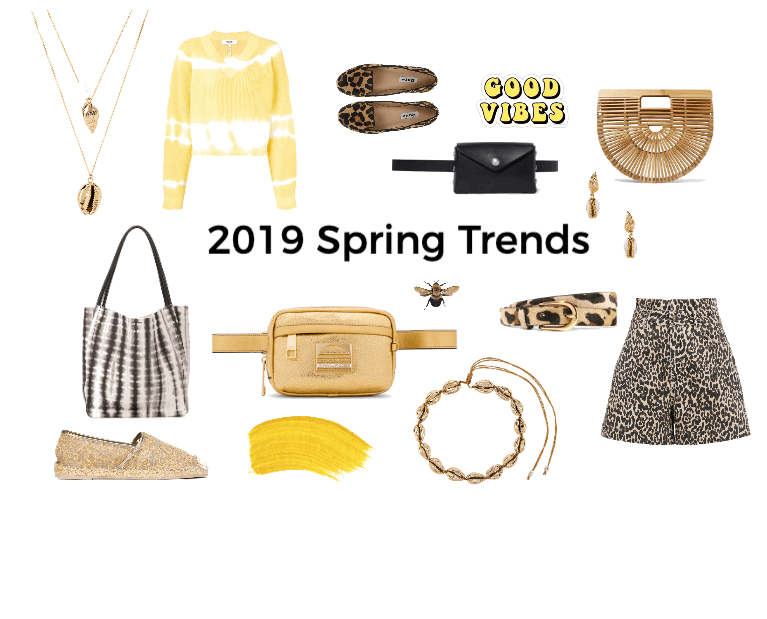 Graphic by Stephanie Du Par.
---
When the clock springs forward, fashion follows. Spring break means pulling out shorts and tank tops from last summer, but wearing last year's trends could look dated. Here is a guide to spring trends in 2019. 
Shell yeah
Seashells have been huge this year, and it looks like they will continue trending through the summer. This is part of a larger surfer-inspired trend but is easily accessible for any college student. Retailers such as Forever 21 or H&M carry seashell necklaces and earrings which are an easy way to inexpensively access the trend without breaking the bank. 
LEOPARD LOVIN'
Leopard print was huge in fall 2018 and will continue to dominate. The black-and-brown print can be considered a neutral print, making it the perfect choice year-round. Those of you who invested in the trend last year are in luck. Easy ways to incorporate this into your spring wardrobe would be a fitted tee, scarf, bikini or even a belt bag. Check out local boutiques Scout and Cloth and Closet Revival for these pieces.
BELT IT
Belt bags are also staying around for another season. The more sophisticated cousin of the fanny pack, belt bags are for people who are too cool for fanny packs but like the utility one brings. Staying in neutral colors will ensure that your belt bag matches as many outfits as possible, but when it comes to belt bags: are there even rules anymore? You can also pull a Pete Davidson and just carry it like a sack lunch. 
FLORALS? FOR SPRING? GROUNDBREAKING.
Let's be real– spring is the reason to flaunt a floral print dress. As predictable as flowers grow, floral prints dominate from March to June. This year, try mixing florals with a different print, such as a stripe. This will bring more visual interest to an outfit and is a good way to incorporate floral print without being overbearing. However, a floral print dress is always a moment, so go ahead and rock it just as is. Bohme has a good selection of dresses this year.
AND IT WAS ALL YELLOW
It's time to embrace your inner sunshine. Yellow, especially more golden hues, is everywhere this year. To let the color really shine, pop yellow with contrasting colors such as blue or purple. Forget the LBD; a yellow dress is really the look to get everyone head's turning. Honestly who can forget the yellow gown Kate Hudson's character wore in "How To Lose A Guy In 10 Days." Iconic. This trend I'm really excited for, and it goes beautifully with blonde hair. 
TIE-DYE
Another day, another trending print. This one is also related to the shell print, referencing an overall surfer/west-coast vibe. This is an easy DIY, and one that can't really be messed up that badly. A unique idea to try is the Japanese tradition of shibori which just requires dye and rubber bands. Dye usually costs under $5 and rubber bands are also relatively inexpensive- so there isn't much to lose if it doesn't work out. Try a tie-dye dress first or some cut-off shorts.
Don't feel the need to incorporate everything into your wardrobe at once. The wonderful, and sometimes frustrating, thing about trends is that they aren't going to work for everyone. Just choose one or two trends that you like and start with those.