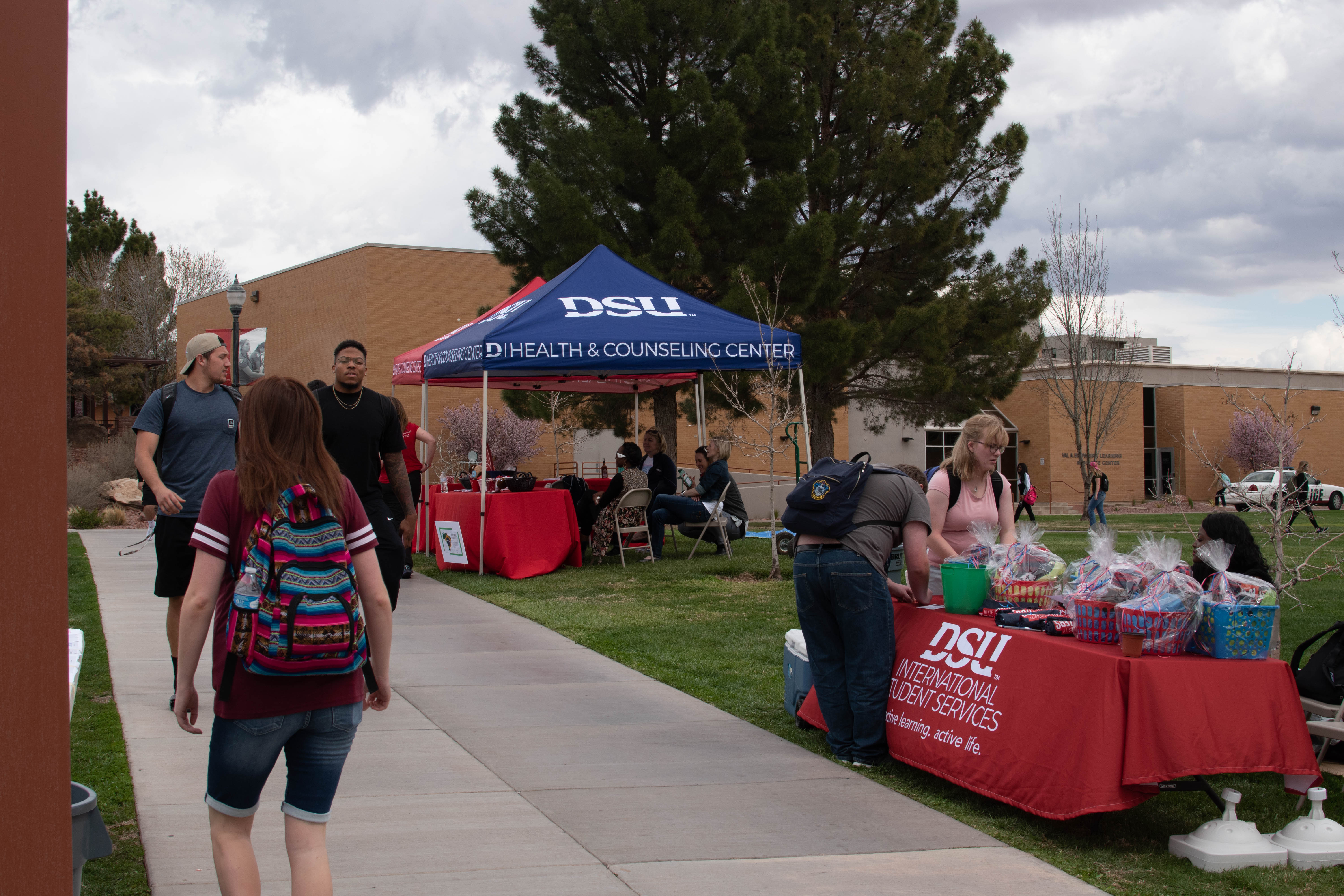 Photo by Tia Walker.
---
As part of Mental Wellness Week, a panel of health professionals was conducted to answer any questions about emotional well-being on Thursday.
Tiffany Wilson, a member of the board of trustees, said she is interested in the panel and the films because she has had personal experiences with mental health issues.
"I am really excited about the support systems that are being put into place here at Dixie State University for the students," Wilson said.
The five mental health experts who were on the panel include: Jeremy Nielsen, behavioral health manager at Intermountain Healthcare; Jamy Dahle, a mental health counselor at DSU's Health and Counseling Center; Paul Staheli, a psychologist at Southwest Behavioral Health Center; Dylan Matsumori, director of DSU's Health and Counseling Center; and Merrilee Webb, former director of Raging Red and special projects.
Matsumori said Mental health is a continuum because it is something you can either be healthy or ill in based on challenges individuals go through in life. The top three challenges he said he sees students come to the health and counseling center for are anxiety, depression and relationship issues.
"Those are the kinds of things that I believe are [causing individuals to] feel trapped," Matsumori said. "That is where we see suicidal [thoughts] beginning."
There are certain behavioral signs indicating a person is having problems with their mental health, Dahle said. The signs may include: isolation, sadness with no rebound, overeating or undereating, oversleeping or undersleeping, and declining academically.
"[There are] situations that can feed into those behavioral warning signs," Dahle said. "If you feel like you cannot manage yourself, your mental health may be declining."
Nielson said when helping a family member or friend who may be suffering from a mental illness, it is important to be mindful and aware of the warning signs. 
"Validate their feelings and offer your support, then direct them to a health care professional," Nielson said.
Dahle said being a suicide prevention trainer has taught her it is important to talk openly about suicide when working to raise mental health awareness because it helps break the stigma and relieves anxiety for an individual who may be having those thoughts.
"It is important to use the term 'suicide' and/or 'killing yourself' because it is putting the term out there for what it is actually known as," Dahle said.
Dean of Students Del Beatty said it is important to ask about suicide directly because if the student is having those thoughts, it is a relief for them to talk about it, and if they're not then they can continue with the help they actually need.
The panel followed the screening of Raging Red's music video "You Will Be Found" and behind-the-scenes film "Out of the Shadows," in which the individuals involved in the video spoke about their struggles and what the song meant to them personally.
Matsumori said, "This week [was] working to bring a light to encouraging mental wellness through service, positive optimism and reaching out to lift those that may be faced with difficulties in life."