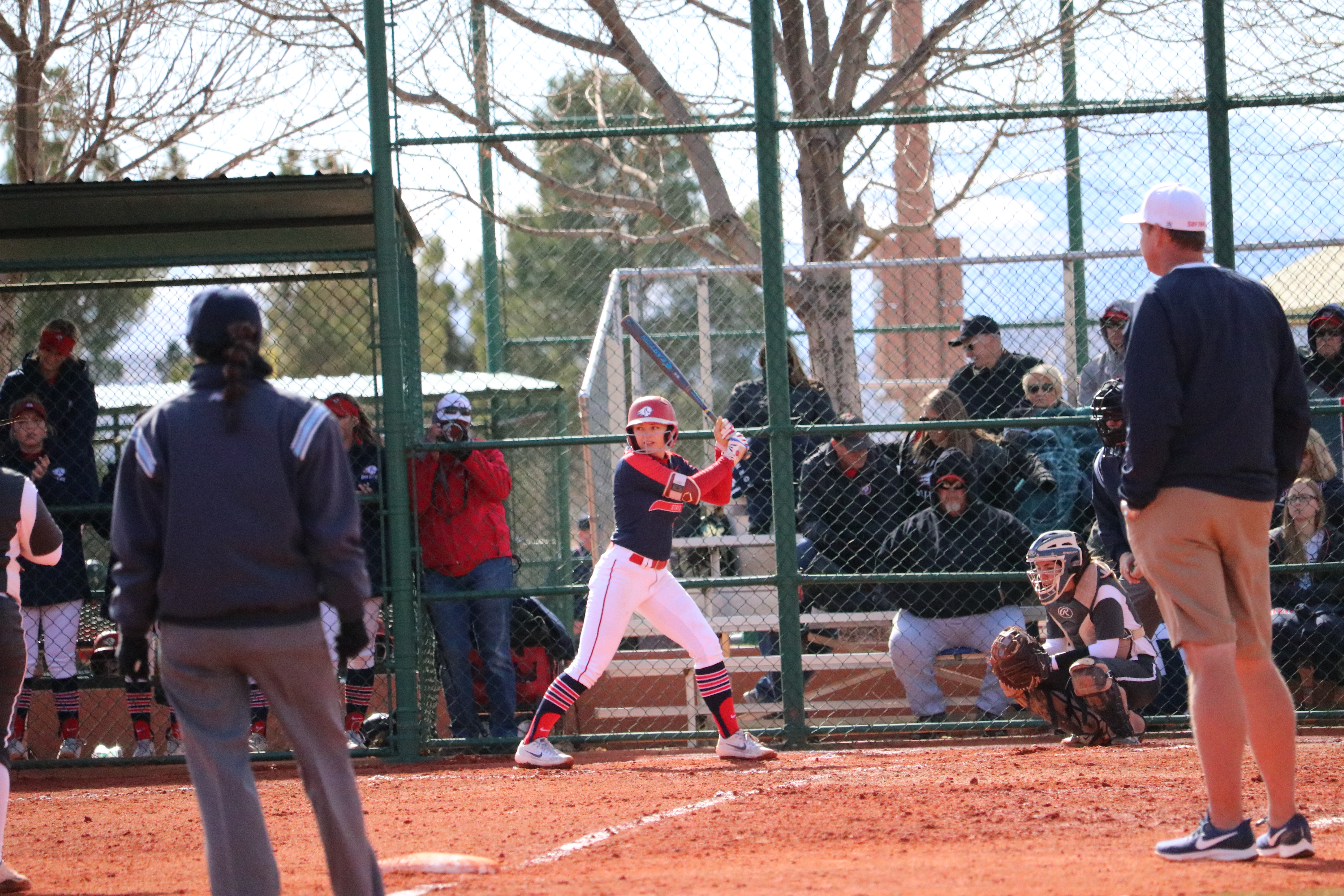 Photo by Madison Anderson.
---
After losing three games in a row, the Dixie State University softball team has capitalized on oppurtunites to ride an eight-game win streak heading into the middle of conference play.
The Trailblazers' record is 18-5 after a four game series against University of Colorado-Colorado Springs. DSU scored 24 runs in the four game span while giving up 11. The Trailblazers had 35 hits in total and improved their conference record to 12-4 for the season.
"Stringing wins together in the middle of conference season is a great thing," head coach Randy Simkins said. "Those were good wins to get for sure. It was a definite confidence boost going forward."
This season is the Trailblazers' first season in the Rocky Mountain Athletic Conference. DSU has won 12 of the 16 games while playing conference teams. Kaitlyn Delange, a senior accounting major from Cedar City, said the team was a little bit skeptical about going into the new conference because of the new teams and new players the team would be facing.
"We've honestly come out and played our hardest," Delange said. "We've done actually really well and I'm really excited to see how the rest of the season goes."
Taylor Godfrey, a senior population health major from Buckeye, Arizona, said the team has been capitalizing more on opportunities this season.
"We've been playing good [defense], our pitching has been on, and we've been hitting," Godfrey said. "It's getting those timely hits that allow us to score runs when there's runners in scoring position or getting the lead-off runner with no outs."
The Trailblazers are heading into a four game series against Colorado School of Mines. DSU has consecutive double headers against CSM on March 23 and 24 in Denver.
"By the end of the day Sunday, both teams are pretty tired," Simkins said. "It's kind of a battle of nutrition and a battle of concentration. Who still has healthy bodies and healthy arms. The deepest team who maybe has an extra pitcher or an extra hitter that can come in and be fresh and lift your team."
The Trailblazers have had three previous four-game series this season. DSU has won nine out of the 12 games, sweeping both Colorado Springs and Colorado State University-Pueblo.
"You get the opportunity to capitalize on things that you've already seen and know their pitching," Godfrey said. "But it gets long. Keeping that energy up and the determination to finish out the games is the challenging part."
The Trailblazers travel to Denver for their next matchup against CSM on March 23 at noon and 2 p.m. On March 24, DSU will play at 11 a.m and 1 p.m.