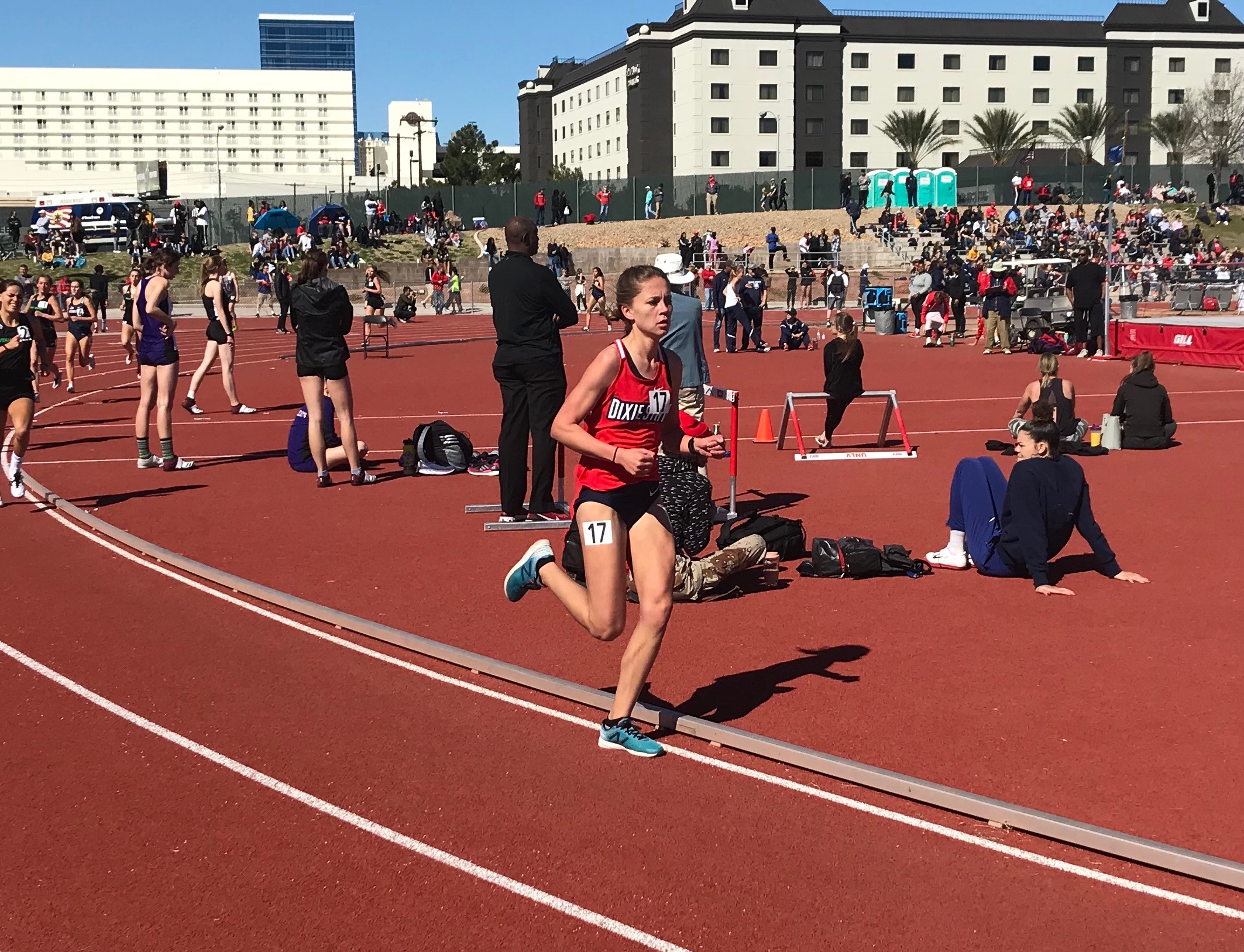 Photo courtesy of Justin Decker.
---
Student athletes have a tough schedule with mandatory weights and practices every week, but this runner gets up before the sun to practice on her own time and to ensure she is the best athlete she can possibly be.
Billie Hatch, a sophomore criminal justice major from Preston, Idaho, first began her running career as a freshman in high school, joining her sister who was also on the team. Hatch is now on the Dixie State University cross country and track team and said her favorite thing about running is that she can do it anywhere.
"Each week I have been building up in mileage and speed so I could perform my best in each race," Hatch said.
Hatch's morning routine includes getting up at 3:50 a.m. and running 5 to 7 miles. Following her run, she does cross training, spends time on the elliptical machine, and finishes with weights, whether it's on her own or with her team, every Monday and Wednesday in the weight room beginning at 7 a.m. During rest and recovery periods, Hatch said icing every sore muscle is extremely important.
Head coach Justin Decker said: "She's incredible, she is one of the hardest working athletes we've ever had. To compete at the level she does, you have to be able to do a lot on your own too, because the mileage she runs, we don't have enough time to do it in the hours we have to practice, so it takes a lot of self motivation, diligence and hard work, and that's what she has. She's the perfect athlete to have."
At the University of Nevada Las Vegas Invitational held on March 16, Hatch ran the second fastest 10k in the nation so far this season, finishing at 36 minutes and 47.60 seconds, just 14.19 seconds short of first.
"Mentally I tell myself, 'you get up at 3:50 [a.m.], you can do this right now, it's not too bad, you put in all the work," Hatch said.
Outside of school, cross country and track, Hatch said she likes to hangout with her teammates and friends. Hatch said her favorite thing about St. George is the weather and hiking. Hatch said her favorite weather to run in is a little rainy but not to the point where she will be soaking wet after. As for her career goals, Hatch said she wants to go into law enforcement.
"I want to be a [police] officer, I know that for sure," Hatch said. "I have plans on going further than that, but [I will] just start off with that."
Hatch's goals for the season are to break both her personal record and the DSU record for the 5k, she said. While she has yet to run it on the track this season, last season she finished at 18 minutes and 50 seconds. The DSU 5k record is 17 minutes and 59 seconds.
Erin Hurst, a sophomore general education major from Cleveland, is not only Hatch's teammate, but also her roommate. Hurst said Hatch's dedication to the sport and humble attitude is motivating.
"Billie makes you want to be better," Hurst said. "She wakes up at 3:50 every morning to get running in and go do weights. Being with someone like that makes you want to be better, you're like 'okay, if they can do that then the least I can do is show up to the normal practice and run.'"
Hatch said her favorite thing about being on the DSU track team is the practices because everyone is so supportive. Hatch said the key to her success at meets is to make sure she isn't too worried or stressed about it. Hatch keeps the stress away by sticking to her training and being confident in her ability.
"I try to make the situation light and fun, it's not something I have to do, it's something I get to do," Hatch said. "I want it to be fun, not stressful."
Although it is track season, Hatch said she likes cross country more because she gets to run on a course rather than doing laps on a track. Nevertheless, Hatch said her favorite track event is the 10k, which is 6.2 miles.
The next DSU track event is the UVU Collegiate Invitational in Orem on March 29.