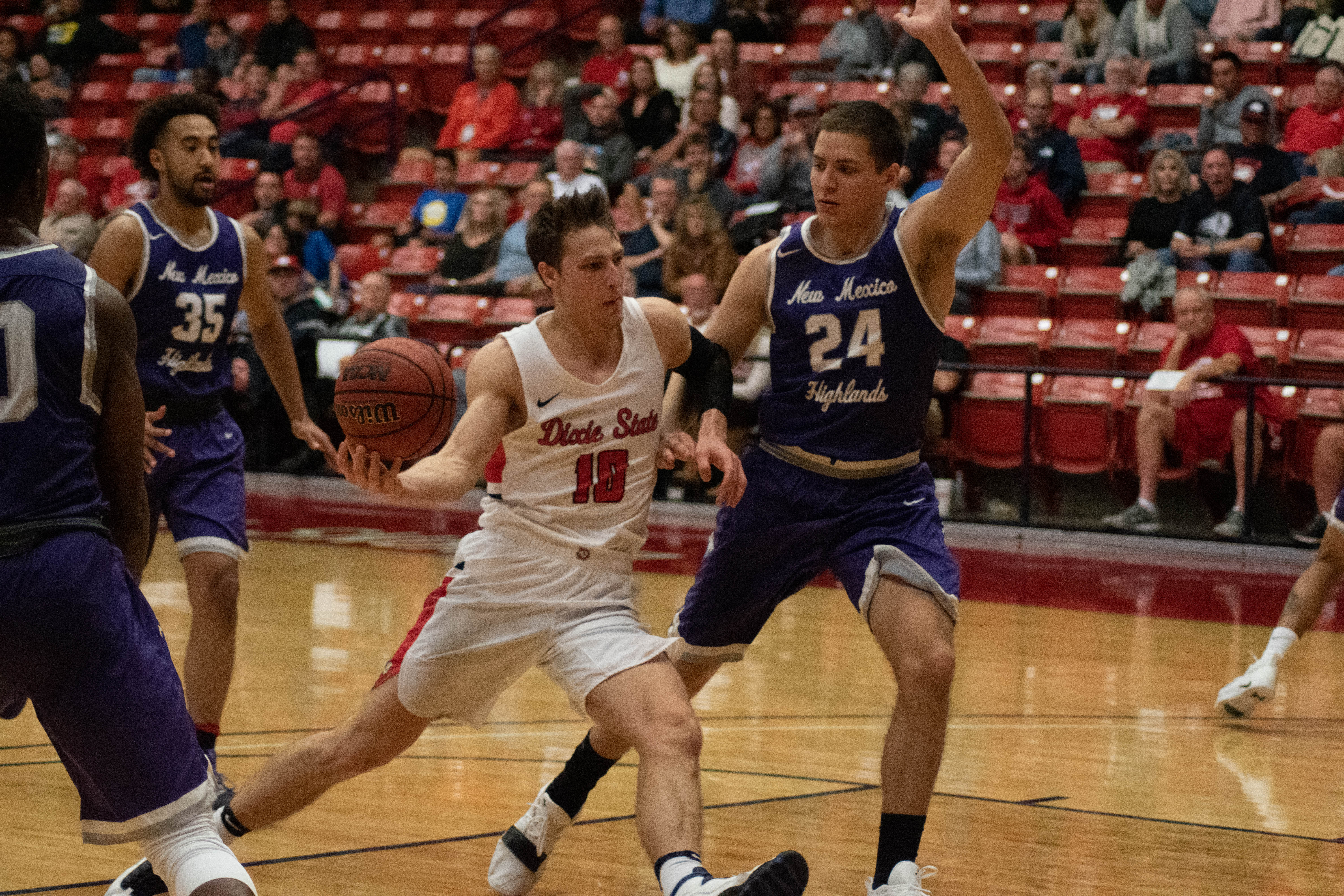 Photo by Tia Walker.
---
The Dixie State University men's basketball team finished the 2018-2019 season truly showing what it means to be a Trailblazer both on and off the court.
The Trailblazers were new to playing in the Rocky Mountain Athletic Conference, and head coach Jon Judkins said he was very impressed with the RMAC competition-wise, and traveling was a good experience.
Dub Price, a senior business administration major from Draper, said: "The community expects you to be a winner on and off the court, especially with the basketball program. We have a great tradition of winning, so there are certain expectations and you have to put in the work to live up to it."
Wade Miller, a redshirt senior from Tremonton, said one of his favorite things about the season was watching the team get better, and that being together as a unit was both a strength and a weakness.
Judkins said the team had its strengths and weaknesses, namely a lot of turnovers and foul shooting, but the team shared the ball well and had great rebounding. This year the Trailblazers had the highest defensive rebounding in the league.
Price said every season has its ups and downs, and overall the team did better than they thought they were going to do, especially halfway through the year when they turned it around.
"We found a way to figure it out," Miller said. "There is always a way to get yourself out of a situation or even into a situation, and coming together and forming a brotherhood was a cool thing to watch throughout the year."
Price said his favorite part of the season was beating Regis twice in Colorado, first 77-74 and then 89-73.
Judkins said the turning point of the season was when they beat Regis at Regis in Colorado, and an amazing moment from this season was in Western Colorado, when the team scored six points in 40 seconds to tie the game, which put them into overtime where the Trailblazers won by eight points.
Miller said the season was a success, and the team wanted it to end differently than it did, but they battled through a lot of adversity this season.
Judkins said: "It takes both coaches and players. They bit into what we were trying to teach and preach and that was defense, and once we started to defend, we started to win."
Judkins tries to make it as fun as possible because it is a long season from October to the middle of March, he said. Being a Trailblazer athlete is a full time job, with each player putting in at least 20 hours a week into the sport alone.
Price said: "For me, every season I try to learn something that will help me throughout my life, and I think that is the point of playing college sports. I learned a lot about resiliency, battling through some adversity and finding different ways to win the game. At the beginning we were playing for ourselves, and at the end we were playing for each other. I think that made a big difference for us."
For the overall season the rebounding total was 1068, with 383 assists, 395 turnovers, 197 steals and 72 blocks.
"What I preach to them is I want them to get better everyday," Judkins said. "If we can get better everyday, then by the end we are going to be where we need to be."
For the 2018-2019 season, the Trailblazers scored 2027 total points, with 75.1 points per game, and a scoring margin of 7.5.
Judkins said, "We say we are a family and I honestly believe that."