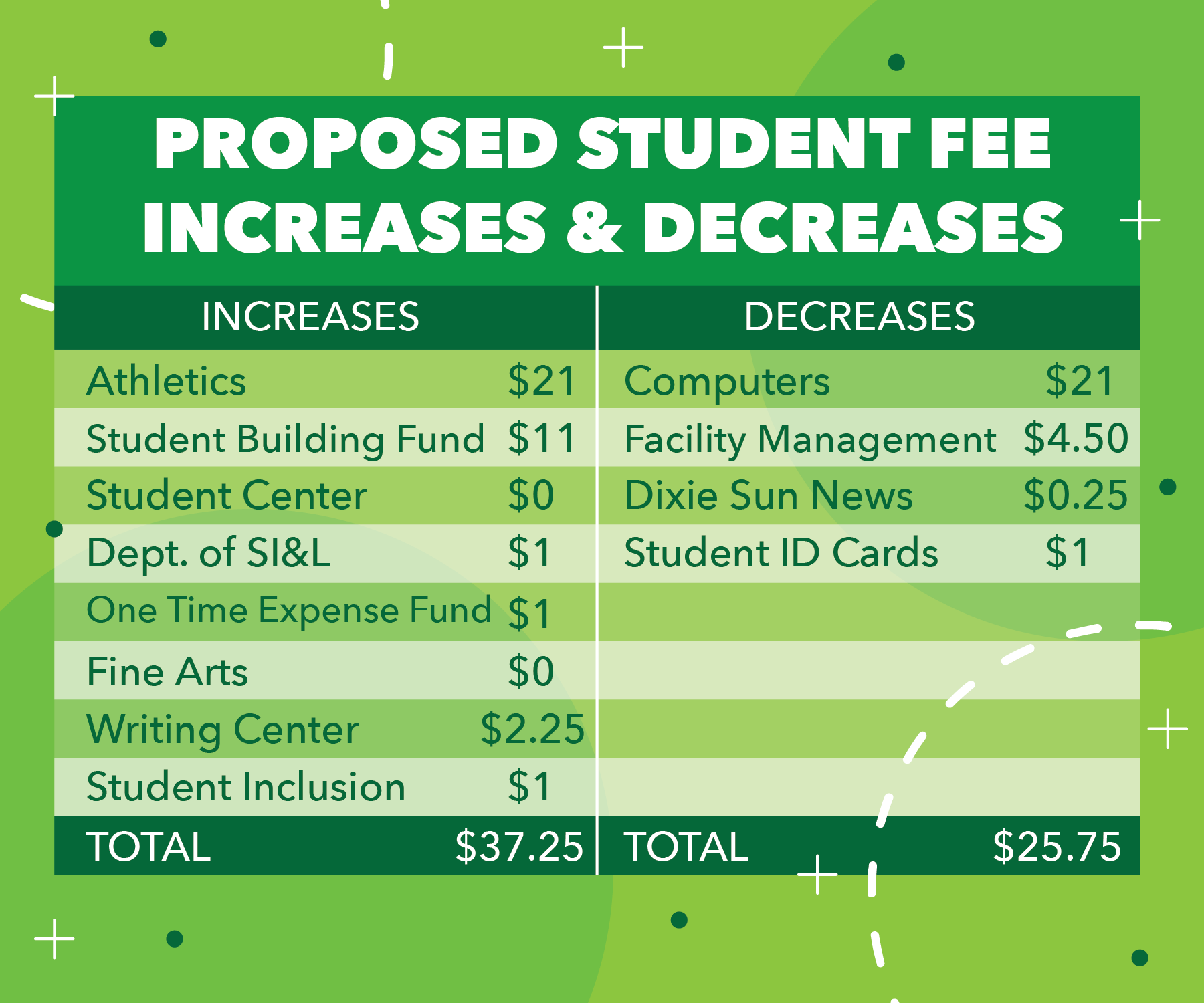 Graphic by Valerie De La O.
---
Student leaders gathered in the Val A. Browning Learning Resource Center auditorium to hear the Student Fee Allocation Committee's final decisions regarding tuition and student fees.
The SFAC will announce these decisions to the board of trustees on March 22 for final approval and the final decisions, made by the board of trustees, will be implemented in the 2019-2020 school year.
Paul Morris, vice president of administrative affairs, announced to the audience that Dixie State University is hoping to receive at least 4 percent tuition increase. This would result in residential students seeing an $89 increase and a $285 increase for non-residents.
"Depending on what the state does — if the state gives us a pretty good appropriation this year, we are hoping to get 4 percent," Morris said. "If we do not get much money in the appropriation it will probably be more towards six percent."
A 6 percent increase would result in a $134 increase for in-state tuition and $428 for out-of-state tuition.
Cajun Syrett, student body president and a junior communication major from Bryce Canyon, announced that the SFAC is hoping to increase student fees by 2.64 percent, or $10.50. This results in a total fee cost of $408 per semester for the 2019-2020 school year. This increase is mostly dedicated to funding the athletic decision to move to Division I.
Syrett said: "I want to thank the administration at [DSU]. We have an amazing administration that really does care about each and every one of you students because they went and freed up a ton of money so that this DI athletic movement would not be a huge burden on you as students, and the administration took a lot of that for themselves."
In fact, there is a reallocation of $15.50 that will go to athletics. The administration also used a one-time expense fund to help pay for these improvements such as re-vamping the Kenneth N. Gardner Student Center and the Trailblazer Stadium.
To do this, the SFAC deleted a campus facilities management fee of $4.50 and a student ID card fee of $1. They also decreased instructional computer fee by $21 and the Dixie Sun News' fee by $0.25.
The Dixie Sun News staff was vocal about its disagreement with the SFAC's decision and questioning on that subject took up most of the meeting time.
Arielle Cabrera, a producer for the Dixie Sun News and a sophomore multimedia journalism major from Flagstaff, Arizona, said: "We are not the bad guys here; we are just always getting cut first."
To support Dixie Sun News in its effort to save its funds, sign the petition at https://www.change.org/p/dixie-state-university-don-t-cut-the-dixie-sun-news-funding