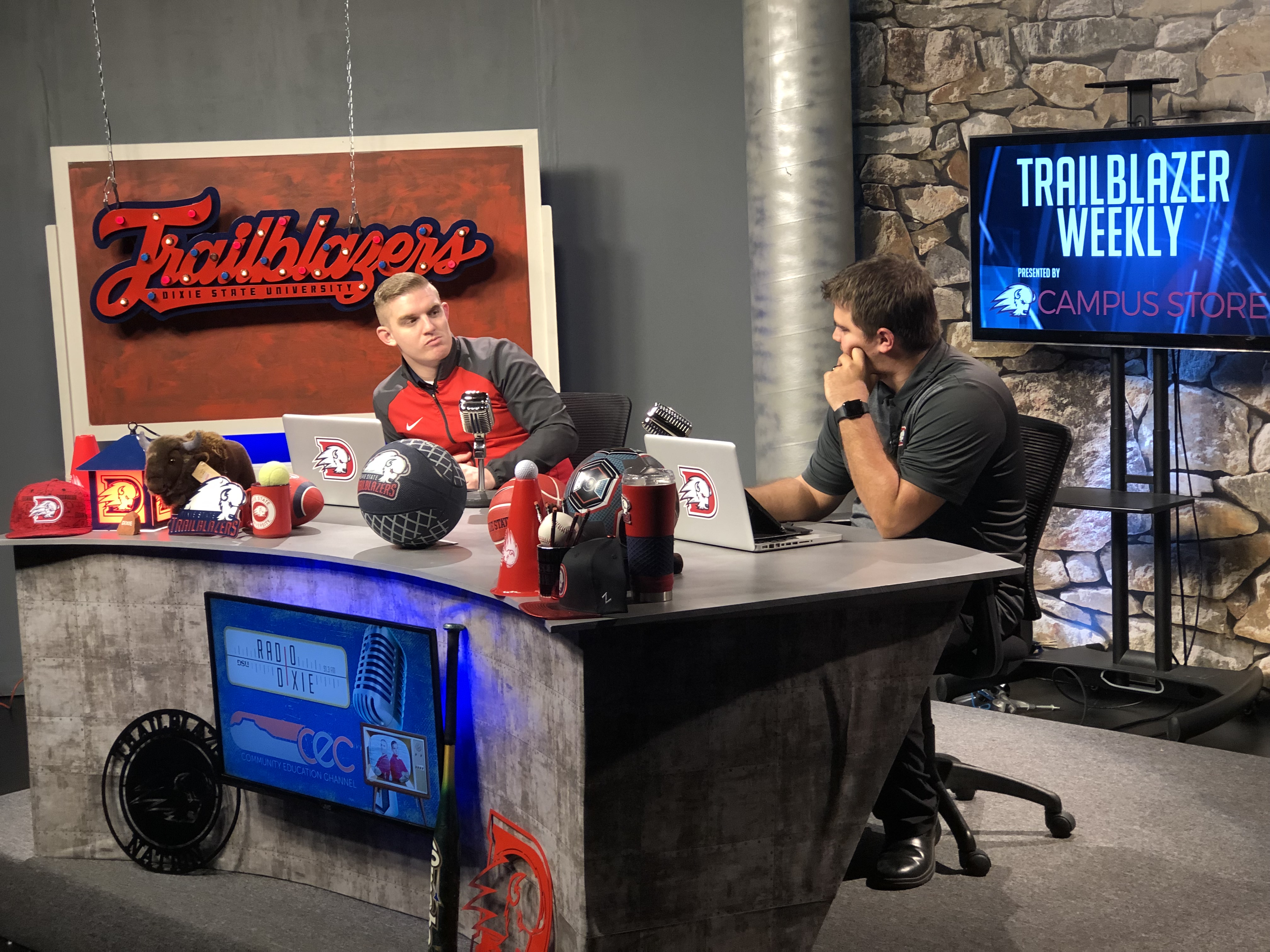 Photo by Jessica Johnson.
---
The hosts of the Dixie State University athletics show Trailblazer Weekly developed their skills not only from DSU but also from the Dixie Sun News.
Keric Seegmiller, assistant coordinator for media relations, and alumnus Drayson Ball host Trailblazer Weekly every Wednesday at 3 p.m. Seegmiller and Ball both attended DSU and were on staff for the Dixie Sun News.
Ball attended DSU from fall 2016 to spring 2018 and graduated with a bachelor's degree in media studies. During his time at DSU, Ball was the sports editor for the Dixie Sun News. He served in the position from fall 2016 to spring 2017.
Throughout his time with the Dixie Sun News, Ball said he learned a lot about communication and writing skills.
"Not only interviewing coaches and talking to them, but learning good communication skills with your writers," Ball said. "There was a lot of communication that had to go on to do the job. Obviously the writing was key. Writing is something that you can use in life whether it be journalism writing or whichever writing you may need."
During fall 2018, Ball started interning for the DSU athletic department. Ball continued throughout the spring semester and after graduating in spring 2018. Ball has done many things for his internship, such as play-by-play announcing for men's and women's basketball games and play-by-play analyzing for the football team for the 2018 season.
Ball said he decided he wanted to be around the DSU sports program when he heard the excitement from the crowd at the football games.
"Just being able to feel the energy that people have for the sports programs here at [DSU]," Ball said. "Being the [sports] editor for the Dixie Sun [News] was influential in that because that's where I got the experience and the direction to say that it's something that I like. That was really [a] credit to the Dixie Sun [News] because I was able to have the experience to have something like that."
Seegmiller attended DSU from the fall of 2008 to the spring of 2012. Seegmiller graduated with a bachelor's degree in mass communications. Seegmiller joined DSN as a sports writer in fall 2012 and continued through spring 2012.
Along with Ball, Seegmiller said he learned great communication skills while being part of DSN.
"It's not just the interviewing," Seegmiller said. "It's being able have enough tact and professionalism to set up the interviews, knowing who to talk to, how to talk to them and learning how to do the interviews themselves and learning how to ask questions."
Seegmiller said his goal out of college was to be a sports broadcaster. He freelanced for the St. George News as a sports writer. Seegmiller continued writing until he felt he needed to pursue his goal of sports broadcasting. In the summer of 2013, he took a job at a radio station as a play-by-play announcer at the College of Southern Idaho. Seegmiller came back to St. George after one year and volunteered as a media relations intern. His current position opened over the summer and he was able to get the job due to the experience and relationships he had developed.
"I grew up here," Seegmiller said. "I grew up coming to games. Being able to go to school here, get my degree here and now being able to work here is just a dream come true."
With the recent announcement of moving to Division I, Seegmiller said his dream of being a broadcaster became a reality. Seegmiller said he doesn't have any plans to move in the future.
"St. George is great place to raise the kids," Seegmiller said. "For the foreseeable future, I'm here. I'm at Dixie State [University]."
Students can tune in to Trailblazer Weekly every Wednesday at 3 p.m on CECTV, the DSU YouTube channel or on Radio Dixie 91.3 fm.