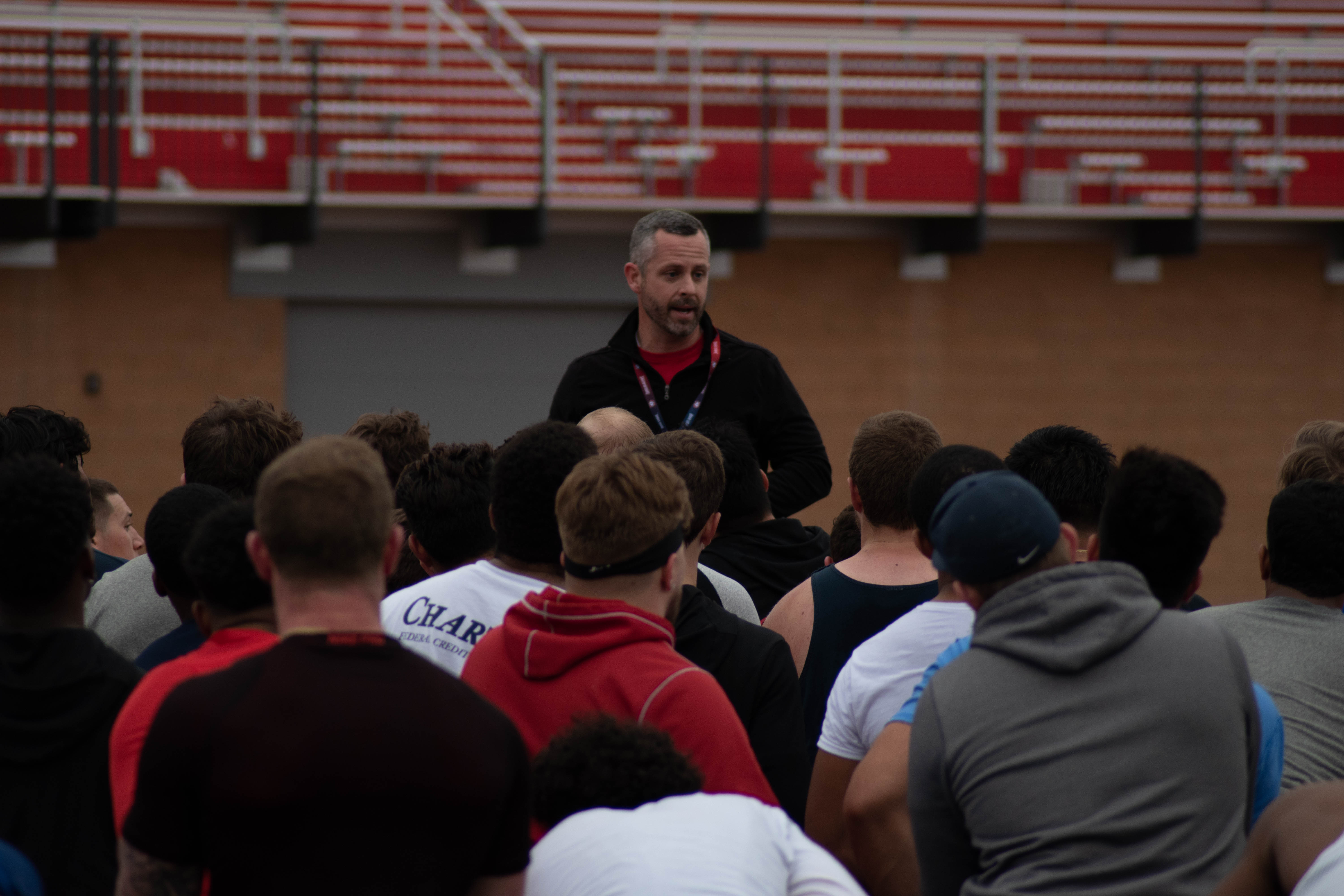 Photo by Tia Walker.
---
Dixie State University has introduced an entirely new football coaching staff that hopes to not only teach student athletes to become good football players, but also good fathers.
Head coach Paul Peterson has been coaching for 14 years. The schools he has coached include Brigham Young University, North Carolina State University, Southern Utah University, Sacramento State University and most recently, Snow College in Ephraim. Peterson said his favorite part about being a coach is not the wins and championships, but seeing the "kids" be successful and forming good relationships.
"I want [the team] to be able to see our coaches around their kids, how we treat our wives [and] kids, and just an extra set of eyes to teach them the right way to do things," Peterson said. "I think it goes hand in hand for them to be champions on the field and in their own lives too, and football can [certainly] teach that."
Peterson and his family finalized their moved to St. George this month and said they are thankful for the help they have been offered during their relocation period.
"We love it here," Peterson said. "People on campus have been fantastic and very helpful for us in anything that we need, so it's been very welcoming."
Peterson said his goal for his first season as a Trailblazer is to win the RMAC championship.
"I think we [have to] talk about preparing to win a championship," Peterson said. "That's definitely a goal that we are going to keep out in front of them. I think we have some great student athletes that can give other teams a hard time on the field and hopefully we put them in a position to be successful."
Defensive Coordinator Tyler Almond has been coaching since 2005. Almond was a linebacker coach at Sacramento State University, but most recently served as the head football coach at Christian Brothers High School when Peterson contacted him about the opening at DSU. The two worked together at Sacramento State for five years. Almond said this is his first time being and living in Utah, but he is really enjoying the community.
"My wife and daughters are going to move out here fairly soon," Almond said. "We are excited to have a different pace of life, a little bit slower than California, not as much traffic, so we're looking forward to that."
He said this is also the first time in his career being apart from his family for a few months.
"It's definitely difficult," Almond said. "My wife is an elementary school teacher, and she's as passionate about that as I am about football so she obviously wants to finish off her semester with her kiddos."
Almond said there are 30 kids among the entire coaching staff that are about the same age, and he looks forward to having them at practice and tailgates.
"I don't think I'd be here if I wasn't working for a guy like Paul. Paul is really good about letting us have time off to spend with family, Paul preaches that and he's all about it too."
Mike Fassel, special teams coach and director of football operations, has also been in football since 2005. Fassel worked as the DFO for Princeton University and the Las Vegas Locomotives of the United Football League, but most recently served as the wide receivers and special teams coach at Snow College. Fassel said he has adjusted to St. George pretty well.
"I was out here for a month before my family came out here, but [they] moved out here so now it's going to be a better adjustment process, getting the family settled and the kids in school," Fassel said. "We enjoy the closeness to Zion National Park and a lot of the outdoor activities that we can do."
Fassel said gaining player trust as a new coach is a long process of doing what he says he's going to do, being honest and fair with the "kids," and being himself with every interaction he has with them.
DSU football is currently preparing for the 2019 spring game that will be held on April 13 at Trailblazer Stadium. Almond said the spring practices are big for the new staff to evaluate the guys and for the players to get to know them and their coaching styles.
"We will be 13 practices in by [the day of the spring game], so we will have a good idea of who's producing and who needs to improve," Almond said. "I think overall, all 15 practices that we have in the spring will be a good evaluation of where we're at and what our guys can do."
Fassel said the scrimmages and spring game are a great chance to see [the players] in more of a game atmosphere and how they can stay composed if something goes wrong.
"We want to see who's tough, and who competes well," Peterson said. "It will be a controlled scrimmage, but we'll put them in situations where it might be a little uncomfortable for them, but I am excited to see the leaders. We've started to see a couple guys stand out, but we're still waiting for some guys to emerge as our leaders of our group. When you have a player led team it's better than a coach led team."
Although Peterson brought coaches and players from Snow College to DSU with him, he said they will be unbiased toward players who already know the playbook.
"They definitely have a leg up," Peterson said. "We've already started installing our offensive and defensive packages. I want everybody coming out of spring practice feeling like they got enough reps to make it, and like they got a fair shot at their position. No matter who they are, whether they're on scholarship or not, each one of these kids will get the opportunity to be able to participate on our team."
DSU football will have a new style of offense this upcoming season. Peterson said it will include spread concepts and be up-tempo with no huddle.
Fassel said: "We're even seeing the kids from Snow help the kids on the team learn [the playbook] even faster. Sometimes the kids might not want to ask a question to a coach if they think it's a stupid question, but they're fine going up to a teammate. Having those guys on the team that can help spread learning the playbook is huge, so I think that's a big help."
All of the coaches had positive opinions on the move to being independent in 2020.
Peterson said: "I think it's a great move for the school. That transition period, there'll be some bumps, and some ups and downs, but once we get the scholarship numbers and the budget to be able to compete with some of these bigger schools, I think this place will just continue to grow."
Almond said the move is very indicative of how much support the community has for the university and that the resources the administration is putting into the program and campus is huge.
"I think the quality of competition will be very similar to RMAC, but obviously Division I level; I think it will be a lot of excitement for the community," Almond said.
Fassel said he likes that being independent gives them the opportunity to play any team in Division I across the country.
"We're probably going to have 12 games or so where we're playing some of the best teams available," Fassel said. "That gives us a chance to see what conference we would want to join, if in fact we do want to join a conference."
The rest of the DSU football coaching staff includes Defensive Line Coach Loni Fangupo, Offensive Line Coach John Hughes, Cornerbacks Coach Mike Smith, Wide Receivers Coach JD Falslev, Running Backs Coach Peter Tuitupou and Linebackers Coach Misi Tupe.