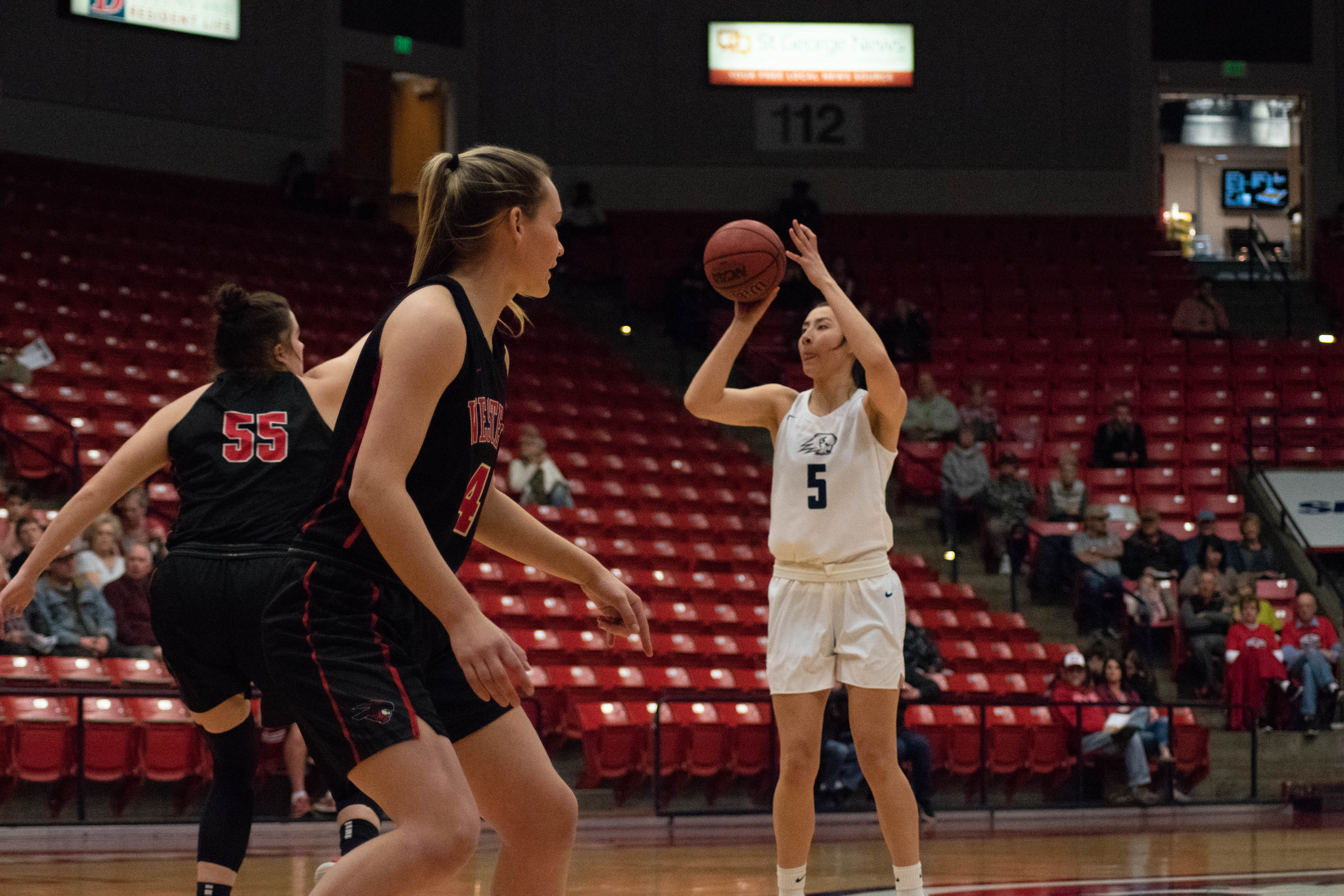 Photo by Tia Walker.
---
Riding a 12-9 overall record, the Dixie State University women's basketball team looks to win its final two games on the road against Adams State University and Fort Lewis University after closing out its weekend at home with a victory and a loss. 
The Trailblazers fought last weekend and defeated Western Colorado University 67-56 on Friday. The next day, the team fell to No. 16 Colorado Mesa University for a second time this season with a final score of 59-72. CMU built a 57-41 lead to start the fourth quarter, but DSU managed to cut the lead to 10 points with 5 minutes and 46 seconds left of the game. The Mavericks came out on top securing their 16th win of the regular season and advancing their overall record to 19-2. The difference between this match against CMU, head coach JD Gustin said, was DSU's ability to stay together and fight.
"They really beat us up the first time that we played and we competed this time, fought them, and I'm just super proud of our team," Gustin said.
Gustin said the Mavericks bench played a major factor in the game, scoring a total of 21 points. Three Trailblazers scored double figures against CMU, including Morgan Myers, a sophomore exercise science major from St. George, who had 12 points and nine rebounds. Myers said her team's greatest strength was fighting until the end.
"It was super hard coming back from a 10 lead and then a 16 lead, but I think we fought the whole time," Myers said.
Gustin said having to have completely different game plans for their back to back games made necessary adjustments difficult to make, but they ultimately did the best they could with the time they had. Mariah Martin, a sophomore exercise science major from Sandy, said she prefers having back to back games, despite it being a lot on her body. Martin said her biggest takeaway from the game was learning to be more patient on offense.
"I feel like I was in a rush and just lost sometimes, so I think being more patient and composed on offense and being more confident [is key]," Martin said.
As for the upcoming games, and final away games of the regular season, the Trailblazers are confident in their ability to win. Adams State has an overall record of 2-19 and Fort Lewis is 9-14. Gustin said he plans to make a comeback this weekend by just starting over.
"We have a good plan for Adams State," Gustin said. "They are not as talented as this team; fortunately we're more talented. Winning on the road is hard, we'll have to just be us, be ready to go, excited, play with a bunch of energy [and] we'll be all right."
Myers said learning to share the ball can make the team unstoppable. Her personal goals are to earn player of the week again, either offensively or defensively, and to have the most assists on the team. Her mindset for playing on the road is seeing it as a business trip.
"The biggest thing when playing on the road is [remembering] we're there on business," Myers said. "Yeah you're there to have memories, but we have one goal, [and] it's to win. It's a business trip, so we get stuff done."
Tip-off is set for 5:30 p.m. (MT) at Plachy Hall in Alamosa, Colorado, on Friday against Adams State, and at Whalen Gymnasium in Durango, Colorado, on Saturday against Fort Lewis.